EKWEREMADU: DECLARE ME ENUGU WEST SENATOR – LAWYER TELLS COURT
An Enugu-based lawyer, Barr. Ogochukwu Onyema has approached a Federal High Court sitting in Enugu, praying it to declare the Enugu West Senatorial seat vacant.
Our correspondent reports that the seat is currently being occupied by a former Deputy Senate President, Senator Ike Ekweremadu.
The lawmaker is currently in detention in the United Kingdom where is facing charges bordering on alleged organ trafficking.
Onyema claimed that the seat cannot continue to be vacant owing to Ekweremadu's absence.
In the lawsuit marked FHC/EN/CS/7/2022 filed at the Federal High Court Enugu, Onyema is also seeking an order of the court "commanding and mandating" the National Chairman of the PDP, Dr. Iyorchia Ayu and PDP to "select, nominate, and forward" his name to the National Assembly "as a replacement" for Senator Ekweremadu.
He further prayed the court to command and mandate the Chairman of the Independent National Electoral Commission (INEC), Prof. Mahmood Yakubu and INEC to "withdraw or revoke, as the case may be, the Certificate of Return earlier issued to the 3rd defendant (Ekweremadu) and issue a fresh Certificate of Return" to him.
Ekweremadu had at the PDP senatorial primary election, which took place at Awgu, Enugu State, on 2nd October 2018, polled 690 votes to emerge winner, defeating his closest rivals, Mr. Isaac Okah, who polled 84 votes and Chief Onyema polled a distant 61 votes to place third.
But in an Originating Summons, Onyema wants the court to determine, among others: "Whether it is the intendment and contemplation of the Constitution of the Federal Republic of Nigeria (1999) as amended 2018; the Senate Standing Orders 2015 as amended; and the Senate Legislative Calendar 2022, that the seat of Enugu West Senatorial District in the 9th Senate will be declared vacant by default, if the Senator representing, without just cause absent from sittings of the Senate for a period amounting in the aggregate to more than one-thirds of the total number of days during which the Senate meets in any one year, which is one-thirds of 181.
"Whether by virtue of the continuous absence of the 3rd defendant (Ekweremadu) from the Senate since 22nd day of June 2022 or days prior (when he last attended the sitting of the Senate), up till the date of adaptation of this Summons, or any other date thereafter, it could be said that the 3rd defendant is still validly representing the plaintiff (Chief Onyema) and Enugu West Senatorial District, as provided by the Constitution of the Federal Republic of Nigeria, and the Senate Standing Order 2015 as amended, in Nigeria Senate.
"Whether going by the heinous allegations levelled against the 3rd defendant and his incarceration at the United Kingdom, Wandsworth Prison, since around 22nd day of June 2022 up till the date of adoption of this Summons, the 3rd defendant can be said to have defaulted and be away from representing the plaintiff and Enugu West Senatorial District in the House of Senate, for no just cause, as provided for in the Constitution of the Federal Republic of Nigeria (1999) as amended in 2018.
"Whether by virtue of the 3rd defendant's travails, which was not caused by the plaintiff or any of his constituents, and going by the provisions of the Constitution of the Federal Republic of Nigeria (1999) as amended, the Senate Standing Order 2015 as amended, it is wise and best, for the 3rd defendant to honourably agree that he has defaulted in representation, withdraw from his position, and mandating the 1st and second defendants (the Senate President and the Senate) to declare his position vacant by default, and instantly communicate same to 4th, 5th, 6th, 7th, and 8th defendants (Clark to the National Assembly, Dr. Ayu, PDP, Prof. Yakubu, and INEC) for appropriate and timeous actions, of his replacement with the plaintiff, by the 5th and 6th defendants. And Certificate of Return to be issued to the Plaintiff by the 7th and 8th defendants".
For news and events coverage, photo features, contributions and adverts contact us via:
Phone: +2348029115783
WhatsApp: +2347037611903
Follow us via:
Facebook: @Words and Shots
Instagram: @words_and_shots
Twitter: @wordsandshots
ISRAEL HOSTAGE CRISIS IS EVERY GOVERNMENT'S WORST NIGHTMARE
As hundreds of thousands of Israeli troops, regular and reservist, gather on Gaza's borders, the Israeli government faces a near-impossible situation.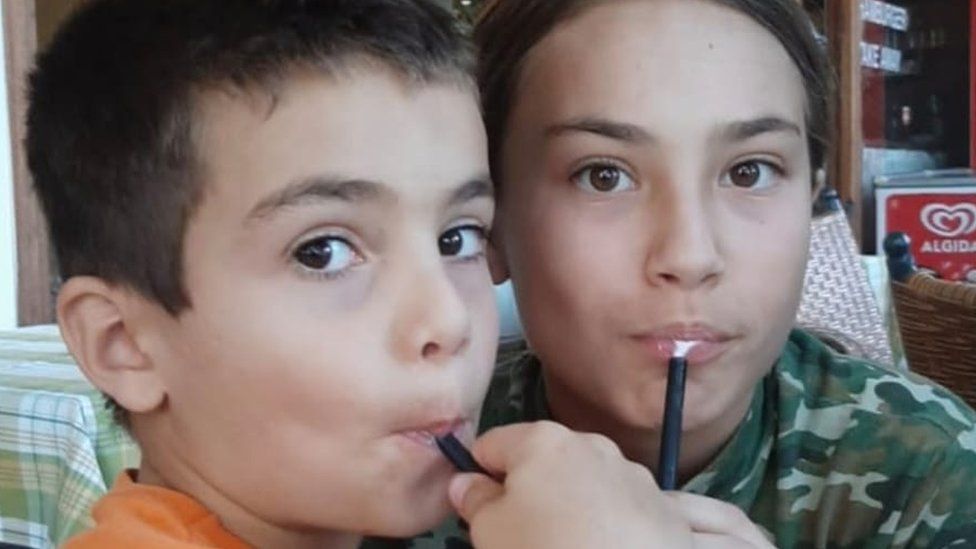 At least 150 hostages seized by Hamas gunmen from southern Israel last Saturday are now being held at secret locations inside Gaza. Among them are women, children and the elderly.
If Israel decides to launch a full-scale ground invasion of Gaza, as some are expecting could be imminent, then what are the chances those hostages will survive?
No mood for compromise
Behind the scenes, Qatar, Egypt and possibly other countries are believed to be trying to negotiate a partial release of those hostages. One idea being mooted is for Hamas to release its women and child prisoners in exchange for 36 Palestinian women and adolescent prisoners being held in Israeli jails.
But Michael Milstein, Senior Analyst at the Institute for Policy and Strategy at Israel's Reichman University, told me that while in normal times the number one priority for Israel would be the return of those hostages, today it is the elimination of Hamas as a military threat.
With tensions and anger sky-high on both sides, neither Israel nor Hamas are in the mood for compromise or concessions. Israelis are shocked and outraged that gunmen were able to breach their southern border so easily and then murder at least 1,200 people, most in cold blood.
Palestinians, and not just Hamas, are reeling from the onslaught of more than 2,000 Israeli airstrikes on Gaza that have killed more than 1,000 people since Saturday. Gaza has been cut off from fuel, electricity, water and medicine.
Hamas has threatened to "execute" one hostage for each time an Israeli airstrike kills civilians without warning. There is no evidence they have done so yet. At the same time there is little sign of restraint from Israel. Large parts of Gaza are being intentionally reduced to rubble.
However Milstein believes that Hamas may not be keen to hold on to its women, children and the elderly. They are bad optics for the group internationally and many will require a high degree of care, not easy amid constant air strikes and when Hamas are trying to keep their location secret from any covert informants Israel may have inside Gaza.
By contrast, Hamas will want to take maximum advantage of any serving military personnel it holds, extracting the highest price for their release if negotiations take place.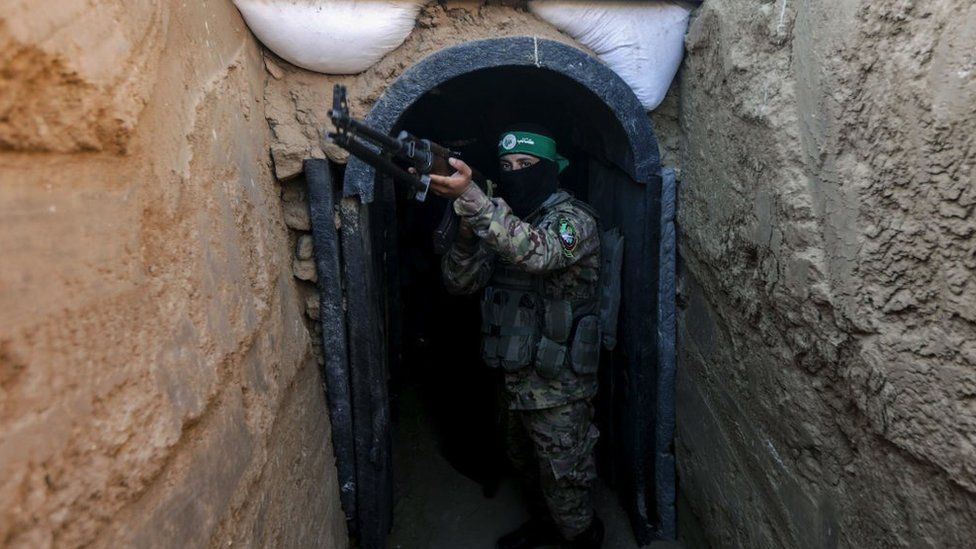 No easy option
This leaves the Israeli government with a dilemma when it comes to the hostages. Does it attempt an armed rescue mission, something fraught with risks? Or does it wait for longer, until Hamas is so weakened by airstrikes, that it might be more willing to make a deal?
That option carries its own risks. Although the hostages are thought to be held below ground in tunnels and bunkers, they may not be immune to these airstrikes. There is always the risk that their captors could kill them, either in a fit of rage or if they feared they were on the point of being rescued. This happened in Nigeria in 2012 during a failed UK-Nigerian Special Forces mission to rescue two hostages held by jihadists.
Israel has been quick to set up a Hostage Situation Room, collating everything it knows on the identity and status of each of the hostages who were dragged at gunpoint across the border into Gaza on Saturday.
Those who were still being held on Israeli territory were rescued by Israeli military and police Special Forces, with all their Hamas captors killed. But Michael Milstein, who spent 20 years in Israeli military intelligence, warns that "we don't have all the data on every house and street in Gaza". This is where Hamas are on home ground, able to conceal both themselves and their hostages in a network of underground cellars and tunnels.
Israel has a well-proven expertise in hostage rescue, which it trains for intensively. Set up in 1957, its secretive Sayeret Matkal unit is broadly similar to Britain's SAS or America's Delta Force. It shot to fame in 1976 with its Raid on Entebbe where its commandos rescued hostages from a hijacked plane at a Ugandan airport.
The commander of that unit was Yonatan Netanyahu, the only fatality amongst the Israeli commandos. Today his brother Benjamin is Israel's Prime Minister and it is with him that the decision rests as to whether to wait it out in the hopes of a negotiated release of the hostages or go in hard in the hopes of rescuing them by force.
'The hardest hostage situation yet'
Reports are emerging that the US is providing assistance with intelligence data and possibly even support from its own Special Forces. A large US Navy carrier group is positioning itself offshore in the eastern Mediterranean.
But Hamas have shown themselves capable of asymmetric warfare, of being able to make up for Israel's massive advantage in technology and firepower.
By avoiding leaving a digital trail in their communications and keeping those communications to a minimum, they were able to take Israel by surprise on 7 October. Their gunmen who are currently holding those 150-plus hostages will be staying offline and off the airwaves as far as possible and will almost certainly have removed every digital device from their captives.
"This is without question," says Michael Milstein, "the most difficult hostage situation Israel has ever faced in its history".
For news and events coverage, photo features, contributions and adverts contact us via:
Phone: +2348029115783
WhatsApp: +2347037611903
Follow us via:
Facebook: @Words and Shots
Instagram: @words_and_shots
Twitter: @wordsandshots
AUTHORITIES MUST PROTECT THE INTEGRITY OF THE NYSC – HON. EDEOGA
We must not sacrifice our national icons on the altar of politics, greed and nepotism, he insists
Hon. Chijioke Edeoga is the governorship candidate of the Labour Party in Enugu State in the 23rd March, 2023, gubernatorial election and is currently awaiting the verdict of the Enugu State Governorship Election Court adjudicating his petition against the declaration of Barr. Peter Mbah of the Peoples Democratic Party (PDP) as the winner of the election. Speaking with Editors MALACHY UZENDU and CHESA CHESA in Abuja, Hon. Edeoga spoke about his expectations in the Court's decision and called on everybody, personalities and institutions to strive to preserve the integrity of the National Youth Service Corps (NYSC) and other institutions, rather than undermine them as is currently the case. Enjoy the excerpts of the interview.
We know you are awaiting the verdict of the Governorship Election Court in Enugu State. However, can you highlight some of the issues that were canvassed before that court?
As you have noted, I am the governorship candidate and the flagbearer of the Labour Party (LP) that successfully removed PDP from power; a position that PDP occupied since 1999. And the facts on the ground prove that LP won Enugu state decisively in the just-completed National, State Assembly, the Presidential and Governorship elections in the state.
For instance, out of three senatorial positions in Enugu State, LP has two senators from. Out of eight seats in the House of Reps, LP has seven, while PDP has only one. Out of the 24 positions in the State Assembly, LP won 14, while PDP has only 10 seats.
On that fateful day, the 23rd of March, 2023, the governorship election had been conducted and the results were coming out from all over the state. We have 17 Local Government Areas (LGAs) in Enugu State. The governorship candidate of LP in the state, that is my humble self, Chijioke Edeoga, was leading in 16 LGAs out of 17. I was leading with more than 11,000 votes, and the PDP candidate was trailing the LP by about 11,000 votes. The one LGA remaining was Nkanu-East, and it happens to be the home LGA of the governorship candidate for PDP, Mr. Peter Mbah.
After a very long delay that was not unnecessary and was not inexplicable in the sense that the results from the farthest LGAs had come in, and Nkanu-East which is one of the closest LGAs to the state headquarters (of INEC) came in last, and when they came in, they declared results of more than 30,000 votes.
Even the Electoral Officers knew and agreed that something wrong had happened because there were only 15,000 accredited voters in that LGA. So, how could PDP or INEC have returned 30,000 votes in a place where only 15,000 voters were duly accredited?
There was a rumpus and the Returning Officer refused to announce that result. Abuja intervened and took matters into their own hands and it was agreed there was a problem, but outside the law and illegally. After three days and in the absence of any LP representative, they shed the figures down and then gave the PDP a lead of about 5,000 votes over the Labour Party, and announced PDP as the winner of the election.
We had just a few weeks to challenge that declaration, which we and even the country knew was wrong and did not represent the political wish of Enugu state people.
In spite of all the problems, all the hindrances, all the obstacles the INEC in Enugu put before us with regard to the release of essential material and essential evidences, were able to beat the deadline to submit our electoral petition on the 6th of April.
We successfully assembled a team of very brilliant lawyers from every part of the country and this team worked together every day in peace and amity and, and the shortest time possible, produced a petition that represented our position on that election, a petition that I know will go down in electoral history as one of the best – very precise, very brief, very well written but still captured the law in its essentialities.
What are those essential points highlighted?
Our first point was that Mr Peter Mbah, having submitted a forged NYSC certificate, did not qualify ab initio to run for that office and should be disqualified. That position agrees with the Constitution. What the case law says is that in order to prove this matter, the issuing authority has to come personally or in writing to accept that it was issued by them. Our first canvas is that Peter Mbah was not qualified to run as a candidate having presented a forged NYSC certificate.
We subpoenaed a Director at INEC who came and agreed that attached to Form EC-9, Peter Mbah actually submitted an NYSC certificate. We also subpoenaed the Director of Certification of the NYSC who agreed the document was forged.
We also subpoenaed a human rights lawyer, who had on the basis of the Freedom of Information (FOI) Act, written to NYSC, and NYSC had replied that the certificate was forged. So, our first canvass was that Peter Mbah was not qualified and we proved it adequately.
The second issue we canvassed was what we said was arithmetical error. We pointed out computational errors. We didn't know whether they were deliberate or otherwise, but we pointed them out, especially in Udenu LGA where the votes LP got at the polling units were assigned at the point of collation to the PDP. We had result sheets certified by INEC and tendered in court, showing that in several polling units in Udenu LGA, LP won at the polling units but at the point of computation upstairs, the victories of LP were assigned to PDP and losses of PDP were assigned to the LP. We asked the court to realign these figures to the proper owners and if this is done, the margin of lead by the PDP will be substantially diminished.
On our third point, we also pointed out that they should comply with the Electoral Law which states that in any polling unit where there is over-voting, the election should be cancelled. We brought evidences from BVAS and necessary documents to show that in Nkanu-East, in Owo, the home community of Peter Mbah and nearby community of Ugbuoka, there was over-voting by more than 5,000 votes. We proved these things convincingly. These are the three major points we took to the tribunal which sat until August 6th and now adjourned for judgement.
There are now issues affecting highly-placed government officials regarding their NYSC certificates, and they seem to be riding roughshod over that institution. What is your thinking about these developments?
NYSC is a national institution which many Nigerians, including my humble self, relate to with fondness. NYSC provided us with our first jobs or paid employment and still does for many. Out of university, worried about what life holds in the future, when there is pervasive unemployment and burdened by the challenges of the average youth, and you step into the world, NYSC gives you the anchor. It takes you away from home.
Most times, your first journey away from your home, your comfort zone is under the auspices of NYSC. Those who are from Rivers State go as far as Kano or Sokoto State where they find comfort, find love, even find employment, and the government of Nigeria pays you for those things.
So, NYSC is a national institution that has endured for good reasons. We ought to do everything possible, even in spite of the other institutions that are failing, we must hold on to the NYSC because of what it portends for us as a symbol of our nationhood, like inter-marriages, interstate travels, the security, the hope, the basis to even start life. So, we must as a people – the leaders and the led, the judiciary and all facets of our people, all authorities in Nigeria, must agree, as a national consensus agreement, that, that icon of our nation must be protected and preserved from against all these opaque things that are going on.
Over time, we have seen people who because of misunderstanding or the nature of their upbringing, or the nature of the finance, they have tended to treat us as if NYSC was unimportant, and yet, they wanted to benefit from it. The country's leadership has acted over time to show them that NYSC is a body that should be respected. When I was at the National Assembly, Salisu Buhari, was the Speaker, his case was not necessarily about NYSC, but it was still about his certificate, and President Obasanjo was firm, and Salisu lost the Speakership and exited the National Assembly.
Not too long ago, under retired General Buhari as President, he also dealt with that issue. A minister already serving and doing well, it was discovered that the NYSC of then Minister of Finance, Kemi Adeosun, was dodgy, even when she claimed ignorance of the acts of how it was procured, she was asked to step aside. Still under Buhari, the boss of NSITF was asked to disengage because of that.
I know that there are also many reported cases of persons who were disengaged from very highly placed positions in government because of their NYSC. You are also aware of the running battle Stella Oduah is having with the authorities. Now there is this one involving Peter Mbah, in whose case the Director General of the NYSC came on Arise television to say that the certificate the man is carrying was not issued by the NYSC.
There's nothing that can be more authoritative than that, but you'll notice that Mr. Peter Mbah, who was sworn in as the Governor of the state, has been carrying on in manners that one can interpret or read as trying to coerce the authorities. All these provide opportunities for even foreign nationals to attempt to coerce the national institutions to make us begin to come to terms with the fact that somebody who had obviously forged his certificate can get away with that.
I urge all the relevant authorities to act decisively in defence of the NYSC. It is important that the authorities act properly, even in the case of Peter Mbah, and clearly, in order to maintain the integrity of this last-standing national institution, so that it doesn't become a laughing stock.
The DSS and INEC as another national institutions have performed below expectations. There we have officials like Barr. Festus Okoye, who professes one thing openly and publicly, but does a different thing. So, our national institutions are being degraded in such a way that the last one standing – the NYSC – should be supported because if we degrade our national institutions and icons, the idea of Nigeria dies, that's the point.
There must be shared values, things that you hold as a people; things that unite us. NYSC is one, the DSS is one, Judiciary is one. INEC is one, JAMB is one. JAMB is doing well and should be encouraged. Those ones that are not doing well should be helped to do well. Those that are doing exceedingly well, like the NYSC, should not be subverted.
Young people should have something they believe in, something they look up to. National icons are a collection of our beliefs that build the national idea which sustains our nationhood and this must not be sacrificed on the altar of politics, greed, nepotism or any kind of compromise at all.
You have spoken so passionately about national institutions like NYSC. Did you do the NYSC service?
Yes. Of course, I did. I served at Ojim College, Ikwere Road, Rivers State. My fondest memories of Rivers State are the ones I had when I was there as NYSC member. I also lived briefly at Woji Naval Barracks. With my colleagues, we went round Rivers State, met beautiful people, visited military institutions and had 'Thank-God-It's-Friday' parties. That's what NYSC does; create memories and friendships that endure. I still have friends I met in Port Harcourt who still relate with me.
So, I served (NYSC) very well. I served with distinction. I was the Director of the Theatre Arts Group at NYSC camp, and I directed the NYSC play there for that year. It was a play written by Femi Osofisan.
You seem to be invariably sending out a message to the like of the serving minister now having NYSC issues. What should be done in this case?
I think that the authorities, those who hired her, should look into that matter very well and dispassionately. But ordinarily, I don't see any reason why she should still be serving as a minister and doing her NYSC at same time.
From your experiences, at least from when you joined the LP, up till this time, how will you advise the political elite concerning the 'do-or-die' mentality or attitude to politics?
Of course, do-or-die is not good. It is abhorrent. Do-or-die arises when the impetus and propelling motive is not service. You are being propelled by something that's outside service. If you really genuinely want to serve your people, or your state or Nigeria, then there will be no door-to-die. Just play by the rules. If you win, okay. If you don't win, okay. Do-or-die is a function of greed and aggrandisement.
Do-or-die attitude obtains because those who had done it in the past and got away with it in Nigeria are seldom punished. It is a function of the values and upbringing that one has at heart. I have never rigged election in my life. I have never asked anyone to rig for me. I have never played outside the rules because that is my upbringing. So, upbringing and values from childhood and peer group associations are important.
Beyond that, the laws must be upheld. So, if politicians are caught stealing, the police and EFCC should be up and doing but they are not. The fact that you can steal and build houses, even kill and maim, and get away with it, is what encourages do-or-die. If the laws are maximally enforced, it will reduce.
Upbringing is important, leadership is important, the led is important. If corrupt politicians are voted out, door-to-die will reduce. If INEC does its work pretty well as a true umpire and doesn't take sides against the people at all, do-or-die will reduce. And we have amended the law that allows somebody whose election is being challenged to be sworn in; it encourages do-or-die.
So, all the litigations pertaining to contested offices, for instance, must be exhausted before somebody is sworn in. This will also reduce do-or-die in electoral contests. Do-or-die will reduce once our values and orientations change, and laws effectively implemented. When offenders are prosecuted and punished adequately, and the followership re-enlightened enough to make the necessary distinctions between good and bad. In Nigeria, there's no distinction between good and bad; anything goes and it is not going to help us forge a society of our expectations.
What is your message to your large followers who appear to be restive?
My message to my followers is that I'm a due process person. I'm not a do-or-die person. I also believe and have faith in God. Nothing can change or stop the strength of my faith. And so, I've always enjoined my followers to be law-abiding, prayerful and positive; and we have to follow the due process of law as we canvass our case to the final point. Whatever that happens to the point the law allows us to reach, we know it is the wish of God. Life will go on. It is not about me but about the vision and ideas I have for good governance and betterment of our people in Enugu State, Eastern Nigeria and Nigeria. They should be prayerful, calm, peaceful and tarry. Our time will come by the grace of God.
For news and events coverage, photo features, contributions and adverts contact us via:
Phone: +2348029115783
WhatsApp: +2347037611903
Follow us via:
Facebook: @Words and Shots
Instagram: @words_and_shots
Twitter: @wordsandshots
OSARO-ONAIWU APPOINTED MEMBER PDP STRATEGIC TEAM FOR IMO, BAYELSA AND KOGI ELECTIONS
Desirous to emerge victorious in the forthcoming elections in Imo, Bayelsa, and Kogi States, the People's Democratic Party has appointed Earl Osaro-Onaiwu to its strategic team put together to plan and lead strategy to achieve success in the polls in the states.
Onaiwu is the former Director General of the Nigerian Governors Forum, founder of the PDP Governors Forum and Director General of the Bukola Saraki Campaign Organization in the 2023 Presidential Elections.
The "Solution," as he is often called by admirers and associates, brings a wealth of strategic political experience capable of providing the PDP with the necessary communication advantage as the campaign heats up.
With a captivating track record of robust campaign engagements at the national level, as well as his consistent contributions to various high-profile PDP committees across the country, it is believed Osaro-Onaiwu will bring his midas touch to ensure the success of the "Special National Media/Publicity Committee" in the three states.
The drafting of the PDP chieftain into this special committee underscores the seriousness of the party in winning the gubernatorial elections in the aforementioned states. Given his background and experience in journalism and media management, the PDP stands to get high-level awareness in these states.
The assemblage of political gladiators in the special committee, no doubt gives members of the party a sense of higher optimism and the hope of victory.
For news and events coverage, photo features, contributions and adverts contact us via:
Phone: +2348029115783
WhatsApp: +2347037611903
Follow us via:
Facebook: @Words and Shots
Instagram: @words_and_shots
Twitter: @wordsandshots