MEET THE QUEEN OF THE DARK, NYAKIM GATWECH
Nyakim Gatwech is a super model of South Sudanese origin, now an American, who has attracted loads of attention to herself, off and on the runways and glamour impressions she had done, for one singular reason, her very dark complexion.
The now 28-year-old woman gained worldwide fame and huge social media followership when she posted her interaction with a curious Uber driver who had asked her if she would bleach her skin for $10,000?
Nyakim had laughed it off and told him, "I would never do that. I consider my skin to be a blessing," thereafter, she would come to be known as The Queen of the Dark. Her demonstration of self confidence and courage to accept herself the way she was that many had viewed negatively, just set her apart.
Although she had some point, when she was younger and in high school, always saddened by her complexion, leading to many moody sessions and long nights during which she would soak her pillows with her teers of self-hate. Then, it struck her she could never stop being herself.
She had to realize that since God created her that way, in His wisdom, she had a purpose and thus must willfully partner with Him to make herself better and ahead. From then it was all upward swings all through.
"When I put a picture up (in the social media) I'm telling people that no matter what you say, I love who I am. I love my skin tone. I'm telling people that I am beautiful even though I look different than the majority of people in this world I live in," Nyakim said.
Her uniqueness didn't go unnoticed in the fashion and beauty industry. She was soon snapped by the modeling world who already had been familiar with her compatriot, Alek Wek, who herself became a super model on an account of her dark complexion and undiluted 'African looks' that set her apart on any runway.
We all have our uniqueness that sometimes we do not know could truly set us high apart. This is the time to turn your points of low to dividend yielding resources, as Nyakim had done.
Have a beautiful day.
For news and events coverage, photo features, contributions and adverts contact us via:
Phone: +2348029115783
WhatsApp: +2347037611903
Follow us via:
Facebook: @Words and Shots
Instagram: @words_and_shots
Twitter: @wordsandshots
THINGS MEN WEAR THAT WOMEN ABSOLUTELY HATE
Clothing is an important part of our daily lives. Apart from providing comfort, it is also one of the best ways to express ourselves. However, there are some fashion choices that people, particularly women, find hilarious.
This article will focus on some of these fashion faux pas men tend to make. From socks with sandals to too-tight tank tops, we have rounded up some of the men's most cringe-worthy clothing choices and why women find them hilarious.
Socks with Sandals
There's nothing quite like the combination of socks with sandals to make a woman cringe. While some men may believe this look is functional, it's not fashionable. Women find this fashion choice hilarious because it's an unforgivable faux pas. If you're wearing sandals, you should show off your feet.
Socks are meant to be worn with shoes that cover them, not sandals. So, men, please stop wearing socks with sandals; your fashion sense (and the women around you) will thank you.
Tight Tank Tops
It's time to discuss the infamous tank top. While it's perfectly fine for men to wear tank tops, it's not okay for them to be too tight. Most women would agree that it's hilarious to see a man sporting a shirt that is too small for his frame.
Not only does it look unflattering, but it also makes a man seem like he's trying too hard. Men, do yourselves a favor and buy tank tops that fit you. Not only will you look better, but you'll also be more comfortable.
Baggy Jeans
While skinny jeans may be the trend, baggy jeans are still popular among men. However, most women find them hilarious. Baggy jeans are not only unflattering, but they also make a man look like he's stuck in the 90s.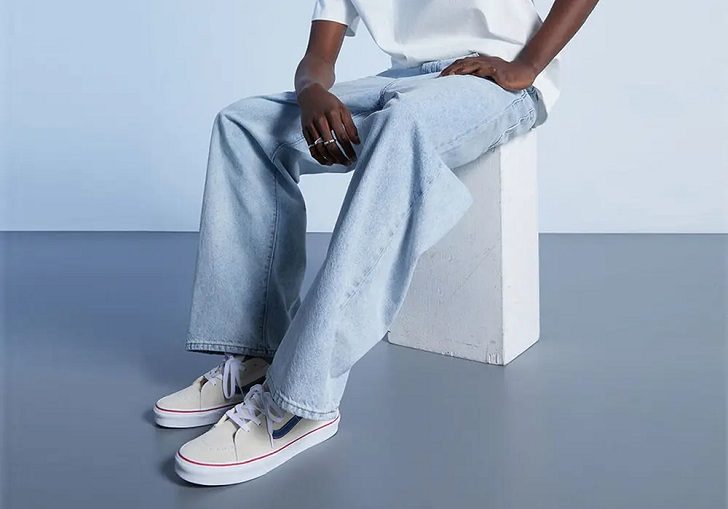 If you're going to opt for a looser fit, make sure that you still look put together. No woman wants to be seen walking around with a man whose pants are sagging off his butt.
Short Shorts
There's nothing wrong with showing a little leg, but short shorts are a fashion faux pas that can be hilarious and cringe-worthy. Short shorts may have been in vogue during the 70s, but they don't belong in the modern world.
Most women would agree that shorts should be an appropriate length. Instead of going for something too short, opt for shorts that hit slightly above the knee. It's a fashion choice that women will find more appealing.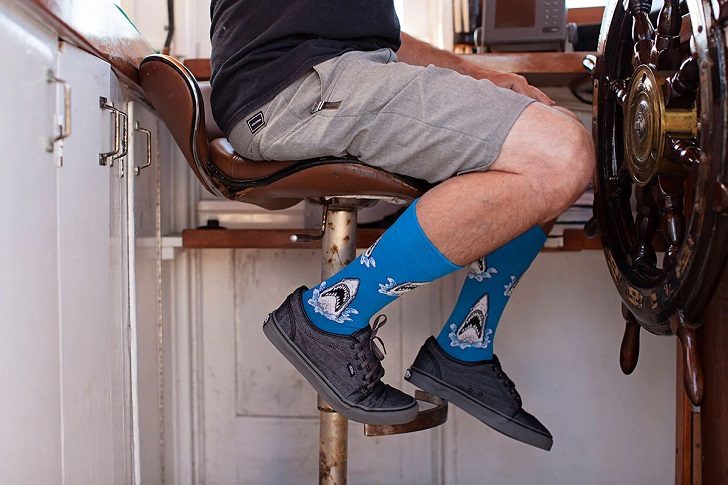 Cargo Shorts
While we're on shorts, let's talk about cargo shorts. While they're great for hiking or camping, they're not necessarily the best option for everyday wear. Most women would agree that cargo shorts are unattractive and often look sloppy. Instead, men should opt for more tailored and fitted shorts.
Wallet chains
Remember when wallet chains were trendy in the late 90s and early 2000s? Some men are still holding on to this trend, and it's hilarious to see them whip out a chain attached to their wallets. Women can't help but wonder what's so valuable in their wallets that it needs a chain to safeguard it.
For news and events coverage, photo features, contributions and adverts contact us via:
Phone: +2348029115783
WhatsApp: +2347037611903
Follow us via:
Facebook: @Words and Shots
Instagram: @words_and_shots
Twitter: @wordsandshots
MISS THAILAND WORE A DRESS MADE OUT OF SODA TABS AT THE MISS UNIVERSE PAGEANT
. Miss Thailand Anna Sueangam-iam wore a dress made of soda tabs at the Miss Universe preliminary.
. The dress, designed by Manirat, combines aluminum tabs from cans with Swarovski crystals.
. Sueangam-iam said the dress pays tribute to her upbringing and parents, who were garbage collectors.
The Miss Universe pageant kicked off this week with the preliminary competition — and one contestant is already making headlines.
Miss Thailand Anna Sueangam-iam wowed the crowd with a dress made of soda tabs, which she wore during the evening-gown round.
Now the dress has gone viral, racking up more than 150,000 likes since Sueangam-iam shared a photo on her Instagram.
The upcycled ensemble — which was designed by the brand Manirat and is known as the "Hidden Precious Diamond Dress" — combines the aluminum pull-tabs of soda cans with Swarovski crystals.
There's also a hidden meaning in the dress. The soda tabs pay tribute to Sueangam-iam's upbringing.
"This gown was inspired by the familiar surroundings of my childhood," she wrote on Instagram. "Growing up with garbage collector parents, my life as a child was among piles of garbage and recyclables. This unique gown was purposefully tailor-made with discarded and recycled materials, namely the 'Can Tab' to present to the UNIVERSE that what's considered worthless by many actually possesses its own value and beauty. Thank you all for seeing it, hearing it, and hopefully being that message of self-worth." 🕊
"Although she was called by some as 'the garbage beauty queen,' that never stops her from shining bright as a precious gem," read a caption on the Miss Thailand Instagram page.
According to her official Miss Universe bio, Sueangam-iam, now 24, was born and raised in a slum in Bangkok. Her family later sent her to a temple to protect her from an unsafe environment. She grew up among Buddhist nuns and her meals primarily consisted of the monks' leftovers.
"At an early age, poverty differentiated her life at school from other children, especially the cost of tuition," her bio reads. "In order to cover her tuition fees, she had to collect merit points, donate blood every semester, collect plastic waste bottles, and clean public restrooms. This experience made her question the accessibility Thai children had to education."
Sueangam-iam now hopes to use her platform to represent and amplify the voices of children from underprivileged backgrounds. She currently works with a number of nonprofit organizations, including Smile Train Thailand.
Insider
For news and events coverage, photo features, contributions and adverts contact us via:
Phone: +2348029115783
WhatsApp: +2347037611903
Follow us via:
Facebook: @Words and Shots
Instagram: @words_and_shots
Twitter: @wordsandshots
WHAT COLOUR LOOKS BEST ON ME?
You may ask, what colour looks best on me? Figuring out the colour that suits your skin can be difficult as it is easy to assume your colours based on what suits the people around you or what you prefer.
Since most people tend to ignore the importance of finding the colour that flatters their skin, identifying the colour that suits you is tough. Your skin colour is determined by the amount of melanin in your skin, exposure to the sun, genetics, and atmospheric conditions, although the most prominent is the pigment "melanin". The people around you might have more or less melanin than you do, hence, producing multiple skin tones. The fact that a colour suits your sibling's skin do not ensure that it will suit yours.
This is why you should discover that colour, the colour that makes you feel like it is made for you.
Like finding the best hairstyle that suits your face, finding the perfect colour that flatters your skin is tricky. To determine the colour that best suits your skin, you should be aware of these factors: first, your skin tone, and second, your skin shade.
Many assume that finding the colour that best flatters your skin should not be complicated. However, it is easier said than done. What you need to do is identify your skin tone and your skin shade, which will aid you in determining the group you fall into, which could be cool, neutral or warm.
The first step to figuring out your skin tone is to know your skin undertone. This part can be complicated yet easy, depending on your skin clarity. Look down at the vein on your wrist in natural light. Pay attention to the colour. If your veins look green, you are warm-toned, if they look blue, then you are cool-toned. Now that you have determined your skin tone let's get down to the colours.
Warm-toned people stand out in colours inspired by the reflection of nature. Your best colours are yellow, peach, orange, amber-gold and neutrals like cappuccino, mushroom grey and cream. While cool-toned people bag colours that are inspired by the depths of the ocean like blue, rose, lavender, purple and grey.
People with neutral skin tone cannot tell if their vein is green or blue, they may see both colours in their skin undertone. If you have a neutral skin tone, you should focus more on your shade.
Several articles address the importance of identifying skin tones without reference to skin shades.
Luckily, this article nails down four major skin shades. If you have got a dark skin shade, the best colours for you are navy green, burgundy, grey, and pink. Pastel colours also suit dark skin shades flawlessly. Supposing you're brown-skinned, there is a high probability that your skin tone is neutral. The colours that look best on you are mid-blue, jade green, corn silk yellow, pastel brown and blue, and teal and grey. If your skin shade is olive, the colours that will look amazing on you are burgundy, maroon, magenta, navy blue, olive green and coral. The last is the fair skin shade. This is for the people we call light-skinned.
The colours that elevate your looks are honey brown, lavender, burgundy, olive green, cream and lagoon blue.
Black, white and red is generic colours as they tend to be flattering on every skin. You just have to determine from the many hues, which hue suits you more.
For news and events coverage, photo features, contributions and adverts contact us via:
Phone: +2348029115783
WhatsApp: +2347037611903
Follow us via:
Facebook: @Words and Shots
Instagram: @words_and_shots
Twitter: @wordsandshots