AUTHORITIES MUST PROTECT THE INTEGRITY OF THE NYSC – HON. EDEOGA
We must not sacrifice our national icons on the altar of politics, greed and nepotism, he insists
Hon. Chijioke Edeoga is the governorship candidate of the Labour Party in Enugu State in the 23rd March, 2023, gubernatorial election and is currently awaiting the verdict of the Enugu State Governorship Election Court adjudicating his petition against the declaration of Barr. Peter Mbah of the Peoples Democratic Party (PDP) as the winner of the election. Speaking with Editors MALACHY UZENDU and CHESA CHESA in Abuja, Hon. Edeoga spoke about his expectations in the Court's decision and called on everybody, personalities and institutions to strive to preserve the integrity of the National Youth Service Corps (NYSC) and other institutions, rather than undermine them as is currently the case. Enjoy the excerpts of the interview.
We know you are awaiting the verdict of the Governorship Election Court in Enugu State. However, can you highlight some of the issues that were canvassed before that court?
As you have noted, I am the governorship candidate and the flagbearer of the Labour Party (LP) that successfully removed PDP from power; a position that PDP occupied since 1999. And the facts on the ground prove that LP won Enugu state decisively in the just-completed National, State Assembly, the Presidential and Governorship elections in the state.
For instance, out of three senatorial positions in Enugu State, LP has two senators from. Out of eight seats in the House of Reps, LP has seven, while PDP has only one. Out of the 24 positions in the State Assembly, LP won 14, while PDP has only 10 seats.
On that fateful day, the 23rd of March, 2023, the governorship election had been conducted and the results were coming out from all over the state. We have 17 Local Government Areas (LGAs) in Enugu State. The governorship candidate of LP in the state, that is my humble self, Chijioke Edeoga, was leading in 16 LGAs out of 17. I was leading with more than 11,000 votes, and the PDP candidate was trailing the LP by about 11,000 votes. The one LGA remaining was Nkanu-East, and it happens to be the home LGA of the governorship candidate for PDP, Mr. Peter Mbah.
After a very long delay that was not unnecessary and was not inexplicable in the sense that the results from the farthest LGAs had come in, and Nkanu-East which is one of the closest LGAs to the state headquarters (of INEC) came in last, and when they came in, they declared results of more than 30,000 votes.
Even the Electoral Officers knew and agreed that something wrong had happened because there were only 15,000 accredited voters in that LGA. So, how could PDP or INEC have returned 30,000 votes in a place where only 15,000 voters were duly accredited?
There was a rumpus and the Returning Officer refused to announce that result. Abuja intervened and took matters into their own hands and it was agreed there was a problem, but outside the law and illegally. After three days and in the absence of any LP representative, they shed the figures down and then gave the PDP a lead of about 5,000 votes over the Labour Party, and announced PDP as the winner of the election.
We had just a few weeks to challenge that declaration, which we and even the country knew was wrong and did not represent the political wish of Enugu state people.
In spite of all the problems, all the hindrances, all the obstacles the INEC in Enugu put before us with regard to the release of essential material and essential evidences, were able to beat the deadline to submit our electoral petition on the 6th of April.
We successfully assembled a team of very brilliant lawyers from every part of the country and this team worked together every day in peace and amity and, and the shortest time possible, produced a petition that represented our position on that election, a petition that I know will go down in electoral history as one of the best – very precise, very brief, very well written but still captured the law in its essentialities.
What are those essential points highlighted?
Our first point was that Mr Peter Mbah, having submitted a forged NYSC certificate, did not qualify ab initio to run for that office and should be disqualified. That position agrees with the Constitution. What the case law says is that in order to prove this matter, the issuing authority has to come personally or in writing to accept that it was issued by them. Our first canvas is that Peter Mbah was not qualified to run as a candidate having presented a forged NYSC certificate.
We subpoenaed a Director at INEC who came and agreed that attached to Form EC-9, Peter Mbah actually submitted an NYSC certificate. We also subpoenaed the Director of Certification of the NYSC who agreed the document was forged.
We also subpoenaed a human rights lawyer, who had on the basis of the Freedom of Information (FOI) Act, written to NYSC, and NYSC had replied that the certificate was forged. So, our first canvass was that Peter Mbah was not qualified and we proved it adequately.
The second issue we canvassed was what we said was arithmetical error. We pointed out computational errors. We didn't know whether they were deliberate or otherwise, but we pointed them out, especially in Udenu LGA where the votes LP got at the polling units were assigned at the point of collation to the PDP. We had result sheets certified by INEC and tendered in court, showing that in several polling units in Udenu LGA, LP won at the polling units but at the point of computation upstairs, the victories of LP were assigned to PDP and losses of PDP were assigned to the LP. We asked the court to realign these figures to the proper owners and if this is done, the margin of lead by the PDP will be substantially diminished.
On our third point, we also pointed out that they should comply with the Electoral Law which states that in any polling unit where there is over-voting, the election should be cancelled. We brought evidences from BVAS and necessary documents to show that in Nkanu-East, in Owo, the home community of Peter Mbah and nearby community of Ugbuoka, there was over-voting by more than 5,000 votes. We proved these things convincingly. These are the three major points we took to the tribunal which sat until August 6th and now adjourned for judgement.
There are now issues affecting highly-placed government officials regarding their NYSC certificates, and they seem to be riding roughshod over that institution. What is your thinking about these developments?
NYSC is a national institution which many Nigerians, including my humble self, relate to with fondness. NYSC provided us with our first jobs or paid employment and still does for many. Out of university, worried about what life holds in the future, when there is pervasive unemployment and burdened by the challenges of the average youth, and you step into the world, NYSC gives you the anchor. It takes you away from home.
Most times, your first journey away from your home, your comfort zone is under the auspices of NYSC. Those who are from Rivers State go as far as Kano or Sokoto State where they find comfort, find love, even find employment, and the government of Nigeria pays you for those things.
So, NYSC is a national institution that has endured for good reasons. We ought to do everything possible, even in spite of the other institutions that are failing, we must hold on to the NYSC because of what it portends for us as a symbol of our nationhood, like inter-marriages, interstate travels, the security, the hope, the basis to even start life. So, we must as a people – the leaders and the led, the judiciary and all facets of our people, all authorities in Nigeria, must agree, as a national consensus agreement, that, that icon of our nation must be protected and preserved from against all these opaque things that are going on.
Over time, we have seen people who because of misunderstanding or the nature of their upbringing, or the nature of the finance, they have tended to treat us as if NYSC was unimportant, and yet, they wanted to benefit from it. The country's leadership has acted over time to show them that NYSC is a body that should be respected. When I was at the National Assembly, Salisu Buhari, was the Speaker, his case was not necessarily about NYSC, but it was still about his certificate, and President Obasanjo was firm, and Salisu lost the Speakership and exited the National Assembly.
Not too long ago, under retired General Buhari as President, he also dealt with that issue. A minister already serving and doing well, it was discovered that the NYSC of then Minister of Finance, Kemi Adeosun, was dodgy, even when she claimed ignorance of the acts of how it was procured, she was asked to step aside. Still under Buhari, the boss of NSITF was asked to disengage because of that.
I know that there are also many reported cases of persons who were disengaged from very highly placed positions in government because of their NYSC. You are also aware of the running battle Stella Oduah is having with the authorities. Now there is this one involving Peter Mbah, in whose case the Director General of the NYSC came on Arise television to say that the certificate the man is carrying was not issued by the NYSC.
There's nothing that can be more authoritative than that, but you'll notice that Mr. Peter Mbah, who was sworn in as the Governor of the state, has been carrying on in manners that one can interpret or read as trying to coerce the authorities. All these provide opportunities for even foreign nationals to attempt to coerce the national institutions to make us begin to come to terms with the fact that somebody who had obviously forged his certificate can get away with that.
I urge all the relevant authorities to act decisively in defence of the NYSC. It is important that the authorities act properly, even in the case of Peter Mbah, and clearly, in order to maintain the integrity of this last-standing national institution, so that it doesn't become a laughing stock.
The DSS and INEC as another national institutions have performed below expectations. There we have officials like Barr. Festus Okoye, who professes one thing openly and publicly, but does a different thing. So, our national institutions are being degraded in such a way that the last one standing – the NYSC – should be supported because if we degrade our national institutions and icons, the idea of Nigeria dies, that's the point.
There must be shared values, things that you hold as a people; things that unite us. NYSC is one, the DSS is one, Judiciary is one. INEC is one, JAMB is one. JAMB is doing well and should be encouraged. Those ones that are not doing well should be helped to do well. Those that are doing exceedingly well, like the NYSC, should not be subverted.
Young people should have something they believe in, something they look up to. National icons are a collection of our beliefs that build the national idea which sustains our nationhood and this must not be sacrificed on the altar of politics, greed, nepotism or any kind of compromise at all.
You have spoken so passionately about national institutions like NYSC. Did you do the NYSC service?
Yes. Of course, I did. I served at Ojim College, Ikwere Road, Rivers State. My fondest memories of Rivers State are the ones I had when I was there as NYSC member. I also lived briefly at Woji Naval Barracks. With my colleagues, we went round Rivers State, met beautiful people, visited military institutions and had 'Thank-God-It's-Friday' parties. That's what NYSC does; create memories and friendships that endure. I still have friends I met in Port Harcourt who still relate with me.
So, I served (NYSC) very well. I served with distinction. I was the Director of the Theatre Arts Group at NYSC camp, and I directed the NYSC play there for that year. It was a play written by Femi Osofisan.
You seem to be invariably sending out a message to the like of the serving minister now having NYSC issues. What should be done in this case?
I think that the authorities, those who hired her, should look into that matter very well and dispassionately. But ordinarily, I don't see any reason why she should still be serving as a minister and doing her NYSC at same time.
From your experiences, at least from when you joined the LP, up till this time, how will you advise the political elite concerning the 'do-or-die' mentality or attitude to politics?
Of course, do-or-die is not good. It is abhorrent. Do-or-die arises when the impetus and propelling motive is not service. You are being propelled by something that's outside service. If you really genuinely want to serve your people, or your state or Nigeria, then there will be no door-to-die. Just play by the rules. If you win, okay. If you don't win, okay. Do-or-die is a function of greed and aggrandisement.
Do-or-die attitude obtains because those who had done it in the past and got away with it in Nigeria are seldom punished. It is a function of the values and upbringing that one has at heart. I have never rigged election in my life. I have never asked anyone to rig for me. I have never played outside the rules because that is my upbringing. So, upbringing and values from childhood and peer group associations are important.
Beyond that, the laws must be upheld. So, if politicians are caught stealing, the police and EFCC should be up and doing but they are not. The fact that you can steal and build houses, even kill and maim, and get away with it, is what encourages do-or-die. If the laws are maximally enforced, it will reduce.
Upbringing is important, leadership is important, the led is important. If corrupt politicians are voted out, door-to-die will reduce. If INEC does its work pretty well as a true umpire and doesn't take sides against the people at all, do-or-die will reduce. And we have amended the law that allows somebody whose election is being challenged to be sworn in; it encourages do-or-die.
So, all the litigations pertaining to contested offices, for instance, must be exhausted before somebody is sworn in. This will also reduce do-or-die in electoral contests. Do-or-die will reduce once our values and orientations change, and laws effectively implemented. When offenders are prosecuted and punished adequately, and the followership re-enlightened enough to make the necessary distinctions between good and bad. In Nigeria, there's no distinction between good and bad; anything goes and it is not going to help us forge a society of our expectations.
What is your message to your large followers who appear to be restive?
My message to my followers is that I'm a due process person. I'm not a do-or-die person. I also believe and have faith in God. Nothing can change or stop the strength of my faith. And so, I've always enjoined my followers to be law-abiding, prayerful and positive; and we have to follow the due process of law as we canvass our case to the final point. Whatever that happens to the point the law allows us to reach, we know it is the wish of God. Life will go on. It is not about me but about the vision and ideas I have for good governance and betterment of our people in Enugu State, Eastern Nigeria and Nigeria. They should be prayerful, calm, peaceful and tarry. Our time will come by the grace of God.
For news and events coverage, photo features, contributions and adverts contact us via:
Phone: +2348029115783
WhatsApp: +2347037611903
Follow us via:
Facebook: @Words and Shots
Instagram: @words_and_shots
Twitter: @wordsandshots
OSARO-ONAIWU APPOINTED MEMBER PDP STRATEGIC TEAM FOR IMO, BAYELSA AND KOGI ELECTIONS
Desirous to emerge victorious in the forthcoming elections in Imo, Bayelsa, and Kogi States, the People's Democratic Party has appointed Earl Osaro-Onaiwu to its strategic team put together to plan and lead strategy to achieve success in the polls in the states.
Onaiwu is the former Director General of the Nigerian Governors Forum, founder of the PDP Governors Forum and Director General of the Bukola Saraki Campaign Organization in the 2023 Presidential Elections.
The "Solution," as he is often called by admirers and associates, brings a wealth of strategic political experience capable of providing the PDP with the necessary communication advantage as the campaign heats up.
With a captivating track record of robust campaign engagements at the national level, as well as his consistent contributions to various high-profile PDP committees across the country, it is believed Osaro-Onaiwu will bring his midas touch to ensure the success of the "Special National Media/Publicity Committee" in the three states.
The drafting of the PDP chieftain into this special committee underscores the seriousness of the party in winning the gubernatorial elections in the aforementioned states. Given his background and experience in journalism and media management, the PDP stands to get high-level awareness in these states.
The assemblage of political gladiators in the special committee, no doubt gives members of the party a sense of higher optimism and the hope of victory.
For news and events coverage, photo features, contributions and adverts contact us via:
Phone: +2348029115783
WhatsApp: +2347037611903
Follow us via:
Facebook: @Words and Shots
Instagram: @words_and_shots
Twitter: @wordsandshots
NIGERIA SENATOR GAFFES, SAYS WIFE USED POSITION AS JUDGE TO HELP FELLOW POLITICIANS
Senator Bulkachuwa's comment strengthens longstanding suspicion of connivance between Nigerian judges and politicians.
Senator Adamu Bulkachuwa has revealed that his wife used her office as president of the Appeal Court to favour his colleagues in the Senate.
Zainab Bulkachuwa was president of the Appeal Court between April 2014 to March 2020.
Mr Bulkachuwa made this revelation during the Senate valedictory session on Monday.
He said, "Particularly, my wife, whose freedom I encroached while she was in office," Mr Bulkachuwa said. "She has been very tolerant and accepted my encroachment and extended her help to my colleagues."
The senator was still speaking when outgoing Senate President Ahmad Lawan, who presided over the valedictory session, cut in to stop the Senator.
"Distinguished, I don't think this is a good idea going this direction," Mr Lawan said.
Mr Lawan, who contested the All Progressives Congress presidential primary ticket in June but lost, returned to the Senate after a controversial and fierce legal battle with Bashir Sheriff Machina, who won the Yobe North senatorial primary ticket of the APC.
During the same valedictory session, Rochas Okorocha had mocked Mr Lawan on the circumstances surrounding his return to the senate without duly participating in his party's primary elections.
Mr Okorocha, an outgoing senator representing Imo West, said: "I did not contest for the senate this period. I only contested for the office of the president. You are a very smart politician. How you came back to the Senate is another chapter in our political history that we need to discuss."
Further mocking the controversial return of Mr Lawan to the Senate, Mr Okorocha said: "I was there in the field with you running for president, I never knew how you were able to meander, leaving some of us. Next time you must teach me how to do that."
For news and events coverage, photo features, contributions and adverts contact us via:
Phone: +2348029115783
WhatsApp: +2347037611903
Follow us via:
Facebook: @Words and Shots
Instagram: @words_and_shots
Twitter: @wordsandshots
WHO WOULD WIN IN A WAR BETWEEN US AND CHINA?
It depends how it starts
China and the United States are the great rivals in the competition to win the 21st century. But which one would have military superiority in outright conflict?
If China chooses to attack the island of Taiwan, the United States could be helpless to stop it.
By the time the People's Liberation Army launches its third volley of missiles at the island Beijing considers a breakaway province, the US could be just learning of the attack.
In a matter of minutes, Beijing's Rocket Force could cripple Taiwan's military, infrastructure and ports.
Yet if China wanted to conquer Taiwan, the outcome could be different. Possibly completely different.
CREDIT:
China would have to launch an amphibious invasion, deploying troops along its beaches as the first step in a march towards the capital Taipei. Despite its 1.9 million-strong army, compared to Taiwan's cohort of 150,000, the task of taking its island neighbour and holding it is a mammoth military challenge.
Taiwan's Foreign Minister Joseph Wu said on June 3 that Taipei did not anticipate a conflict was going to break out any time soon, "but we are trying to get ourselves ready".
"If there is going to be a war between Taiwan and China, we will fight the war ourselves," he said. "If other countries come to our aid, that will be highly appreciated, but we will fight the war for our own survival and for our own future."
In this scenario, the US and its allies could respond by conducting airlifts to Taiwan. The US could also use submarines and stealth aircraft to attack China's shipping fleet in the Indian Ocean to cripple its economic lifeline in times of a crisis.
The divergence of the two Taiwan scenarios, a Chinese military attack or an invasion, says a lot about the relative military power of the US and China, itself a barometer of the strength of the two superpowers.
"I told President Xi that we will maintain a strong military presence in the Indo-Pacific just as we do with NATO in Europe not to start conflict, but to prevent conflict," US President Joe Biden told a joint session of Congress in April.
A month earlier, Xi Jinping had told the People's Liberation Army: "We should persist in using combat to guide our work; step up preparations for war."
Today, China's military spending is the second-highest in the world after the United States and continues to rise. Its military budget is greater than the combined expenditure of India, Russia, Japan, South Korea, and Taiwan, according to the Stockholm International Peace Research Institute.
The Chinese defence budget reached $324 billion this year. It has been growing by 6-8 per cent each year for the past five years but according to defence intelligence agency Janes, US spending remains miles ahead at $759 billion.
China had 55 small war ships in 2020, more than double the number it had five years ago. Six large amphibious vessels have been launched, three since 2015, and a third aircraft carrier, larger than its predecessors, will soon be completed.
Meia Nouwens from the International Institute for Strategic Studies said Beijing was intent on achieving primacy in the waters that surround China.
"China is also developing the capabilities needed to support military operations at range," said Nouwens, suggesting they could attack across large distances.
China's focus on its region would give it a local advantage in any clash with the US.
Oriana Skylar Mastro of Stanford University has testified that "China dedicates all its resources to planning and preparing for a contingency in east Asia, while the US has additional responsibilities in the Middle East, Europe and worldwide".
If a conflict were to erupt in east Asia, "then the Chinese military is closer to on par with the United States".
China's military build-up is making a difference.
Only a decade ago, the US would have easily dominated the Chinese military in almost any scenario, says Australian National University Professor Stephan Fruehling. "I think the US now accepts it may lose a conflict – at least at the conventional level – with China."
Better trained or better placed
The geographic focus is decisive. The US Air Force boasts nearly 2300 warplanes in service, with another 1422 aircraft in use for the US Navy and Marines, Janes calculates.
But all the US planes cannot be dispatched to China's coastline. Certainly not in the six-to-eight minutes it could take a DF-11 A rocket to cross the 130 kilometre-wide Taiwan Strait to its target.
China's 1264 warplanes, meanwhile, are based in China.
It's a similar story with troops.
The US's 1.38 million active personnel are better trained and equipped than many of their 1.9 million Chinese peers – but getting them in place, and in time, to take on China would be a crucial task.
There are less quantifiable aspects as well.
The last time Chinese troops saw direct action was 1979 when China launched a costly month-long war against Vietnam to teach it a lesson in retaliation for Hanoi's actions in south-east Asia.
The US military has been racking up decades of in-the-field experience, most recently with deployments in Afghanistan and Iraq and the Middle East. While these have been costly, they also provided invaluable combat experience.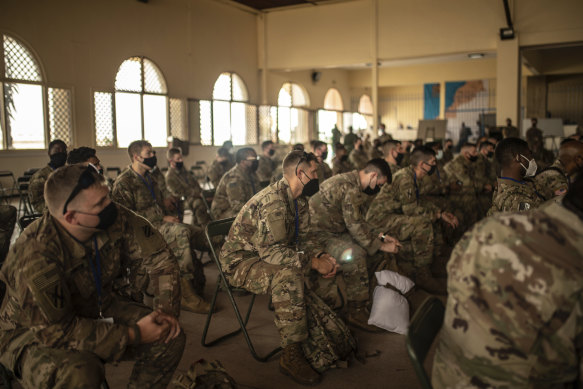 China is aware of this gap. Its army is now deploying troops to Africa for peacekeeping missions that give first-hand experience in conflict zones after decades of relative peace.
The structure of the military is also different. Rockets figure heavily in Beijing's arsenal. The 100,000-strong Rocket Force was made a seperate branch of the People's Liberation Army in 2015.
"The PLA's missile forces are central to China's efforts to deter and counter third-party intervention in a regional conflict," a US congressional report concluded this month.
The US believes China has about 2000 mid-range missiles in place, which could ward off the US Navy in a conflict.
China's nuclear weapons are estimated to number between 200 and 350, a mere 5 per cent of the United States' arsenal, but potentially enough to deter broader conflict through the prospect of mutual destruction.
Looking back at half a century of China-US relations. Video by Tom Compagnoni.
The frontlines of sea and space
Should a war break out around the South China Sea, the US would be under pressure to quickly neutralise the roughly 10 man-made islands China has created (seen as "unsinkable aircraft carriers") to use as military bases.
The US would be challenged by a powerful Chinese fleet in the region.
Brooking Institution's Michael O'Hanlon writes that the location of China's new fleet of attack submarines could act as a deterrent to US military escalation.
"The only truly reliable way to counter the threat would be to attack the submarines in port when they refuel and rearm," he writes. But that would require strikes on China's mainland, "with all the enormous risks of escalation that could portend".
One option to attack the man-made islands would be to send in teams of US Marine Raider commandos to destroy weapons systems.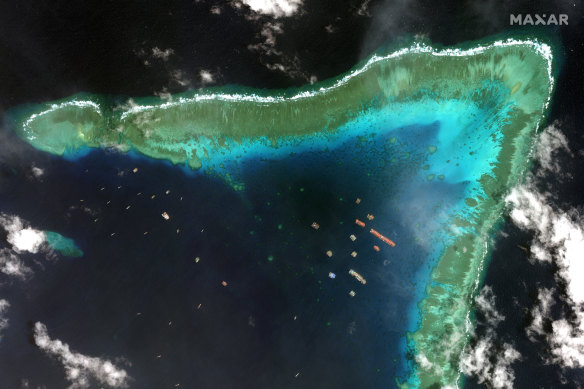 But precision bombing requires the military to have access to space, where orbiting satellites help guide munitions.
In July 2020, BeiDou, China's version of GPS became fully operational, allowing it to track ships, planes, cars and smartphones from space without relying on the US technology that has dominated global positioning for decades.
"Space would be the first place both sides would go to strike the others' forces in event of a conflict," says Tate Nurkin of the US-based Intelligence Group.
China or the US could do this by feeding misleading information to satellites from the ground – known as "spoofing" – to stop the space-based location pinpointing needed for weapons.
"China would seek to pluck out the eyes and ears of the US and allies to make them blind on the battlefield," said Malcolm Davis, a senior analyst at the Australian Strategic Policy Institute.
The US has launched 615 satellites into space in the last three years, compared to 168 by China, according to Lowy.
While the US remains ahead in space for now, Davis says how long US dominance lasts "is not clear".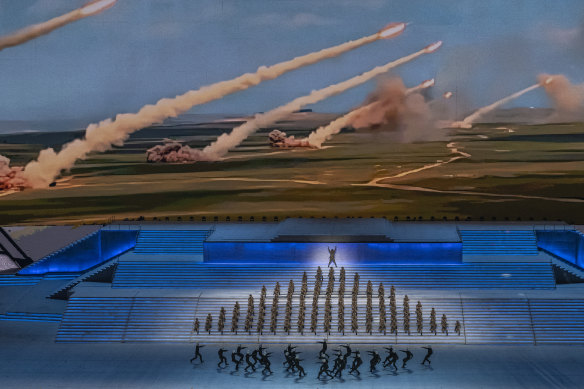 Changing the status quo
Mastro notes that in war scenarios the US wants to maintain the status quo in the region while China wants to change it.
"China is largely trying to take territorial control," which makes east Asia a likely location for trouble.
And that takes the issue of US-China military prowess back to the all-important issue of politics.
In the event of a war: what would Japan, the Philippines, South Korea and Australia do? These are all Cold War allies of the US, but they have not had to think about war in the region since the 1970s.
What determines victory, loss or stalemate between the US and China is likely to be determined by the murky calculus of how much risk and how much pain and loss both sides could endure.
For news and events coverage, photo features, contributions and adverts contact us via:
Phone: +2348029115783
WhatsApp: +2347037611903
Follow us via:
Facebook: @Words and Shots
Instagram: @words_and_shots
Twitter: @wordsandshots