ISRAEL HOSTAGE CRISIS IS EVERY GOVERNMENT'S WORST NIGHTMARE
As hundreds of thousands of Israeli troops, regular and reservist, gather on Gaza's borders, the Israeli government faces a near-impossible situation.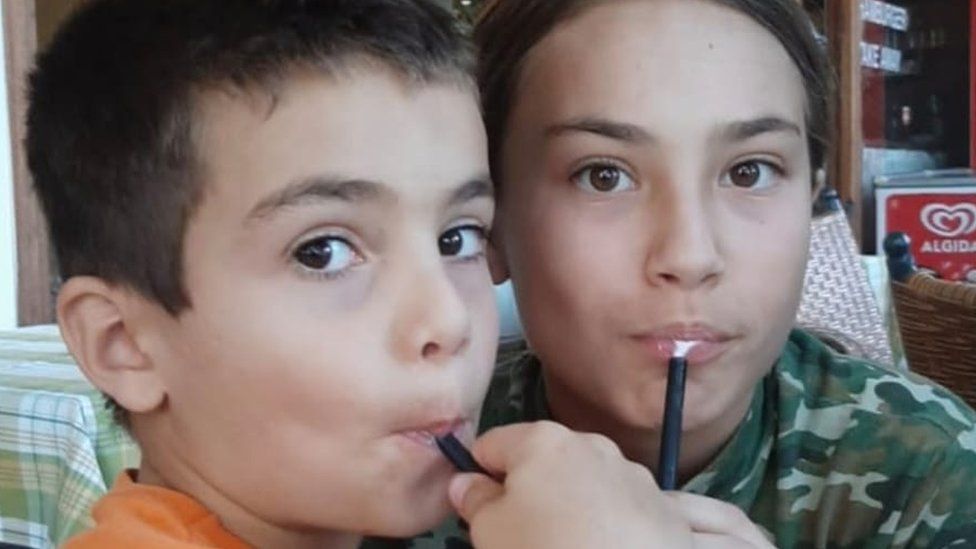 At least 150 hostages seized by Hamas gunmen from southern Israel last Saturday are now being held at secret locations inside Gaza. Among them are women, children and the elderly.
If Israel decides to launch a full-scale ground invasion of Gaza, as some are expecting could be imminent, then what are the chances those hostages will survive?
No mood for compromise
Behind the scenes, Qatar, Egypt and possibly other countries are believed to be trying to negotiate a partial release of those hostages. One idea being mooted is for Hamas to release its women and child prisoners in exchange for 36 Palestinian women and adolescent prisoners being held in Israeli jails.
But Michael Milstein, Senior Analyst at the Institute for Policy and Strategy at Israel's Reichman University, told me that while in normal times the number one priority for Israel would be the return of those hostages, today it is the elimination of Hamas as a military threat.
With tensions and anger sky-high on both sides, neither Israel nor Hamas are in the mood for compromise or concessions. Israelis are shocked and outraged that gunmen were able to breach their southern border so easily and then murder at least 1,200 people, most in cold blood.
Palestinians, and not just Hamas, are reeling from the onslaught of more than 2,000 Israeli airstrikes on Gaza that have killed more than 1,000 people since Saturday. Gaza has been cut off from fuel, electricity, water and medicine.
Hamas has threatened to "execute" one hostage for each time an Israeli airstrike kills civilians without warning. There is no evidence they have done so yet. At the same time there is little sign of restraint from Israel. Large parts of Gaza are being intentionally reduced to rubble.
However Milstein believes that Hamas may not be keen to hold on to its women, children and the elderly. They are bad optics for the group internationally and many will require a high degree of care, not easy amid constant air strikes and when Hamas are trying to keep their location secret from any covert informants Israel may have inside Gaza.
By contrast, Hamas will want to take maximum advantage of any serving military personnel it holds, extracting the highest price for their release if negotiations take place.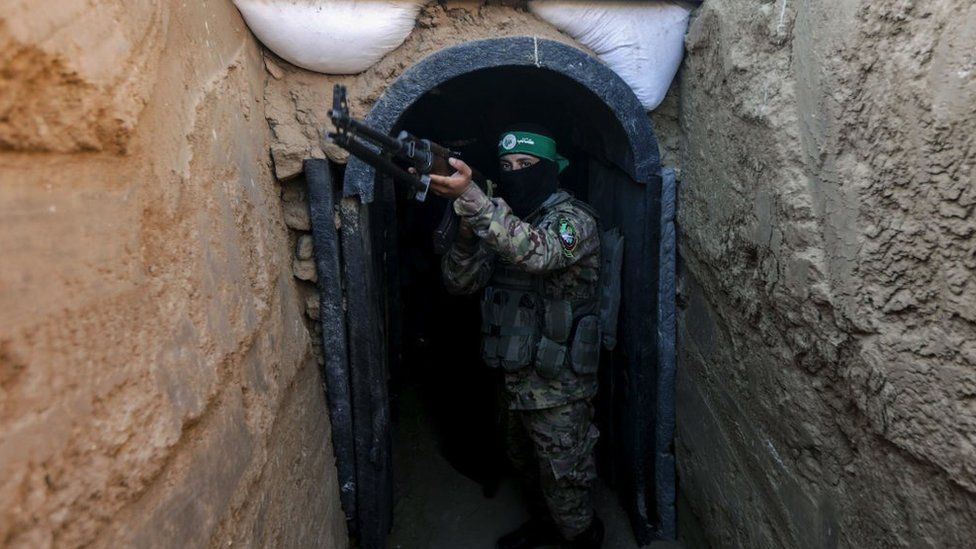 No easy option
This leaves the Israeli government with a dilemma when it comes to the hostages. Does it attempt an armed rescue mission, something fraught with risks? Or does it wait for longer, until Hamas is so weakened by airstrikes, that it might be more willing to make a deal?
That option carries its own risks. Although the hostages are thought to be held below ground in tunnels and bunkers, they may not be immune to these airstrikes. There is always the risk that their captors could kill them, either in a fit of rage or if they feared they were on the point of being rescued. This happened in Nigeria in 2012 during a failed UK-Nigerian Special Forces mission to rescue two hostages held by jihadists.
Israel has been quick to set up a Hostage Situation Room, collating everything it knows on the identity and status of each of the hostages who were dragged at gunpoint across the border into Gaza on Saturday.
Those who were still being held on Israeli territory were rescued by Israeli military and police Special Forces, with all their Hamas captors killed. But Michael Milstein, who spent 20 years in Israeli military intelligence, warns that "we don't have all the data on every house and street in Gaza". This is where Hamas are on home ground, able to conceal both themselves and their hostages in a network of underground cellars and tunnels.
Israel has a well-proven expertise in hostage rescue, which it trains for intensively. Set up in 1957, its secretive Sayeret Matkal unit is broadly similar to Britain's SAS or America's Delta Force. It shot to fame in 1976 with its Raid on Entebbe where its commandos rescued hostages from a hijacked plane at a Ugandan airport.
The commander of that unit was Yonatan Netanyahu, the only fatality amongst the Israeli commandos. Today his brother Benjamin is Israel's Prime Minister and it is with him that the decision rests as to whether to wait it out in the hopes of a negotiated release of the hostages or go in hard in the hopes of rescuing them by force.
'The hardest hostage situation yet'
Reports are emerging that the US is providing assistance with intelligence data and possibly even support from its own Special Forces. A large US Navy carrier group is positioning itself offshore in the eastern Mediterranean.
But Hamas have shown themselves capable of asymmetric warfare, of being able to make up for Israel's massive advantage in technology and firepower.
By avoiding leaving a digital trail in their communications and keeping those communications to a minimum, they were able to take Israel by surprise on 7 October. Their gunmen who are currently holding those 150-plus hostages will be staying offline and off the airwaves as far as possible and will almost certainly have removed every digital device from their captives.
"This is without question," says Michael Milstein, "the most difficult hostage situation Israel has ever faced in its history".
For news and events coverage, photo features, contributions and adverts contact us via:
Phone: +2348029115783
WhatsApp: +2347037611903
Follow us via:
Facebook: @Words and Shots
Instagram: @words_and_shots
Twitter: @wordsandshots
ANAMBRA STUDENT WINS BEST WAEC STUDENT AWARD FOR HANDICAPPED CANDIDATES
Anambra State has continued with its winning streak in educational competitiveness, as one of its indigenes has been declared the best candidate in the category of visually impaired students in Nigeria in the 2022 Senior Secondary School Certificate examination conducted by the West African Examinations Council (WAEC).
Miss Precious Nzube Mbajiorgu, who wrote the examination at St John of God Secondary School in Awka, has just been rewarded by the WAEC Nigerian headquarters office in Abuja for her academic excellence despite being physically handicapped.
She performed brilliantly in the nine subjects she wrote.
An indigene of Ihiala in Anambra State, Ms. Mbajiorgu is currently a fresh-year student at Nnamdi Azikiwe University, Awka, where she is studying guidance and counselling.
Now 21years old, Ms Mbajiorgu lost her sight in 2008 to glaucoma when she was in her terminal class in a primary school in Awada near Onitsha. She subsequently lost some years while adjusting to her new condition which caused her to learn the use of the Braille machine to read.
"Precious has always been a serious and ambitious student", remarked Chief Greg Okafor, a Lagos-based lawyer who has been following her educational progression.
Ms Mbajiorgu, who plans to be an academic, dedicated her award from WAEC to Anambra State Governor Chukwuma Soludo for his commitment to quality education and for his effort to empower physically challenged persons.
"Professor Soludo cares for all", she said, "and he is well-focused, not just brilliant".
For news and events coverage, photo features, contributions and adverts contact us via:
Phone: +2348029115783
WhatsApp: +2347037611903
Follow us via:
Facebook: @Words and Shots
Instagram: @words_and_shots
Twitter: @wordsandshots
EX-GUINEAN DICTATOR FREED FROM PRISON BY ARMED COMMANDOS
Former Guinean dictator Moussa Dadis Camara was on Saturday taken from prison by a heavily armed commando during an operation that sparked heavy gunfire in the capital Conakry, lawyers and a judicial source said.
At least two other former officials currently on trial alongside Dadis Camara over a 2009 massacre during his presidency were also taken from the central prison, they said.
It was unclear whether Dadis Camara had escaped of his own free will.
A group of masked and heavily armed soldiers arrived at the prison at around 4:00 am (0400 GMT) and entered by force, said a judicial source, speaking on condition of anonymity.
They declared they "had come to free Captain Dadis Camara", the source said.
Inside, the group headed towards the former leader's cell, appearing to already know its location, and took him and other detainees to an unknown location, the judicial source said.
"The attorney general confirmed to me that my client had been taken out of prison by heavily armed men," Dadis Camara's lawyer Jocamey Haba told AFP, raising the possibility that he was taken against his will.
"I continue to think he was kidnapped. He has confidence in the justice of his country, which is why he would never try to escape," he added, referring to the trial against Camara currently underway.
The lawyer said his client's life was "in danger".
The sound of gunfire could be heard before dawn in Kaloum — a central district located on a peninsula that houses the presidency and several top government and administrative offices as well as the military headquarters and the main prison.
"There is gunfire from both automatic and weapons of war in Kaloum," a witness from the area said, speaking on condition of anonymity.
"The city centre has been sealed since dawn, we can neither enter, nor leave," a shopkeeper added, also speaking on condition of anonymity.
"I wanted to go to the port area where I work but was prevented from leaving (Kaloum), where armoured vehicles have been deployed."
An airport source said no flights had taken off from Conakry's international airport on Saturday morning as air traffic staff could not get to the airport from Kaloum, where they often spend the night.
Guinea, a West African country of about 14 million people, underwent a coup in September 2021, when Colonel Mamady Doumbouya stormed the presidential palace with soldiers and overthrew civilian president Alpha Conde by force.
It has been led by the junta since.
Several Guinean news sites quickly reported that Saturday events were not another coup, but that a heavily armed commando had attacked the central prison.
Guinean media reported that Dadis Camara had escaped alongside Moussa Tiegboro Camara and Claude Pivi.
'Compass' of justice
Dadis Camara has been detained since going on trial in September 2022.
He and about 10 other former military and government officials are accused over a 2009 massacre carried out by security forces loyal to the then-junta leader.
The killing of 156 people and the rape of at least 109 women started at a political rally in a Conakry stadium on September 28, 2009 and continued in the days that followed, according to a UN-mandated inquiry.
Camara — who himself came to power in a coup in December 2008 — and his co-defendants are charged with murder, sexual violence, torture, abduction and kidnapping.
They face life imprisonment if convicted.
The trial is unprecedented in a country ruled for decades by authoritarian regimes, where people had become used to the impunity of the virtually untouchable security forces, according to the international commission of inquiry into the massacre.
It opened in September last year at the urging of the new strongman, Colonel Doumbouya. After his coup, he promised to rebuild the Guinean state and make justice his "compass".
After the 2021 putsch, Doumbouya was inaugurated president and under international pressure committed to handing over power to elected civilians within two years from January 2023.
The Forces Vives de Guinee, a collective of opposition parties and organisations, have since denounced unfulfilled commitments and an authoritarian drift by Doumbouya's junta, calling it an "emerging dictatorship".
For news and events coverage, photo features, contributions and adverts contact us via:
Phone: +2348029115783
WhatsApp: +2347037611903
Follow us via:
Facebook: @Words and Shots
Instagram: @words_and_shots
Twitter: @wordsandshots
THE BEAST THAT WILL PLOUGH GAZA IN ISRAEL'S GROUND ASSAULT
Israel is set to send in 'the Teddy Bear' the world's most indestructible bulldozer to spearhead IDF's invasion of Gaza and tackle its labyrinth of tunnels, booby-traps and sniper positions
As the Israeli army masses forces in preparation for a full-scale invasion of Gaza, its troops prepare to face a maze of narrow streets, vast tunnel networks, booby traps, and sniper positions.
In this urban environment, the D9R armoured bulldozer affectionately nicknamed Doobi or 'Teddy Bear', will be essential for a successful assault.
A ground operation in the dense residential districts of the Palestinian enclave will require specialized equipment to clear the way for the 300 tanks and 173,000 soldiers massing on the border.
Should fighting break out, the Israeli-modified Caterpillar bulldozer will be used to detonate mines and improvised explosive devices and to demolish obstacles in the path.
With 15 tonnes of added armour and a reinforced blade, the D9R is almost impervious to guns or explosives and will play a key role in allowing infantry to advance safely.
The D9R armoured bulldozer, affectionately nicknamed Doobi or 'Teddy Bear', will be essential for a successful assault
In an urban warfare scenario, the D9R would be used to clear mines and explosives from the path of advancing ground troops and tanks
What is the D9R?
Nicknamed Doobi or 'Teddy Bear', the D9R is the latest generation of D9 armoured bulldozers which were first deployed by the Israeli Defense Force in the 1950s.
It is 26.2ft long x 13ft tall x 14.7ft wide (8m long x 4m tall x 4.5m wide) and weighs 62 tonnes.
The vehicle is equipped with a large front blade and rear ripper attachment for clearing obstacles and detonating explosives.
The armoured cockpit has room for a crew of two who are protected by bullet-proof glass against sniper and machine gun fire.
The D9R can also be equipped with a mounted machine gun, grenade launcher, or smoke projector.
Over 100 were deployed in the 2014 incursion Operation Cast Lead, a 22 day assault killing into Gaza by Israeli military forces.
In 2018, the Israeli army revealed the D9R Panda, a remotely operated version of the vehicle.
The D9R gets its nickname 'the teddy bear' from military slang for a bulldozer of any kind.
It can hold a crew of two soldiers in its armoured cockpit – a driver and a commander – where bullet-proof glass offers them protection against sniper and machine gun fire.
In 2015, the D9R was upgraded with 'slat armour' to offer the vehicle more protection against the rocket-propelled grenades (RPG) widely used by Hamas in previous conflicts.
Slat armour, also known as cage or bar armour, works by allowing the sensitive detonator tip of the rocket to pass through before deforming the explosive body so that it either does not detonate or is less effective.
At 26.2ft long x 13ft tall x 14.7ft wide (8m long x 4m tall x 4.5m wide) and weighing 62 tonnes, the D9R is an enormous piece of military equipment capable of carving through any obstacle in its path.
The D9R Dozer is powered by a Cat 3408C engine capable of producing 405 horsepower and pulling over 70 tonnes.
Not only does this help the bulldozer plough through obstacles, but it also allows various infrastructure support roles such as digging trenches and building bridges or defensive structures.
The Teddy Bear can also be equipped with a mounted machine gun installation, grenade launcher, or smoke projector for additional combat capability.
In 2018, the Israeli army also began to deploy and operated the D9R Panda, a remotely operated version of the bulldozer for more hostile environments.
The cost of a D9R is unclear as the vehicles are bought directly from Caterpillar by the Israeli military and are later outfitted with their specialist armour.
However, the cost of a new Cat D9 bulldozer is at least $900,000 (£739,624) even before any additional upgrades have been made.
In response to the massacre of 1,300 Israelis by Hamas terrorists, the Israeli army has already pounded the 25-mile (45km) Gaza strip with over 6,000 bombs containing a total of 4,000 tonnes.
Palestinian authorities claim that 1,400 people have so far been killed by the Israeli bombardment, and today Israeli authorities ordered the evacuation of Northern Gaza in preparation for an assault.
With its reinforced blade and slat armour the Teddy Bear is almost entirely impervious to bullets and explosives
The specialist slat armour was added in 2015 as a specific counter to the rocket-propelled grenades frequently used by Hamas
The Israeli army announced that it has deployed the D9R Panda, a remote operated version of the armoured bulldozer for even more hostile environments
Israel is drawing on its huge military might – including thousands of tanks, warplanes and troops in a full-scale ground invasion of the enclave in response to a series of terrorist attacks which killed 1,300 Israelis
While Hamas is only believed to be in possession of around 10,000 rockets and cannot match the size or technological capacity of the Israeli army, the group's fighters are still expected to offer bloody resistance.
Before reaching Hamas' defensive strongholds, Israeli forces will have to breach a series of defensive lines including mines, mortar targets, anti-tank weaponry, and potentially suicide bombers.
Since 2007, Hamas are believed to have built as many as 1,370 tunnels beneath the enclave, forming a network of hundreds of miles in length nicknamed 'the Gaza Metro'.
As part of 2008's Operation Cast Lead, a large-scale incursion into Gaza, the Israeli army deployed 109 D9Rs which had a key role in demolishing buildings such as bunkers and tunnels.
During the most recent conflict in 2014, at least 66 Israeli soldiers and six civilians were killed in the fighting, while in Palestine the UN reported 2,133 people were killed of which 1,489 were civilians.
Given the current plans for a new assault into Gaza, the fighting this time will no doubt be bloody on both sides, with advanced technology such as the D9R playing a vital role for the Israeli forces.
For news and events coverage, photo features, contributions and adverts contact us via:
Phone: +2348029115783
WhatsApp: +2347037611903
Follow us via:
Facebook: @Words and Shots
Instagram: @words_and_shots
Twitter: @wordsandshots