ISIS POSES 'ACUTE' THREAT TO U.S. Evacuation Efforts in Kabul, Sullivan Says
President Biden's national security adviser warned of mounting but unspecified terrorist risks to the U.S. mission to evacuate thousands of Americans and Afghan allies.
By Eric Schmitt
WASHINGTON — President Biden's national security adviser warned on Sunday that the threat of a terrorist attack by the Islamic State posed a serious danger to the administration's evacuation of thousands of Americans and Afghan allies from the international airport in Kabul.
"The threat is real. It is acute. It is persistent. And it is something that we are focused on with every tool in our arsenal," Jake Sullivan, the national security adviser, said on CNN's "State of the Union."
His comments were the most urgent so far regarding a range of steadily increasing threats that intelligence and military officials have privately briefed Mr. Biden and his top aides on in recent days, officials said.
Neither Mr. Sullivan nor other senior American military or intelligence officials provided details about the threats or their specificity. Current and former officials say, however, that they range from a missile attack against a transport plane taking off or landing at Hamid Karzai International Airport to a bomb-laden truck or suicide bombers infiltrating the crowd outside the airport.
Mr. Biden said on Friday that U.S. military and counterterrorism officials were closely watching for threatened ISIS attacks, noting that thousands of prisoners had been released in Kabul and other locations. While the Taliban is unlikely to have consciously let out the Islamic State fighters, the chaos in Afghanistan in recent weeks allowed all manner of prisoners to be freed from custody, including the Taliban's enemies.
"ISIS-K has been waiting for an opportunity like this, where its fighters can exploit the chaos of the situation on the ground for a chance to kill American soldiers," said Colin P. Clarke, a counterterrorism analyst at the Soufan Group, a New York-based security consulting firm, referring to the Islamic State's Khorasan affiliate in Afghanistan.
U.N. counterterrorism officials said in June that ISIS had carried out 77 attacks in Afghanistan in the first four months of this year, up from 21 in the same period in 2020. The attacks last year included a strike against Kabul University in November and a rocket barrage against the airport in Kabul a month later. Some analysts say the group also has links to the Haqqani network, another militant organization.
For the past week, U.S. officials have warned about threats against the airport and American operations to evacuate civilians from Kabul. By Friday, officials said, the threat reporting was growing more acute.
An attack on the airport, current and former officials said, would be a strategic blow against both the United States and the Taliban, who are trying to demonstrate that they can control the country.
The Taliban have fought ISIS in recent years, and leaders of the Islamic State in Afghanistan denounced the Taliban takeover of the country, criticizing their version of Islamic rule as insufficiently hard-line.
Mr. Sullivan said that American commanders on the ground were using "a wide variety of capabilities" to defend the airfield against an attack, and were working closely with spy agencies to identify and defeat any threats. He did not provide details.
"It is something that we are placing paramount priority on stopping or disrupting," Mr. Sullivan said. "And we will do everything that we can for as long as we are on the ground to keep that from happening. But we are taking it absolutely deadly seriously."
Indeed, American officials said on Saturday that the U.S. military was establishing alternative routes to the Kabul airport for Americans, Afghan allies and citizens from other Western nations because of the threat ISIS posed to the airfield and its surroundings, a development previously reported by CNN.
On Thursday night, CH-47 Chinook helicopters picked up 169 Americans at a hotel meeting place and whisked them to safety, rather than having them walk 200 yards to an airport gate where a large, unruly crowd had gathered.
American and Western cargo planes taking off from the airport have dispensed flares and chaff, a common precautionary practice in conflict zones like Afghanistan and Iraq to fool heat-seeking missiles fired from the ground, military officials said.
U.S. military officials in Kabul who are communicating with senior Taliban leaders to provide safe passage to the airport for Americans and Afghan allies are also in this rare instance of cooperating to thwart a common enemy: ISIS.
A deadly attack against American and Afghan civilians would be a disaster not only for the United States, but also for the Taliban, who are moving to consolidate control over Kabul. The Taliban and the Islamic State have been enemies, fighting each other on the battlefield for control of parts of the country.
Western counterterrorism analysts say a high-profile attack by ISIS during the evacuation would most likely lift the group's flagging fortunes, recruiting and prestige.
A United Nations report in June assessed that the Islamic State's "territorial losses have affected the group's ability to recruit and generate new funding."
Although the ISIS affiliate was still believed to have 1,500 to 2,200 fighters in small areas of Kunar and Nangarhar provinces, the report said, "it has been forced to decentralize and consists primarily of cells and small groups across the country, acting in an autonomous manner while sharing the same ideology."
While the group suffered military setbacks starting in summer 2018, the report concluded that since June 2020, under its ambitious new leader, Shahab al-Muhajir, the affiliate "remains active and dangerous," and is seeking to swell its ranks with disaffected Taliban fighters and other militants.
"Given that ISIS-K and the Taliban are enemies, it will be a challenge for ISIS-K," Mr. Clarke said. "Nevertheless, the Taliban now has its hands full with governing, which will consume considerable bandwidth within the organization."
Nathan Sales, the State Department's counterterrorism coordinator in the Trump administration, said on Sunday that if the ISIS affiliate was capable of attacking the airport in Kabul, "that suggests Afghanistan after the U.S. withdrawal will be a permissive environment for all sorts of terrorist groups, even those hostiles to the Taliban."
Defense Department officials have been tight-lipped about the threats and what they are doing to defeat them, citing operational security.
John F. Kirby, the chief Pentagon spokesman, declined on Saturday to comment on any specific threat information, but he acknowledged that the security situation at the airport was extremely volatile.
"I'm not going to get into specific threat assessments," Mr. Kirby said. "The situation in Kabul, in the whole city, is fluid and dynamic. And it changes. It changes almost by the hour, and it changes in locations around the airport. It's very, very fluid and dynamic."
Julian Barnes contributed reporting.
The New York Times
For news and events coverage, photo features, contributions and adverts contact us via:
Phone: +2348029115783
WhatsApp: +2347037611903
Follow us via:
Facebook: @Words and Shots
Instagram: @words_and_shots
Twitter: @wordsandshots
EX-FBI AGENT AND KGB SPY ROBERT HANSSEN WHO GAVE RUSSIA NUCLEAR SECRETS IS FOUND DEAD
Ex-FBI agent Robert Hanssen was described as one of the most damaging spies in American history after he sold nuclear secrets and highly classified material to the Soviet Union and later Russia
A former FBI agent who spied for Russia in one of the most damaging espionage betrayals in the history of the US has been found dead in jail at the age of 79.
Robert Hanssen was found dead at the ADX prison in Florence, Colorado, the Bureau announced.
Hanssen was jailed for giving Russia nuclear secrets and had served 20 years of a sentence of 15 consecutive life sentences.
A statement by the Bureau said: "Hanssen was found unresponsive at the Federal Correctional Complex (FCC) specifically, the ADX in Florence, Colorado."
Hanssen operated against the FBI, using his access to counterintelligence from 1985, sending important information to the Soviet Union, then later Russia.
The information he passed included details on his country's nuclear war preparations and a secret tunnel used for eavesdropping under the Soviet embassy in Washington DC.
Mike Pence to take on Trump as former VP confirms 2024 US Presidential election bid
It also emerged that Hanssen betrayed double agent Dmitri Polyakov after Hanssen was discovered by the FBI in 2001, who had been monitoring him for months.
They spotted Hanssen making a dead drop in a park in Virginia and his identity had been discovered after a Russian intelligence officer gave the domestic security service a file containing the traitor's prints and a recording of his voice on tape.
Polyakov, who was also betrayed by CIA mole Aldrich Ames in 1994, was later executed by Russia.
Hanssen had been in custody at ADX Florence since July 17, 2002 after he was given his life sentences in the Eastern District of Virginia.
Hanssen has been in jail since 2002
The Bureau added: "Responding staff immediately initiated life-saving measures. Staff requested emergency medical services and life-saving efforts continued. The inmate was subsequently found dead by outside emergency medical personnel.
"The Federal Bureau of Investigation was notified. No staff or other mates were injured, and at no time was the public in danger."
Hanssen was paid well for his betrayal and earned his prison time after receiving over $1.4million paid into Russian accounts. Hanssen was also paid in cash and diamonds.
All the latest news, showbiz, lifestyle and sports updates, brought to you by our dedicated American team.
Follow the Mirror US News page on Facebook to make sure you're not missing out.
Operating under the alias 'Ramon Garcia', he "compromised numerous human sources, counterintelligence techniques, investigations, dozens of classified US government documents, and technical operations of extraordinary importance and value".
He started at the intelligence organisation in 1976 and lived a double life in Virginia with his wife and six children.
For news and events coverage, photo features, contributions and adverts contact us via:
Phone: +2348029115783
WhatsApp: +2347037611903
Follow us via:
Facebook: @Words and Shots
Instagram: @words_and_shots
Twitter: @wordsandshots
SHOCKING REASONS WHY THE BIBLE WAS BANNED FROM SCHOOLS IN THE UNITED STATES
Salt Lake City: The Good Book is being treated like a bad book in Utah after a parent frustrated by efforts to ban materials from schools convinced a suburban district that some Bible verses were too vulgar or violent for younger children.
And the Book of Mormon could be next.
The 72,000-student Davis School District north of Salt Lake City removed the Bible from its elementary and middle schools while keeping it in high schools after a committee reviewed the scripture in response to a parental complaint. The district has removed other titles, including Sherman Alexie's The Absolutely True Diary of a Part-Time Indian and John Green's Looking for Alaska, following a 2022 state law requiring districts to include parents in decisions over what constitutes "sensitive material".
On Friday, a complaint was submitted about the signature scripture of the predominant faith in Utah, The Church of Jesus Christ of Latter-day Saints, widely known as the Mormon church. District spokesperson Chris Williams confirmed that someone filed a review request for the Book of Mormon but would not say what reasons were listed. Citing a school board privacy policy, he also would not say whether it was from the same person who complained about the Bible.
Representatives for the church declined to comment on the challenge. Members of the faith also read the Bible.
Williams said the district doesn't differentiate between requests to review books and doesn't consider whether complaints may be submitted as satire. The reviews are handled by a committee made up of teachers, parents and administrators in the largely conservative community.
The committee published its decision about the Bible in an online database of review requests and did not elaborate on its reasoning or which passages it found overly violent or vulgar.
The decision comes as conservative parent activists, including state-based chapters of the group Parents United, descend on school boards and statehouses throughout the United States, sowing alarm about how sex and violence are talked about in schools.
Because of the district's privacy policy, it's unknown who made the request for the Bible to be banned from Davis schools or if they are affiliated with any larger group.
A copy of the complaint obtained by The Salt Lake Tribune through a public records request shows that the parent noted the Bible contains instances of incest, prostitution and rape. The complaint derided a "bad faith process" and said the district was "ceding our children's education, First Amendment Rights, and library access" to Parents United.
"Utah Parents United left off one of the most sex-ridden books around: The Bible," the parent's complaint, dated December 11, said. It later went on to add, "You'll no doubt find that the Bible (under state law) has 'no serious values for minors' because it's pornographic by our new definition."
The review committee determined the Bible didn't qualify under Utah's definition of what's pornographic or indecent, which is why it remains in high schools, Williams said. The committee can make its own decisions under the new 2022 state law and has applied different standards based on students' ages in response to multiple challenges, he said.
An unnamed party filed an appeal on Wednesday.
The Bible has long found itself on the American Library Association's list of most challenged books and was temporarily pulled off shelves last year in school districts in Texas and Missouri.
Concerns about new policies potentially ensnaring the Bible have routinely arisen in statehouses during debates over efforts to expand book banning procedures. That includes Arkansas — one of the states that enacted a law this year that would subject librarians to criminal penalties for providing "harmful" materials to minors, and creates a new process for the public to request materials be relocated in libraries.
"I don't want people to be able to say, 'I don't want the Bible in the library," Arkansas Democratic state Sen. Linda Chesterfield said during a hearing.
Parents who have pushed for more say in their children's education and the curriculum and materials available in schools have argued that they should control how their children are taught about matters like gender, sexuality and race.
EveryLibrary, a national political action committee, told The Associated Press last month it was tracking at least 121 different proposals introduced in legislatures this year targeting libraries, librarians, educators and access to materials. The number of attempts to ban or restrict books across the US in 2022 was the highest in the 20 years, according to the American Library Association.
"If folks are outraged about the Bible being banned, they should be outraged about all the books that are being censored in our public schools," said Kasey Meehan, who directs the Freedom to Read program at the writers' organisation PEN America.
AP
For news and events coverage, photo features, contributions and adverts contact us via:
Phone: +2348029115783
WhatsApp: +2347037611903
Follow us via:
Facebook: @Words and Shots
Instagram: @words_and_shots
Twitter: @wordsandshots
WHO WOULD WIN IN A WAR BETWEEN US AND CHINA?
It depends how it starts
China and the United States are the great rivals in the competition to win the 21st century. But which one would have military superiority in outright conflict?
If China chooses to attack the island of Taiwan, the United States could be helpless to stop it.
By the time the People's Liberation Army launches its third volley of missiles at the island Beijing considers a breakaway province, the US could be just learning of the attack.
In a matter of minutes, Beijing's Rocket Force could cripple Taiwan's military, infrastructure and ports.
Yet if China wanted to conquer Taiwan, the outcome could be different. Possibly completely different.
CREDIT:
China would have to launch an amphibious invasion, deploying troops along its beaches as the first step in a march towards the capital Taipei. Despite its 1.9 million-strong army, compared to Taiwan's cohort of 150,000, the task of taking its island neighbour and holding it is a mammoth military challenge.
Taiwan's Foreign Minister Joseph Wu said on June 3 that Taipei did not anticipate a conflict was going to break out any time soon, "but we are trying to get ourselves ready".
"If there is going to be a war between Taiwan and China, we will fight the war ourselves," he said. "If other countries come to our aid, that will be highly appreciated, but we will fight the war for our own survival and for our own future."
In this scenario, the US and its allies could respond by conducting airlifts to Taiwan. The US could also use submarines and stealth aircraft to attack China's shipping fleet in the Indian Ocean to cripple its economic lifeline in times of a crisis.
The divergence of the two Taiwan scenarios, a Chinese military attack or an invasion, says a lot about the relative military power of the US and China, itself a barometer of the strength of the two superpowers.
"I told President Xi that we will maintain a strong military presence in the Indo-Pacific just as we do with NATO in Europe not to start conflict, but to prevent conflict," US President Joe Biden told a joint session of Congress in April.
A month earlier, Xi Jinping had told the People's Liberation Army: "We should persist in using combat to guide our work; step up preparations for war."
Today, China's military spending is the second-highest in the world after the United States and continues to rise. Its military budget is greater than the combined expenditure of India, Russia, Japan, South Korea, and Taiwan, according to the Stockholm International Peace Research Institute.
The Chinese defence budget reached $324 billion this year. It has been growing by 6-8 per cent each year for the past five years but according to defence intelligence agency Janes, US spending remains miles ahead at $759 billion.
China had 55 small war ships in 2020, more than double the number it had five years ago. Six large amphibious vessels have been launched, three since 2015, and a third aircraft carrier, larger than its predecessors, will soon be completed.
Meia Nouwens from the International Institute for Strategic Studies said Beijing was intent on achieving primacy in the waters that surround China.
"China is also developing the capabilities needed to support military operations at range," said Nouwens, suggesting they could attack across large distances.
China's focus on its region would give it a local advantage in any clash with the US.
Oriana Skylar Mastro of Stanford University has testified that "China dedicates all its resources to planning and preparing for a contingency in east Asia, while the US has additional responsibilities in the Middle East, Europe and worldwide".
If a conflict were to erupt in east Asia, "then the Chinese military is closer to on par with the United States".
China's military build-up is making a difference.
Only a decade ago, the US would have easily dominated the Chinese military in almost any scenario, says Australian National University Professor Stephan Fruehling. "I think the US now accepts it may lose a conflict – at least at the conventional level – with China."
Better trained or better placed
The geographic focus is decisive. The US Air Force boasts nearly 2300 warplanes in service, with another 1422 aircraft in use for the US Navy and Marines, Janes calculates.
But all the US planes cannot be dispatched to China's coastline. Certainly not in the six-to-eight minutes it could take a DF-11 A rocket to cross the 130 kilometre-wide Taiwan Strait to its target.
China's 1264 warplanes, meanwhile, are based in China.
It's a similar story with troops.
The US's 1.38 million active personnel are better trained and equipped than many of their 1.9 million Chinese peers – but getting them in place, and in time, to take on China would be a crucial task.
There are less quantifiable aspects as well.
The last time Chinese troops saw direct action was 1979 when China launched a costly month-long war against Vietnam to teach it a lesson in retaliation for Hanoi's actions in south-east Asia.
The US military has been racking up decades of in-the-field experience, most recently with deployments in Afghanistan and Iraq and the Middle East. While these have been costly, they also provided invaluable combat experience.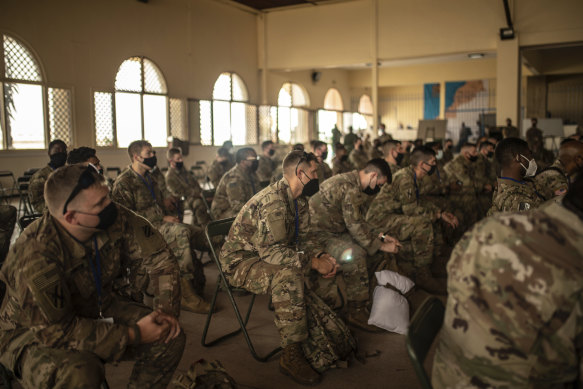 China is aware of this gap. Its army is now deploying troops to Africa for peacekeeping missions that give first-hand experience in conflict zones after decades of relative peace.
The structure of the military is also different. Rockets figure heavily in Beijing's arsenal. The 100,000-strong Rocket Force was made a seperate branch of the People's Liberation Army in 2015.
"The PLA's missile forces are central to China's efforts to deter and counter third-party intervention in a regional conflict," a US congressional report concluded this month.
The US believes China has about 2000 mid-range missiles in place, which could ward off the US Navy in a conflict.
China's nuclear weapons are estimated to number between 200 and 350, a mere 5 per cent of the United States' arsenal, but potentially enough to deter broader conflict through the prospect of mutual destruction.
Looking back at half a century of China-US relations. Video by Tom Compagnoni.
The frontlines of sea and space
Should a war break out around the South China Sea, the US would be under pressure to quickly neutralise the roughly 10 man-made islands China has created (seen as "unsinkable aircraft carriers") to use as military bases.
The US would be challenged by a powerful Chinese fleet in the region.
Brooking Institution's Michael O'Hanlon writes that the location of China's new fleet of attack submarines could act as a deterrent to US military escalation.
"The only truly reliable way to counter the threat would be to attack the submarines in port when they refuel and rearm," he writes. But that would require strikes on China's mainland, "with all the enormous risks of escalation that could portend".
One option to attack the man-made islands would be to send in teams of US Marine Raider commandos to destroy weapons systems.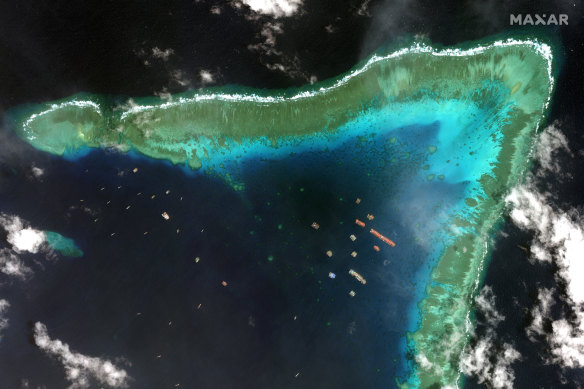 But precision bombing requires the military to have access to space, where orbiting satellites help guide munitions.
In July 2020, BeiDou, China's version of GPS became fully operational, allowing it to track ships, planes, cars and smartphones from space without relying on the US technology that has dominated global positioning for decades.
"Space would be the first place both sides would go to strike the others' forces in event of a conflict," says Tate Nurkin of the US-based Intelligence Group.
China or the US could do this by feeding misleading information to satellites from the ground – known as "spoofing" – to stop the space-based location pinpointing needed for weapons.
"China would seek to pluck out the eyes and ears of the US and allies to make them blind on the battlefield," said Malcolm Davis, a senior analyst at the Australian Strategic Policy Institute.
The US has launched 615 satellites into space in the last three years, compared to 168 by China, according to Lowy.
While the US remains ahead in space for now, Davis says how long US dominance lasts "is not clear".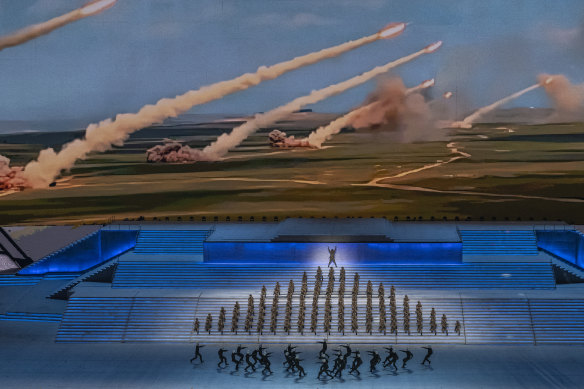 Changing the status quo
Mastro notes that in war scenarios the US wants to maintain the status quo in the region while China wants to change it.
"China is largely trying to take territorial control," which makes east Asia a likely location for trouble.
And that takes the issue of US-China military prowess back to the all-important issue of politics.
In the event of a war: what would Japan, the Philippines, South Korea and Australia do? These are all Cold War allies of the US, but they have not had to think about war in the region since the 1970s.
What determines victory, loss or stalemate between the US and China is likely to be determined by the murky calculus of how much risk and how much pain and loss both sides could endure.
For news and events coverage, photo features, contributions and adverts contact us via:
Phone: +2348029115783
WhatsApp: +2347037611903
Follow us via:
Facebook: @Words and Shots
Instagram: @words_and_shots
Twitter: @wordsandshots