ISIS POSES 'ACUTE' THREAT TO U.S. Evacuation Efforts in Kabul, Sullivan Says
President Biden's national security adviser warned of mounting but unspecified terrorist risks to the U.S. mission to evacuate thousands of Americans and Afghan allies.
By Eric Schmitt
WASHINGTON — President Biden's national security adviser warned on Sunday that the threat of a terrorist attack by the Islamic State posed a serious danger to the administration's evacuation of thousands of Americans and Afghan allies from the international airport in Kabul.
"The threat is real. It is acute. It is persistent. And it is something that we are focused on with every tool in our arsenal," Jake Sullivan, the national security adviser, said on CNN's "State of the Union."
His comments were the most urgent so far regarding a range of steadily increasing threats that intelligence and military officials have privately briefed Mr. Biden and his top aides on in recent days, officials said.
Neither Mr. Sullivan nor other senior American military or intelligence officials provided details about the threats or their specificity. Current and former officials say, however, that they range from a missile attack against a transport plane taking off or landing at Hamid Karzai International Airport to a bomb-laden truck or suicide bombers infiltrating the crowd outside the airport.
Mr. Biden said on Friday that U.S. military and counterterrorism officials were closely watching for threatened ISIS attacks, noting that thousands of prisoners had been released in Kabul and other locations. While the Taliban is unlikely to have consciously let out the Islamic State fighters, the chaos in Afghanistan in recent weeks allowed all manner of prisoners to be freed from custody, including the Taliban's enemies.
"ISIS-K has been waiting for an opportunity like this, where its fighters can exploit the chaos of the situation on the ground for a chance to kill American soldiers," said Colin P. Clarke, a counterterrorism analyst at the Soufan Group, a New York-based security consulting firm, referring to the Islamic State's Khorasan affiliate in Afghanistan.
U.N. counterterrorism officials said in June that ISIS had carried out 77 attacks in Afghanistan in the first four months of this year, up from 21 in the same period in 2020. The attacks last year included a strike against Kabul University in November and a rocket barrage against the airport in Kabul a month later. Some analysts say the group also has links to the Haqqani network, another militant organization.
For the past week, U.S. officials have warned about threats against the airport and American operations to evacuate civilians from Kabul. By Friday, officials said, the threat reporting was growing more acute.
An attack on the airport, current and former officials said, would be a strategic blow against both the United States and the Taliban, who are trying to demonstrate that they can control the country.
The Taliban have fought ISIS in recent years, and leaders of the Islamic State in Afghanistan denounced the Taliban takeover of the country, criticizing their version of Islamic rule as insufficiently hard-line.
Mr. Sullivan said that American commanders on the ground were using "a wide variety of capabilities" to defend the airfield against an attack, and were working closely with spy agencies to identify and defeat any threats. He did not provide details.
"It is something that we are placing paramount priority on stopping or disrupting," Mr. Sullivan said. "And we will do everything that we can for as long as we are on the ground to keep that from happening. But we are taking it absolutely deadly seriously."
Indeed, American officials said on Saturday that the U.S. military was establishing alternative routes to the Kabul airport for Americans, Afghan allies and citizens from other Western nations because of the threat ISIS posed to the airfield and its surroundings, a development previously reported by CNN.
On Thursday night, CH-47 Chinook helicopters picked up 169 Americans at a hotel meeting place and whisked them to safety, rather than having them walk 200 yards to an airport gate where a large, unruly crowd had gathered.
American and Western cargo planes taking off from the airport have dispensed flares and chaff, a common precautionary practice in conflict zones like Afghanistan and Iraq to fool heat-seeking missiles fired from the ground, military officials said.
U.S. military officials in Kabul who are communicating with senior Taliban leaders to provide safe passage to the airport for Americans and Afghan allies are also in this rare instance of cooperating to thwart a common enemy: ISIS.
A deadly attack against American and Afghan civilians would be a disaster not only for the United States, but also for the Taliban, who are moving to consolidate control over Kabul. The Taliban and the Islamic State have been enemies, fighting each other on the battlefield for control of parts of the country.
Western counterterrorism analysts say a high-profile attack by ISIS during the evacuation would most likely lift the group's flagging fortunes, recruiting and prestige.
A United Nations report in June assessed that the Islamic State's "territorial losses have affected the group's ability to recruit and generate new funding."
Although the ISIS affiliate was still believed to have 1,500 to 2,200 fighters in small areas of Kunar and Nangarhar provinces, the report said, "it has been forced to decentralize and consists primarily of cells and small groups across the country, acting in an autonomous manner while sharing the same ideology."
While the group suffered military setbacks starting in summer 2018, the report concluded that since June 2020, under its ambitious new leader, Shahab al-Muhajir, the affiliate "remains active and dangerous," and is seeking to swell its ranks with disaffected Taliban fighters and other militants.
"Given that ISIS-K and the Taliban are enemies, it will be a challenge for ISIS-K," Mr. Clarke said. "Nevertheless, the Taliban now has its hands full with governing, which will consume considerable bandwidth within the organization."
Nathan Sales, the State Department's counterterrorism coordinator in the Trump administration, said on Sunday that if the ISIS affiliate was capable of attacking the airport in Kabul, "that suggests Afghanistan after the U.S. withdrawal will be a permissive environment for all sorts of terrorist groups, even those hostiles to the Taliban."
Defense Department officials have been tight-lipped about the threats and what they are doing to defeat them, citing operational security.
John F. Kirby, the chief Pentagon spokesman, declined on Saturday to comment on any specific threat information, but he acknowledged that the security situation at the airport was extremely volatile.
"I'm not going to get into specific threat assessments," Mr. Kirby said. "The situation in Kabul, in the whole city, is fluid and dynamic. And it changes. It changes almost by the hour, and it changes in locations around the airport. It's very, very fluid and dynamic."
Julian Barnes contributed reporting.
The New York Times
For news and events coverage, photo features, contributions and adverts contact us via:
Phone: +2348029115783
WhatsApp: +2347037611903
Follow us via:
Facebook: @Words and Shots
Instagram: @words_and_shots
Twitter: @wordsandshots
TOUGH ISRAEL-HAMAS TUNNEL WAR IN GAZA
Tough Israel-Hamas tunnel war in Gaza looms. This is because Israel's war is expected to target the tunnel network in Gaza, but underground warfare is risky and slow, and Hamas will hold clear advantages.
While an expected four-day cessation in hostilities and the release of 50 Israeli hostages in exchange for 150 Palestinian prisoners might be a breakthrough in the six-week conflict, Israel has been clear that it will continue its deadly war on Gaza afterwards.
"The war continues," Israeli Prime Minister Benjamin Netanyahu said at a press conference on Wednesday.
"We continue until we have achieved complete victory … Eliminating Hamas, liberating our captives and making sure that post-Hamas there will be no threat to Israel."
After weeks of continuous bombardments in which over 14,000 Palestinians have been killed, Israel has in recent weeks prioritised urban warfare to clear northern Gaza, including the encirclement of Gaza City and the forced displacement of residents to the south.
But a key part of the Israeli objective to 'destroy' Hamas will likely hinge on dismantling the intricate tunnel network constructed by the group over the years.
"The complete dismantlement of Hamas' tunnels will come at a high cost for Israel, both in terms of time and risk"
'Gaza Metro'
Dubbed the 'Gaza Metro', the tunnels primarily date back to the 1980s when they were used to smuggle goods under the newly divided city of Rafah. However, they became more important, and advanced, following the tightening of Israel's blockade in 2007.
Initially employed for smuggling to bypass the blockade and facilitate the importation of diverse goods such as electronics, construction materials, fuel, and weapons, these tunnels have evolved into a complex network with both defensive and offensive military objectives.
Thought to span more than 500km and reach depths of 50-80 meters, according to experts, the tunnels contain housing quarters, and supply stores, and provide security and mobility for fighters.
They played a significant role in the 2014 war, with Israel claiming to have destroyed approximately 32 tunnels, a small fraction of the estimated 1,300. Israel responded to that war with various countermeasures, including a vast $1 billion security barrier with detection systems and underground walls.
In the current war, Al-Shifa hospital, the largest in the coastal territory, was recently at the centre of Israel's shift to target tunnel infrastructure, although Israel failed to show proof of the existence of Hamas' command and control centre under the medical facility as depicted in a video in late October.
The destruction and sealing of this network of tunnels are deemed crucial by Israel in establishing complete control over Gaza and securing the release of hostages.
Tunnels have so far served Hamas in ambushing Israeli troops during their advances in Gaza, as evidenced by videos released by the group, while allowing for swift movement within underground positions.
However, the complete dismantlement of Hamas' tunnels will come at a high cost for Israel, both in terms of time and risk.
Mapping Hamas' tunnel network accurately may be challenging for Israel without actually entering them.
Raphael S. Cohen, a senior political scientist and director of the Strategy and Doctrine Program at RAND Corporation, told The New Arab that Israel has been using a wide variety of technological tools to detect Hamas' tunnels, including acoustic sensors or coloured smoke grenades.
The range of techniques spans from simple to sophisticated, with experiments involving robots and small drones for reconnaissance. But despite these efforts, tunnel detection remains a complex military challenge.
"It's really hard to get a full picture of the tunnel networks ahead of time. That's just because you're running up against the limits of technology here," the analyst said.
"In cases like the 2014 Gaza war, soldiers entered tunnels and got ambushed or taken prisoner"
But a lack of intelligence on the tunnel network is only the first problem for Israel if it decides to engage in underground combat.
Tunnel warfare is a historical military phenomenon that has occurred over centuries. In recent times, this type of warfare took place in Korea, Vietnam, and Afghanistan, but also during the 2006 Lebanon-Israel war and the Syrian war.
Luca Munaretto, a former Italian amphibious scout, paratrooper raider, and special forces instructor with extensive experience in war zones, including Afghanistan, told TNA that deploying Israeli units inside the tunnels would likely slow down military operations.
Munaretto emphasised that there is also a hesitancy to risk personnel underground without specific intelligence about targeted individuals. He pointed out that while hostages may have value to a certain extent, their significance as a bargaining chip is diminishing, particularly with initiatives such as the temporary ceasefire.
"In military terms, a truce allows Hamas to reorganise its forces, regroup troops, and reconsider the plan for advancing resistance. Consequently, it could work to the disadvantage of the Israeli movement in this case," he said.
Cohen explained that the Israeli army is mainly focusing on sealing off the tunnels rather than going inside to clear them entirely.
"You don't want to rush into a tunnel network because you might not know its layout or if it's full of leaves. In cases like the 2014 Gaza war, soldiers entered tunnels and got ambushed or taken prisoner. Clearing tunnels requires a methodical and slow approach," he said.
During the 2014 war, Hamas killed 67 Israeli soldiers, some of them through the use of tunnels. In a separate incident, the Israeli officer Lt. Hadar Goldin was pulled into a tunnel in Gaza and killed. His remains have been held by Hamas ever since.
Therefore, estimating the potential Israeli military losses inside the tunnels may be challenging due to the level of preparedness on both sides, which has evolved over the years.
Although Cohen highlighted that he doesn't have projections on the potential Israeli losses, he said that the Israeli military has presumably made estimates.
"When you go in to fight any intense urban combat, it tends to be pretty bloody on all sides. That's historically been the experience of all militaries, and I would expect it to be the case here," he said.
Munaretto outlined that in an Israeli incursion into Hamas tunnels, a team of engineers, also known as sappers, would serve as the initial responders to identify tunnel types and support intervention units.
They may utilise techniques such as ground drones and wire-guided drones. While dogs can be used, their effectiveness is limited due to biological constraints like susceptibility to poisoning.
Israel may explore the use of wire-guided drones instead of GPS drones due to concerns about signal interference in tunnels. If the tunnels are constructed in a specific manner, they may include cutting points that automatically activate if explosive charges are used to disrupt the propagation waves.
"When you go in to fight any intense urban combat, it tends to be pretty bloody on all sides. That's historically been the experience of all militaries, and I would expect it to be the case here"
False tunnels also create additional challenges, risking personnel loss and communication breakdown.
Ventilation is also crucial, and disconnecting it poses risks of poor oxygenation. Tunnels vary from concrete-resistant structures to rock-dug ones, introducing challenges such as moisture, seepage, and water issues.
"The complexity of these factors underscores the need for careful navigation and communication within the tunnel environment," Munaretto said.
Among the special units in the Israeli army, Cohen highlights a specialised engineering unit called 'Yahalom', specifically designed to address the tunnel problem, and supported by units like Sayfan and Samur.
As one of the world's largest units dedicated to underground warfare, it focuses on training, equipping, and developing innovative strategies. Collaborative efforts with police, intelligence units, and the Oketz canine unit enhance capabilities against subterranean threats, in addition to specialised equipment such as ground sensors, radar, and remote-controlled robots.
These tools, combined with underground communication and night-vision technologies, provide a comprehensive approach to addressing threats in dark and complex subterranean environments.
However, Munaretto explained that deploying military personnel in tunnel warfare depends on the objective's perceived value. The decision to send personnel, the need for spares, and the pace of movement depend on the objective's strategic importance. Ensuring a conflict-free environment is crucial, with personnel securing the area and addressing complications during evacuations in a hostile, dark environment.
From Hamas' standpoint, the situation is different. Being on its home turf inside tunnels, it benefits from continuous residence in the area, resulting in agility and familiarity with every detail of the network.
The tunnels likely intentionally include obstacles to impede progress and certain technological access may be restricted.
Once Israeli forces enter the tunnels for combat, Hamas will attempt to set up ambushes.
"The aim is to set numerous ambushes for incoming Israeli soldiers and possibly have hostages inside the tunnels. This complicates the Israeli military calculus, as using overwhelming firepower risks the lives of hostages," Cohen said.
Hamas employs tunnels offensively to conduct protected and surprise attacks, aiming to offset Israel's military superiority. These tunnels force Israeli soldiers into cramped spaces, known well by Hamas fighters. The interconnected urban tunnels enable quick movement between attack positions, forming a crucial element of Hamas' guerrilla warfare strategy.
Hamas militants operate underground, striking swiftly and retreating into tunnels. Some tunnels are rigged with explosives, posing a threat as tunnel bombs could be under main roads and buildings.
The hyperspecialisation required for tunnel warfare could also serve as a prelude to the future of war.
As Munaretto highlighted, countries like the United States, the United Kingdom, France and other NATO armies are training for future conflicts, anticipating challenges with China. The focus is on developing well-armoured and concealed underground military structures for logistical support equipped with various countermeasures.
Training personnel for confined spaces is a priority, with adapted equipment. It's a specialised task, demanding individuals with specific physical and mental attributes.
"Operating in conditions of oxygen scarcity and lack of light and noise where everything is amplified is not for everyone. We are not born to live underground," he said.
Dario Sabaghi
For news and events coverage, photo features, contributions and adverts contact us via:
Phone: +2348029115783
WhatsApp: +2347037611903
Follow us via:
Facebook: @Words and Shots
Instagram: @words_and_shots
Twitter: @wordsandshots
HOW HAMAS CARRIED OUT THEIR LIGHTNING ASSAULT ON ISRAEL NO ONE THOUGHT POSSIBLE
Many Israelis would have been asleep when it began.
Saturday was the Jewish Sabbath and also a holy festival day, meaning families were planning to spend time at home together or in the synagogue, and friends were meeting up.
But out of the dawn sky, a hail of rockets signalled the start of an attack that was unprecedented in its scale and co-ordination.
For years, Israel has fortified the barrier between itself and the small Palestinian enclave of Gaza. Within hours, its impenetrability was exposed as flawed.
BBC News has been analyzing footage taken by militants and civilians on the ground to piece together how Hamas co-ordinated their most sophisticated attack ever from Gaza.
Rockets signal start of attack
At around 06:30 local time, the rockets began to fly.
The Islamist militant organization – which controls Gaza and is designated as a terrorist group in the UK and elsewhere around the world – uses this tactic frequently.
The rudimentary rockets often struggle to evade Israel's advanced Iron Dome missile defence system – but thousands were fired in a short space of time to overwhelm it.
The scale suggests months of planning and stockpiling. Hamas says it fired 5,000 in the first round (Israel says it was half that number).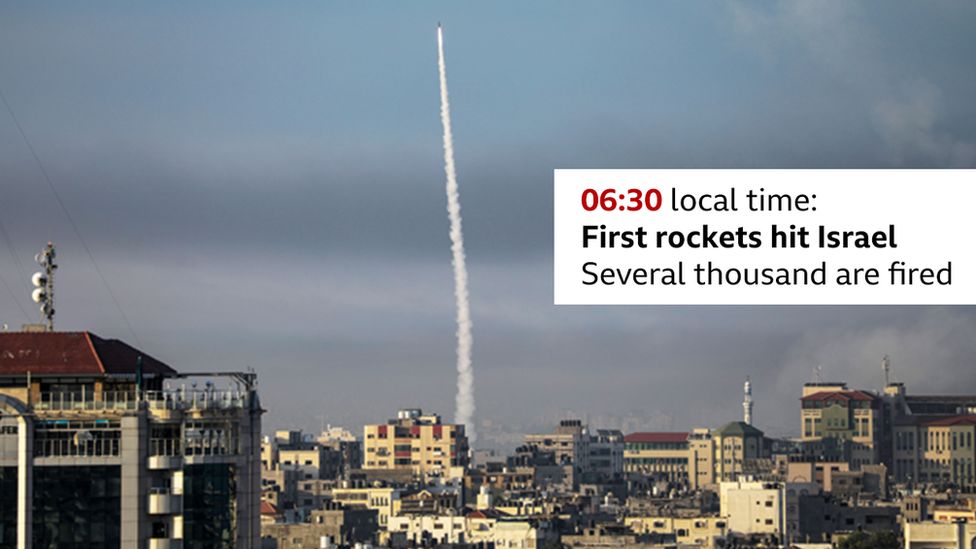 Air raid sirens began to sound as far afield as Tel Aviv – 60km (38 miles) from Gaza – and western Jerusalem and smoke was seen rising above towns where there had been direct hits.
As the rockets continued to launch, fighters were gathering where they planned to penetrate the heavily fortified Gaza barrier.
Although Israel pulled its troops and settlers out of Gaza in 2005, it still controls its airspace, shared border, and shoreline.
As well as regular military patrols around the perimeter – which is a concrete wall in some places and a fence in others – there is also a network of cameras and sensors to prevent incursions.
But within hours, the barrier had been breached again and again.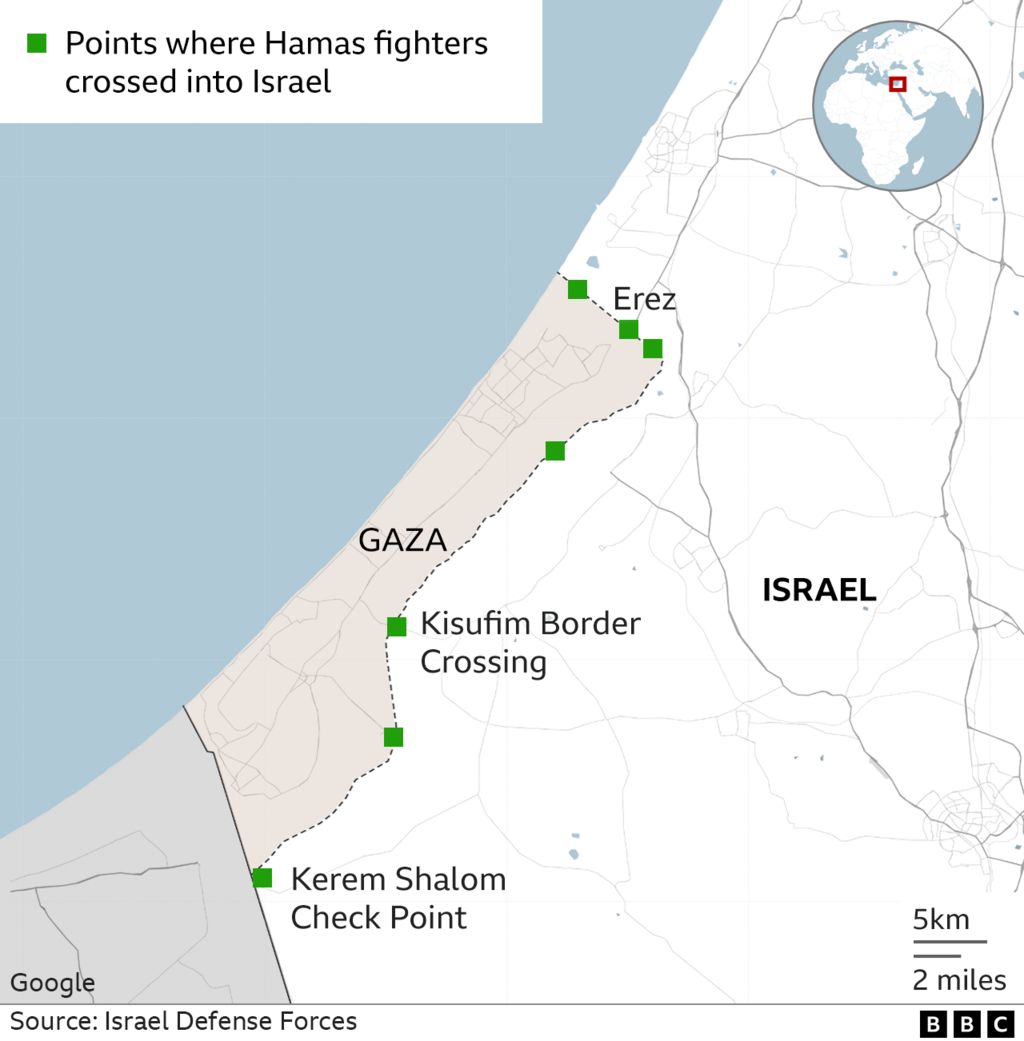 How did Hamas get through?
Some Hamas fighters tried to bypass the barrier completely, including by flying over it on paragliders (unverified footage showed at least seven drifting above Israel) and by boat.
The Israel Defense Forces said they had repelled two Hamas attempts to cross into Israel by landing vessels on the beach.
But what sets this attack apart is the several co-ordinated, direct assaults on barrier crossing points.
At 05:50 local time, a Telegram account associated with Hamas's armed wing posted the first images from the ground, taken at Kerem Shalom – the most southern of Gaza's crossings.
They showed militants overrunning a checkpoint and the bloodied bodies of two Israeli soldiers on the ground.
Another image showed at least five motorbikes, each carrying two militants armed with rifles, passing through a hole that had been cut in the wire fence section of the barrier.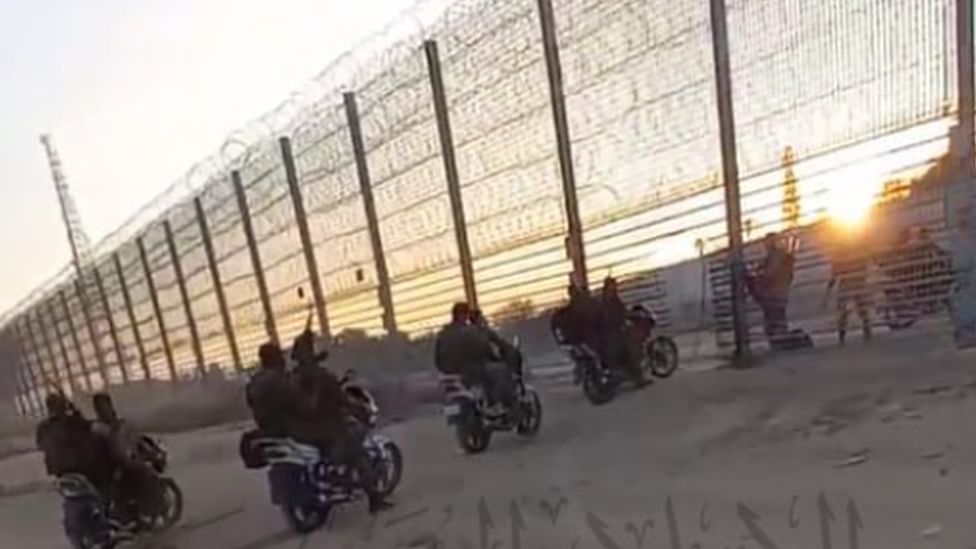 At a less guarded section, a bulldozer was seen demolishing a stretch of barbed wire-topped fencing.
Dozens of seemingly unarmed people were gathered there, and some began to run through the gap.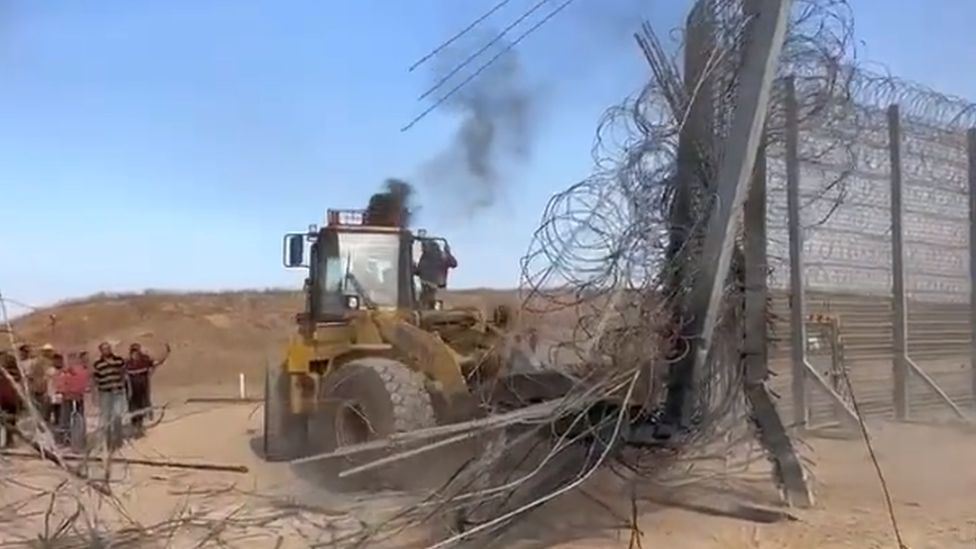 At Erez – the furthest north of the Gaza crossings, around 43.4km (27 miles) from Kerem Shalom – Hamas was swarming another crossing.
Footage was posted on one of the group's propaganda channels. It shows an explosion at the concrete barrier, which served as a signal to start the assault, and a militant can then be seen waving a group of fighters towards the blast site.
Eight men in bulletproof vests and carrying rifles run towards the heavily fortified checkpoint and fire at Israeli troops.
Later in the video, the bodies of Israeli soldiers are seen lying on the floor as the militants go from room to room sweeping the compound, clearly organised and trained.
Gaza has seven official crossings – six are controlled by Israel, one into Egypt is controlled by Cairo.
But within the space of a few hours, Hamas had found ways to enter Israeli territory along the length of the barrier.
Attacks reach deep into Israeli territory
Hamas fighters swept out of Gaza in all directions. We now know from the Israeli authorities that they assaulted 27 different locations, seemingly with orders to kill on sight.
The furthest Hamas penetrated was the town of Ofakim, which lies 22.5km (14 miles) east of Gaza. The map below shows the different areas they reached.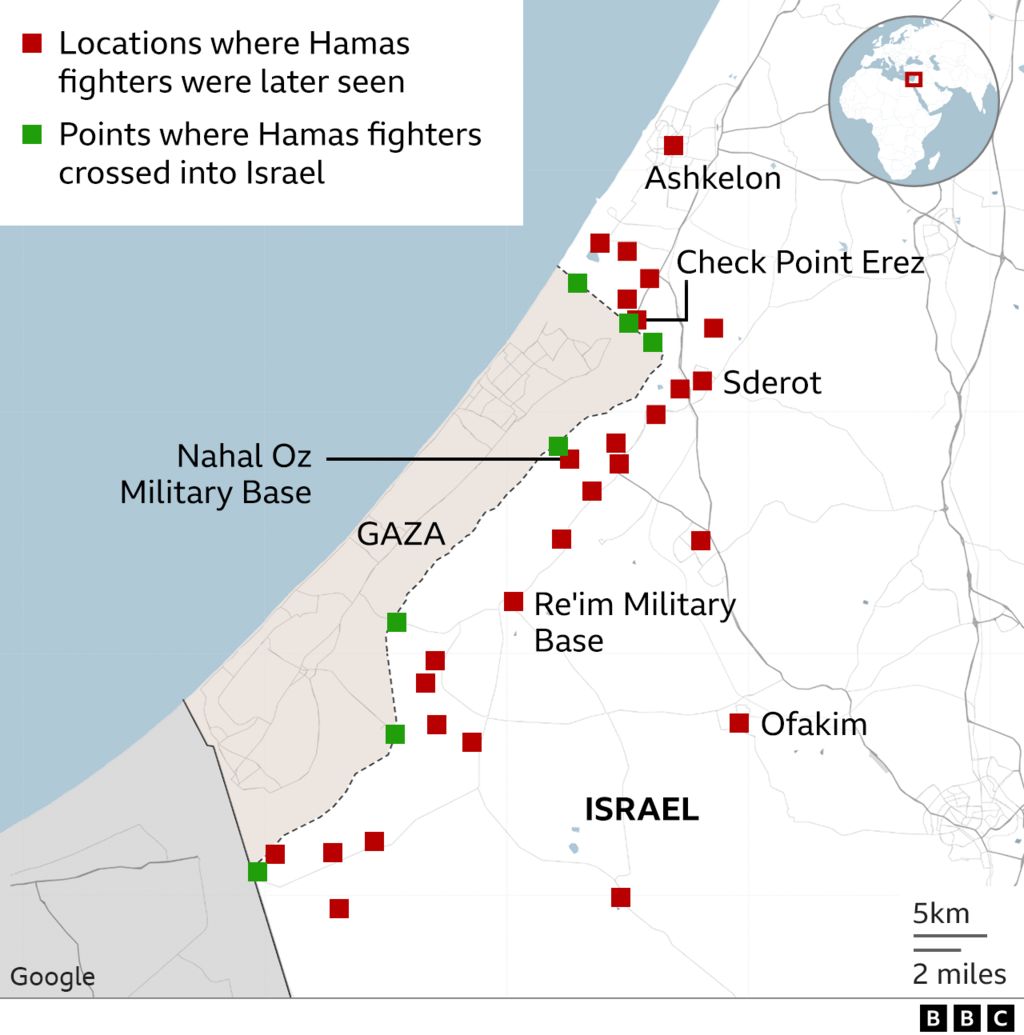 In Sderot, militants were seen standing on the back of a pick-up truck being driven through the town, which lies around 3km (1.8 miles) to the east of Gaza.
Around a dozen armed fighters were seen fanning out through the empty streets of Ashkelon, just to the north of the Erez crossing which had just been stormed.
Similar scenes were repeated across southern Israel and civilians were told by the military to hide indoors.
At a music festival near Re'im, gunmen fired at will at a large group of young people who had gathered in the desert.
An eyewitness told the BBC how the militants were driving around a van loaded with weapons and spent three hours searching the area for other Israelis to target.
Soldiers and civilians taken captive
We now know that hostages were taken from the festival and other locations and transported back into Gaza. Israel says 100 people – soldiers and civilians – have been abducted.
Footage taken in the town of Be'ri and verified by the BBC shows around four civilians being forcibly led away by militants.
Several videos have circulated online of Israelis, some of them heavily injured, being paraded through Gaza's crowded streets.
Other unverified atrocities too graphic to publish were captured on camera, including a motorist being dragged from his car and having his throat slashed, and the bodies of dead civilians and soldiers being defiled.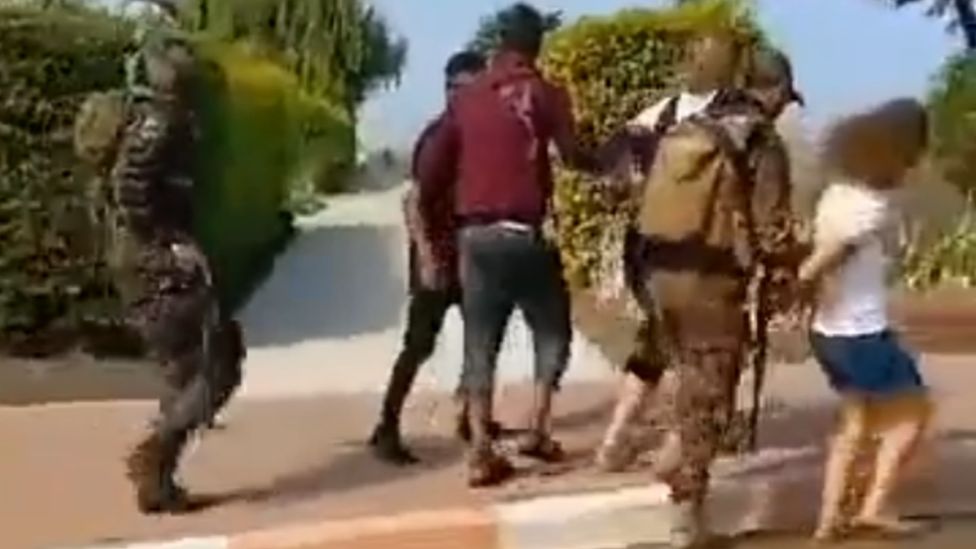 As well as targeting Israeli communities, Hamas also attacked two military sites: a base at Zikim and another at Re'im.
Footage taken from near Re'im shows the aftermath, with several burned-out cars scattered along the road to the base. It's unclear how many people were killed during the fighting.
Hamas's social media channels have repeatedly shared images of dead Israeli soldiers. BBC News has not verified these images.
Within just a few hours of the rocket barrage beginning, hundreds of Israelis were dead – and it happened in a way no-one thought was possible.
Help began to arrive in the stricken southern region within a few hours but Hamas, for a time, was in effective control of pieces of territory outside of Gaza.
The speed and deadliness of the surprise attack has stunned Israel. Questions over how it was able to happen will be asked for years.
By mid-morning, Israel's Prime Minister Benjamin Netanyahu declared: "We are at war."
Meanwhile, the Israeli ambassador to Nigeria, Michael Freeman while answering questions on Nigeria's Channels Television Monday morning, said Israel would do all it had to do to protect its people, even if it means the IDF soldiers would cross into Gaza to engage Hamas. He also said all options were open about countries like Iran supporting Hamas. He vowed that as Hamas has continuously indicated their willingness to exterminate his country, Israel will see to the total destruction of the organization.
BBC
For news and events coverage, photo features, contributions and adverts contact us via:
Phone: +2348029115783
WhatsApp: +2347037611903
Follow us via:
Facebook: @Words and Shots
Instagram: @words_and_shots
Twitter: @wordsandshots
RUSSIA: PRIGOZHIN ALIVE AND WELL, BODY DOUBLE DIED, STRATEGIZES RETALIATION AGAINST PUTIN – ANALYST
Russian Analyst Claims Wagner Leader Yevgeny Prigozhin Survives Plane Assassination Plot and Plans Revenge Against Putin After Body Double's Death
A Russian political analyst has put forth a startling claim, asserting that Yevgeny Prigozhin, the leader of Wagner Group, is alive and actively devising a plot for retaliation after the demise of his body double in a recent plane crash.
According to Dr. Valery Solovey, a former professor at Moscow's Institute of International Relations (MGIMO), renowned for training spies and diplomats, Prigozhin is residing in an undisclosed country, safe and unharmed. Interestingly, Russia is orchestrating a funeral for Prigozhin, yet President Vladimir Putin is opting to abstain from attending.
Dr. Solovey alleges that Prigozhin, often linked to mercenary activities, is currently formulating a scheme for vengeance. This political analyst suggests that the authorities in Russia misled the public by indicating that Prigozhin's DNA was found at the crash site in the Tver region. He further claims that the attempt to eliminate Prigozhin had failed due to his use of a body double, who happened to board the plane instead.
He refutes the assertion that the plane crashed due to an onboard explosion, asserting, "'There was no explosion on board. It was downed from the outside." Dr. Solovey contends that the operation to shoot down the aircraft was authorized by the Russian president through the nation's Security Council.
As per Dr. Solovey's account, the warlord Prigozhin is presently "alive, well, and free." This analyst indicates that Vladimir Putin is well-aware of the situation, even as official Russian statements suggest otherwise.
Dr. Solovey discloses plans to unveil Prigozhin's alleged place of exile in the upcoming month, dismissing claims of an African refuge where Wagner's private army maintains interests. Nonetheless, the analyst asserts that Prigozhin intends to reveal himself before the year concludes.
In response to Prigozhin's impending funeral, Putin's spokesperson has conveyed that the President's presence is not anticipated. The decision regarding the funeral is said to be determined by the deceased's family and friends.
According to Dr. Solovey, the exiled Prigozhin is actively "preparing for revenge." He speculates on the internal struggle Prigozhin faced, surviving while those close to him perished. The analyst suggests that Prigozhin seeks retribution against those who intended to annihilate him and caused the deaths of his associates.
Among those lost in the crash were Wagner military commander Dmitry Utkin, 53, and flight attendant Kristina Raspopova, 39, who had communicated to her relatives about flight delays and repairs prior to the ill-fated journey.
Dr. Solovey contends that Prigozhin possesses access to £1.6 billion in bitcoin, a significant resource he plans to employ for his vindictive campaign. The analyst concludes by emphasizing Prigozhin's determination, ambition, energy, and courage in pursuing his objectives.
For news and events coverage, photo features, contributions and adverts contact us via:
Phone: +2348029115783
WhatsApp: +2347037611903
Follow us via:
Facebook: @Words and Shots
Instagram: @words_and_shots
Twitter: @wordsandshots