GAZA WAR: THOSE BUILDING ISRAEL'S WAR MACHINES
Gaza War: Those Building Israel's War Machines! Israeli armor maker, Plasan Sasa, sits just two miles from the Lebanon border in northeastern Israel. Its people have been working "flat out" since the Hamas attacks.
Three weeks ago, Gilad Ariav, vice president of business development for Plasan Sasa was on a flight to the U.S. to attend the Association of the United States Army's (AUSA) huge annual trade show and conference in Washington, DC. He made it as far as New York.
While he was airborne, Hamas launched what it calls "Operation Al-Aqsa Flood", firing approximately 2,500 rockets into southern Israel while attacking and committing atrocities against Israeli citizens across the territory.
"On the flight, I started to read the news from Israel," Ariav told me during a phone interview early this week. "We landed Saturday night [October 7] and I decided to do a U-turn. I landed back in Israel very early Tuesday morning. By 8 am, I was back in the office."
Since then, Ariav has been in uniform, on active reserve duty with the Israel Defense Forces (IDF) in an undisclosed role. When we spoke by phone, he had taken one day's leave from the Army to return to Plasan Sasa and catch up at his office. He would be back in uniform next day.
A substantial number of other Plasan Sasa employees are doing the same. As they do, business-as-usual, and beyond usual, carries on at the company.
Plastics to Protective Technology
Plasan Sasa is located within Kibbutz Sasa, a community in the Upper Galilee area of northern Israel, right next to the Lebanese border. In 1985, the Kibbutz bought thermoplastic manufacturing technology from an American company called NOW Plastics. It then stood up its own company in Sasa under the name "Plasan Sasa", a derivation of PLA(stic) SA(sa) N(ow).
The firm began making a line of plastic containers and other plastics but quickly shifted its focus to armor, specifically designing and producing composite body armor for the IDF. The company began applying composite armor solutions to vehicles for the IDF in the 1990s including armor kits for the world's first up-armored Humvees which it designed and supplied to the Israeli military.
By the early 2000s, Plasan had branched out from manufacturing body armor and vehicle armor kits for the IDF to working directly with armored vehicle manufacturers and other defense primes inside and outside Israel.
Among these were American firms Navistar Defense and Oshkosh Defense with whom Plasan quickly designed and manufactured "Kitted Hull" armor (a design and production process for weld-free assembly armored cabins) for their respective responses to IED threats to U.S. forces in Iraq and Afghanistan – the MaxxPro MRAP and MRAP-ATV.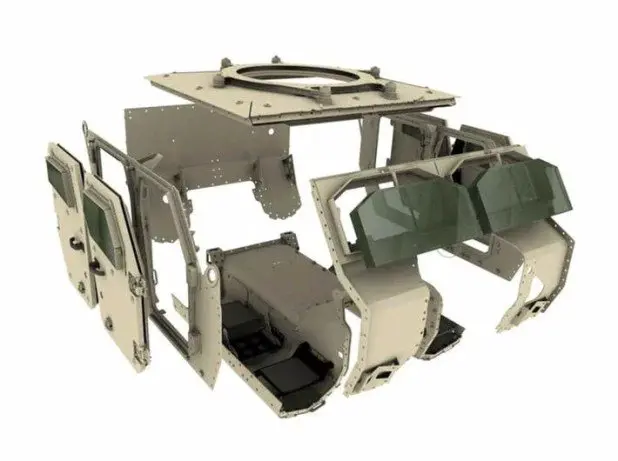 Plasan's director of design, Nir Kahn, described the company's growth as a long process of vertical integration – bringing in experts, vehicle and materials engineers and armor designers. "Having all of those people under one roof has always been the key to Plasan's success."
Today, the company works as an integrated partner or subcontractor with Israeli firms like Elbit Systems and Raphael in Israel, and Lockheed Martin LMT , General Dynamics GD Land Systems, Oshkosh Defense, AM General and Raytheon in the U.S.
"We're, more often than not, a quiet or even silent partner in the background," Kahn says. Plasan's own armored vehicles – its large Sandcat multi-purpose 4X4, small Wilder patrol vehicle and self-propelled All Terrain Electric Mission Module (ATeMM) are exceptions to its product line, "as much calling cards for what we do with vehicle manufacturers as they are products in their right," Kahn adds.
Plasan employs a workforce of about 400 at its headquarters factory in Kibbutz Sasa. Its has a U.S. subsidiary (Plasan North America), and holds other small firms in France and Greece.
As part of a team led by South Korean defense prime Hanwha, which recently won the award for Phase 3 of Australia's Land 400 infantry fighting vehicle, Plasan will have a working presence Down Under. But for the moment, it has more work than time.
Working Through Crisis
Nir Kahn awoke to a phone call from his father-in-law on the Saturday morning that Hamas attacked.
"We woke up and very quickly realized that this was something different," he says. "It's not that uncommon for there to be rounds of fighting in Gaza. But this was something much bigger, much worse – a tragedy."
While the terrorist attacks were far to the south, Kahn says the immediate fear in Galilee area was that the northern border was going to flare up as well. As he got his home safe-room ready, staff at Plasan Sasa readied safe-rooms and shelters around its factory and offices. Employees came in to work.
"Unfortunately, Israeli [defense firms] are used to such crises," Gilad Ariav observes. "The industry knows how to work in these cases."
In the first few days following Hamas' attacks, the IDF and Hezbollah exchanged rocket and artillery fire along the border in proximity to Sasa. Villages on both sides of the Israel-Lebanon frontier saw residents evacuate. They include a number of Plasan Sasa personnel who have taken their families to temporary accommodation further south.
Those who have relocated continue to travel to Kibbutz Sasa to work and/or telecommute when necessary. Some can walk to work, some come by their personal cars or in company-provided transport. Sometimes roads are blocked by the IDF and Plasan employees have to shelter until given clearance that an incident is under control.
The situation depends on the day. The company is in constant communication with the Defense Ministry and other authorities and its staff have long been briefed on how to conduct themselves in various scenarios. "We make sure that everyone to the last employee knows what to do in his or her space when they come to Plasan," Ariav says.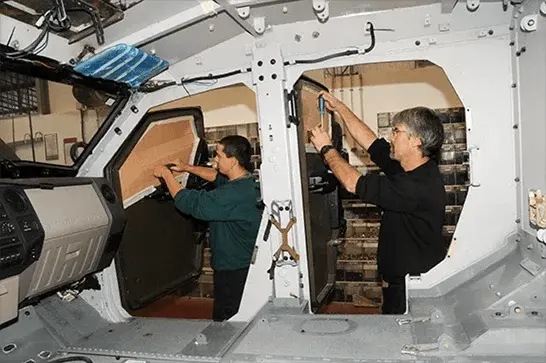 It's a scenario that, with the possible exception of the brief period immediately following 9-11, 2001, firms in the U.S. have not faced since the American Civil War. At Plasan, "We continue to work as usual and more than that," Ariav told me.
The company has undertaken a number of emergency projects for the Israeli Ministry of Defense, accelerating production of its Sandcat vehicles and re-opening its body armor production line, crafting thousands of ballistic plates. Its factory has seen triple-shifts 24/7 for the last three-plus weeks.
Existing stocks of Sandcat Tigris armored vehicles were provided to the IDF free-of-charge in the opening days of the conflict, delivered directly to IDF units at their operating locations. A Plasan Sasa maintenance team is at the disposal of the IDF, providing vehicle support to units near Gaza and the Lebanese border.
Downloads btlsblog mobile app on playstore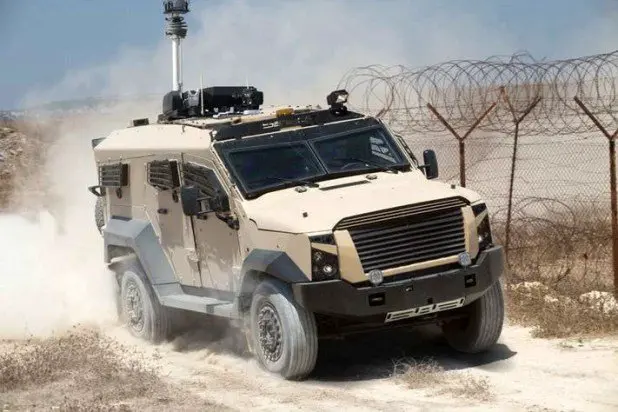 "Our employees are working in not so simple conditions. Some, like me have been called to active duty and the [remaining staff] are making up for their absence," Ariav says.
Accustomed to crisis (many employees were at work with the company during the Second Lebanon War in 2006) though they might be the company's people are under stress Ariav acknowledges.
"For sure, the situation is not easy. But we're proud of supporting our nation in these difficult times… All [Israelis] serve in the Army and their kids serve in the Army. People understand what it means for soldiers to have a protected vehicle or [body armor]. They know why we're coming to work in this difficult place two miles from the border." that is the sacrifice of those building Israel's war machines for their country.
"It's a personal mission for us," Nir Kahn agrees. "It sounds a bit of a cliché but everything we do at Plasan is about saving lives in these situations."
Plasan cannot discuss many of the details of its operations given the current situation, but it can relate examples of the pressure it and other Israeli firms have been under. In the first fortnight after the conflict began Kahn and others were fielding personal calls from friends as Israel mobilized over 350,000 reservists.
"They were literally saying, 'Can you get us some body armor? We've just been called-up [for duty]. We don't have enough body armor, can you get us some? Can you get us some vehicles?' Of course, the answer was that Plasan is doing everything it can with the authorities. There's no under-the-table supply of this stuff. We're working flat out with the MoD to get it where needed as fast as possible."
While it has received calls seeking help, Plasan Sasa has likewise received support from many quarters of the world. Gilad Ariav says those with whom he works have been "touched" by expressions of concern from clients who messaged in the immediate aftermath of the attacks, affirming that the company's people were in their thoughts and prayers.
Ariav, Kahn and others at Plasan have also gotten many personal messages from business colleagues and friends outside of Israel, supportive sentiments that continue to flow their way. "The news can sometimes paint a different picture," Nir Kahn explains, "but I often remind people that we have a lot more understanding and support than it might appear."
Gilad recalls that when he landed in New York and spent the night in a hotel before catching a return flight, he immediately received well-wishes remotely and in-person. "They came from [Customs and Border Protection] officers at the airport, from people at the restaurant I ate in. I felt the support and felt very safe."
Plasan's clients have also asked if the company needed anything from them, what they could lend a hand with. Though grateful, Ariav says, "We told them we are committed to what we have signed for, to deliver what we have promised. Despite the situation, we are doing business as usual."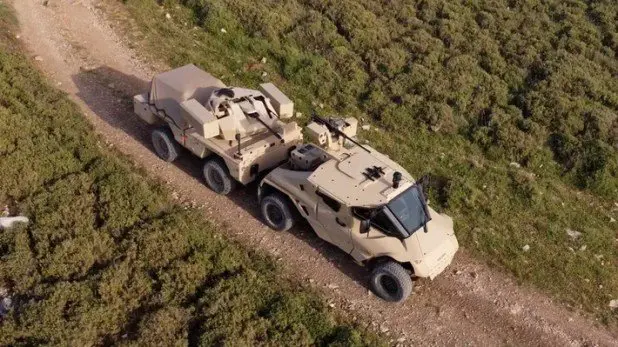 That includes progressing with product R&D. While we shouldn't expect any announcements from Plasan Sasa anytime soon, the current conflict its executives acknowledge is accelerating its development.
For example, they tell me the ATeMM, which the U.S. Army has recently evaluated, is in IDF hands and will see action where the fighting is. It will be the first such deployment for an autonomous, self-propelled battlefield electric energy storage system.
One of reasons Plasan grew in early 2000s was its introduction of technologies and systems honed with IDF in south Lebanon in the 1990s.
"I think it's fair to say that there will be a similar effect in coming years," Kahn opines. "A lot of the technologies we've been working on are suddenly getting fielded. We're going to get feedback and learn from that."
In the meantime, Plasan will continue work, war notwithstanding.
For news and events coverage, photo features, contributions and adverts contact us via:
Phone: +2348029115783
WhatsApp: +2347037611903
Follow us via:
Facebook: @Words and Shots
Instagram: @words_and_shots
Twitter: @wordsandshots
SPECIAL DOGS THAT FIGHT IN ISRAEL'S WAR IN GAZA
Special dogs fight in Israel's war in Gaza. The IDF's four-legged fighting force that's being deployed in some of Gaza's most dangerous territory to hunt down Hamas – has already suffered fatalities fighting terrorists
Israel has one of the most sophisticated armies in the world, with an arsenal of modern weapons, thousands of armed vehicles and hundreds of thousands of highly trained soldiers.
But among the most valued units in its ranks is a four-legged fighting force which has already helped to eliminate Hamas terrorists, and is being deployed as part of the Israeli Defence Forces' intense ground offensive in Gaza.
The dogs, who are part of the Oketz unit, each have specific jobs, with some trained to sniff out explosives, some to locate hidden threats and tunnel entrances, and others to track down and maul terrorists.
The highly-trained Belgian Malinois have been utilised by Israel's army for years – and now their skills are being deployed on the streets of Gaza and in Hama's subterranean tunnels.
As the IDF continues to forge a path through the heart of Gaza City in their operation to root out Hamas, MailOnline takes a look at the crack canine division which stands out as one of the most versatile and feared units on the battlefield.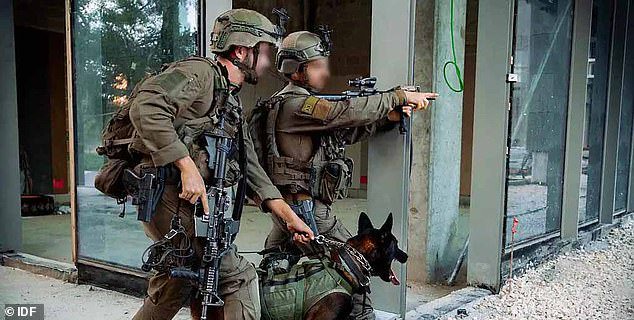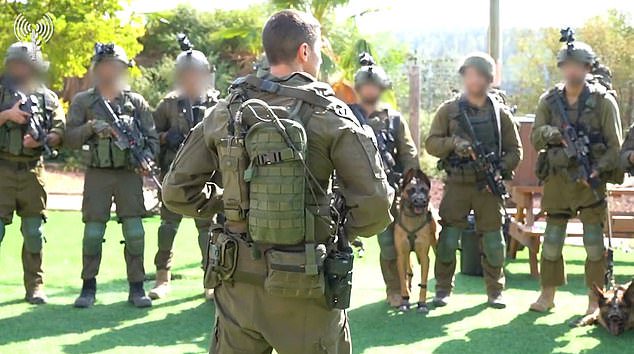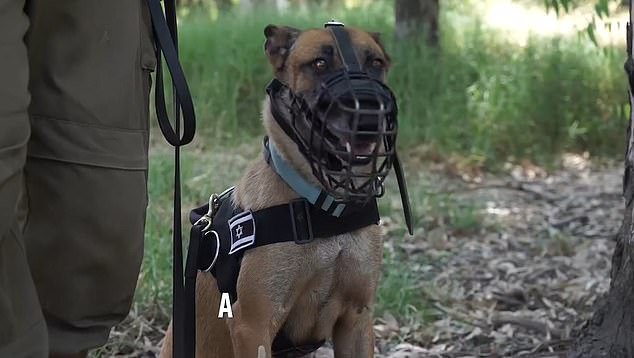 October 7
As Hamas terrorists launched their surprise invasion of southern Israel on October 7, some military dog handlers only realised they were under attack when they were awoken by air raid sirens.
As news came through that Hamas had infiltrated the country, the unit scrambled dogs and handlers who were still in training to the south, where kibbutzim were under heavy bombardment and being stormed by Hamas fighters.
Tragically, one brave dog was killed by Hamas as he saved the lives of several commandoes, alerting them to the terrorists' hiding place on October 7.
Nero, one of the Oketz dogs which had joined Naval Commando 13 to hunt down Hamas infiltrators, was killed while tracking down the terrorists.
'A dog who was with one of our men went in to comb a house,' a commander, known only as Lieutenant Colonel A, told Israel Hayom.
'He revealed the location of two terrorists, took a burst of gunfire from them, and was killed.
'That's how the men in the force realized that there were terrorists in the house, and human lives were saved.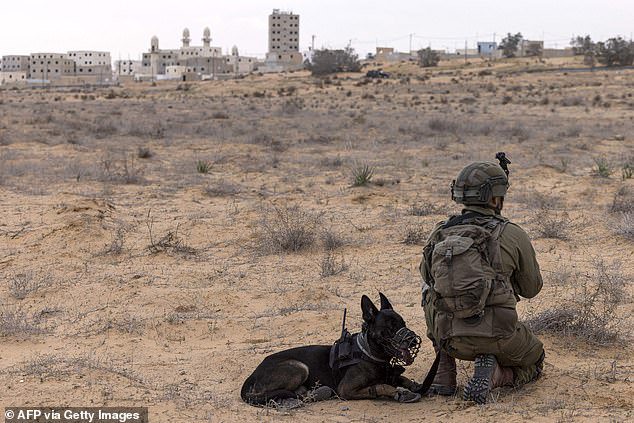 'The troops fired at the terrorists and brought in engineering machinery that brought the house down on them.
'Lots of commanders from Naval Commando 13 contacted me and told me that the dog had saved their lives.'
Like their human comrades, any dog in the unit killed in the line of duty is entitled to a full military funeral.
In another case, Oketz forces joined up with the Duvdevan commando unit to scour open territory in the Be'ersheva area.
It managed to locate a terrorist just a few dozen metres ahead of its unit who had set up an ambush for the force in a grove of bushes.
The dog bit the terrorist, the commander said, allowing the Duvdevan force to arrest him.
Following the arrest, he added, it turned out that he was a terrorist from Hamas's underground system, and in his interrogation, he gave very important information for the continuation of the fighting.'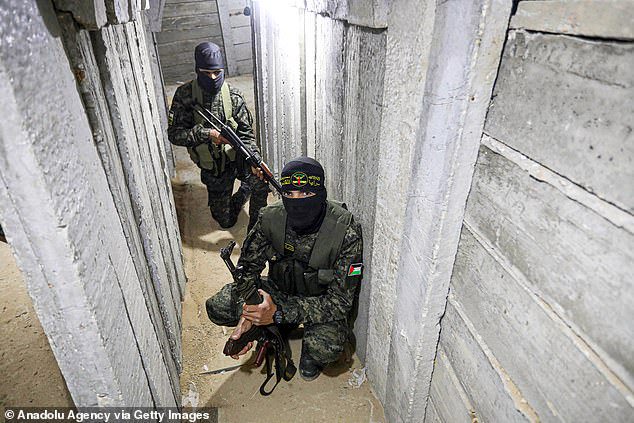 Tunnel fighting
A 300-mile-long network of tunnels sprawls beneath Gaza, forming an entire subterranean world that is so vast it has been described as Hamas's 'metro system'.
Concealed beneath hospitals, mosques, schools and homes, the network offers cover to Hamas soldiers and their cache of rockets.
Thought to be heavily booby-trapped, the concrete-enforced passages are narrow and complex in some areas, making them one of the most deadly terrains for soldiers to enter.
In some areas, troops are unable to stand up or see in front of themselves in the dark lairs.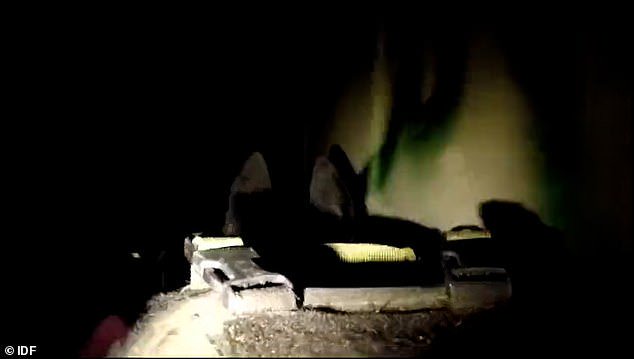 This means that dogs – which are guided by their noses and agile enough to quickly navigate complicated networks – are a useful weapon.
A bodycam attached to the animal follows it through the dimly lit passages as it hunts down its prey.
The animal locates a man dressed as a Hamas terrorist, who it attacks and neutralises as the enemy target screams in terror, showing how useful the animals can be in supporting their human counterparts in Gaza.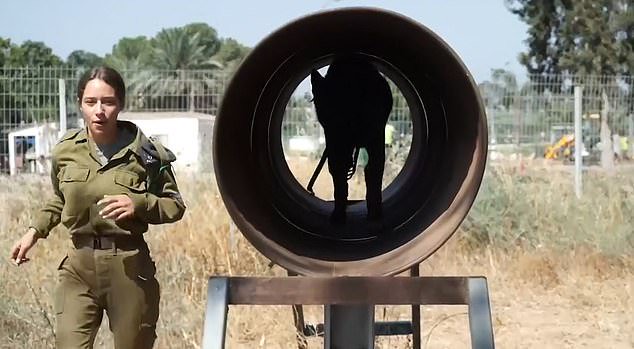 Origins of Oketz
The name 'Oketz,' meaning 'Sting' in Hebrew, aptly describes the unit's swift and decisive actions, using highly-trained dogs to locate, track down and clear Hamas' clandestine tunnel network, rounding up weapons caches and bomb-making facilities in the process.
Established in 1974 on the Sirkin Base in central Israel close to the West Bank, the unit has evolved into a critical component of the IDF, contributing to counter-terrorism, search and rescue, and various specialised missions over the years.
The origins of Oketz can be traced back to the tumultuous period of the early 1970s when Israel faced a wave of terrorist attacks.
In response to the evolving security challenges, Oketz was officially formed with just 11 soldiers.
During the 1970s and 1980s, the unit operated in utmost secrecy, participating in numerous covert missions. It wasn't until 1988, following a successful operation in Lebanon, that Oketz was revealed to the public.
The unit now operates across all regions of Israel, adapting to diverse terrains and scenarios, with mission objectives that include counter-terrorism, search and rescue, as well as specific tasks like locating weapons and detecting explosives.
Selection process and intense training
Joining Oketz is a voluntary choice for soldiers, and the selection process is rigorous.
To qualify for Oketz, soldiers – both men and women – must first draft into specific infantry units where they may be considered for selection.
Women aspiring to join Oketz do so through the co-ed Caracal Battalion, undergoing joint tryouts with male counterparts.
The IDF handpicks the best candidates through rigorous tryouts, with successful soldiers being subjected to an additional gruelling four-day selection process.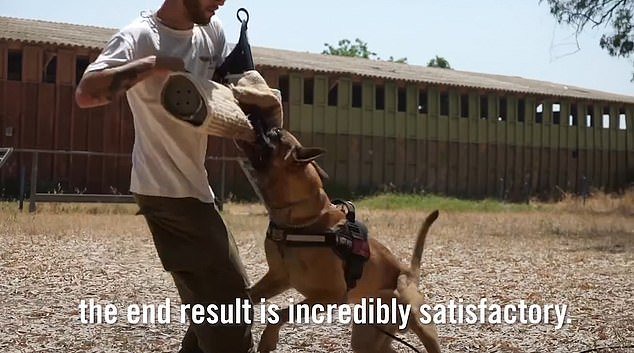 These tryouts serve as a crucible, identifying the most capable men and women who go on to form exceptional teams within Oketz.
Once selected, each soldier is paired with their own service dog, and together they undergo specialised training to develop specific skills as determined by their commanding officers, whether it be attack, search and rescue, or explosive detection.
A distinctive feature of the Oketz Unit is the deep connection between the soldier and their assigned dog.
This relationship is cultivated from the early stages of training, and soldiers spend significant time bonding with their canine partners.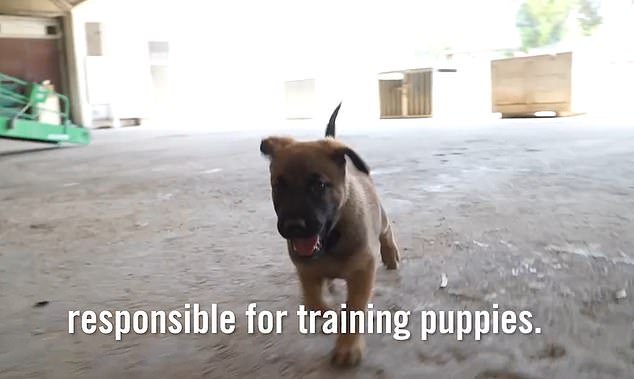 However, soldiers drafted into Oketz have to ensure that they are able to emotionally separate themselves from their four-legged partners when necessary.
Raised and trained by the unit from pups, only the toughest canine recruits make it through to become specialised fighting dogs.
'The initial training develops the dogs' instincts, discipline and aggressiveness so they won't baulk in fear,' an anonymous trainer told the Jerusalem Post.
'Only the best are selected at this stage. A dog that's too apathetic, too sensitive to food or tends to chase cats, doesn't reach the unit. It must be brave and have exceptional attributes.
'Its instincts are developed through biting games with rags or other objects, playing ball and lots of walks.'
Each dog's job depends on the individual skills of each animal, he said.
'Explosives detection dogs must be extremely disciplined and quiet; search and rescue canines need a highly developed sense of smell; and attack dogs require strength and fearlessness.'
As a journalist who joined the Oketz unit for exercises in 2018 observed: 'Dogs can be a man's best friend – and they can be a terrorist's worst enemy.'
For news and events coverage, photo features, contributions and adverts contact us via:
Phone: +2348029115783
WhatsApp: +2347037611903
Follow us via:
Facebook: @Words and Shots
Instagram: @words_and_shots
Twitter: @wordsandshots
THIS GIANT HUMMER IS BOTH DRIVABLE AND A HOUSE
Do you know that this giant Hummer is both drivable and a house? Come inside and see.
Off-Road History Museum is a private collection of Rainbow Sheikh in UAE with more than 350 vehicles.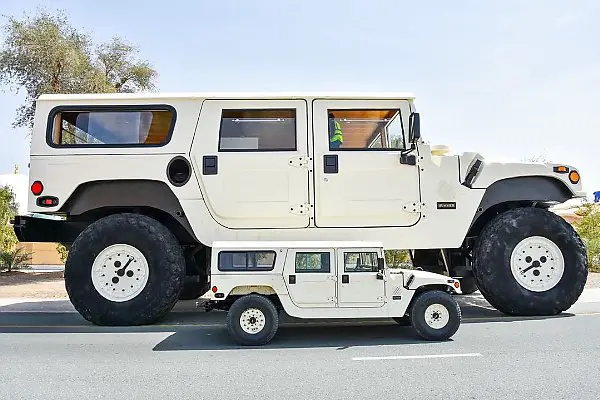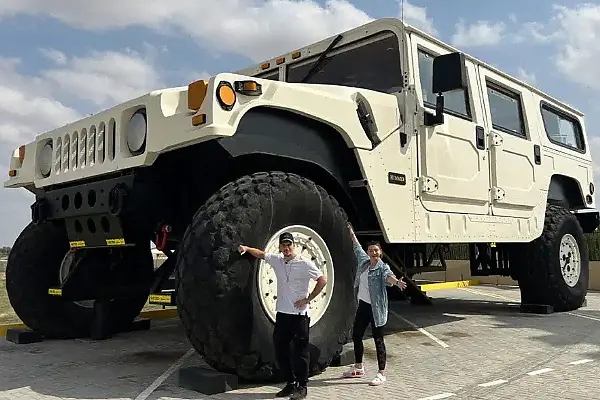 Sheikh Hamad bin Hamdan al Nahyan, popularly known as the Rainbow Sheikh, owns one of the strangest and biggest custom car collections in the world, including a massive custom truck dubbed Hummer H1 "X3."
Standing at 21.6 feet tall, 46 feet long and 19 feet wide, the drivable H1 "X3" is three times the size of a regular Hummer H1. The 2-story Hummer took over one and half years to build and and it features several amenities inside as seen in a video shared by Supercarblondie.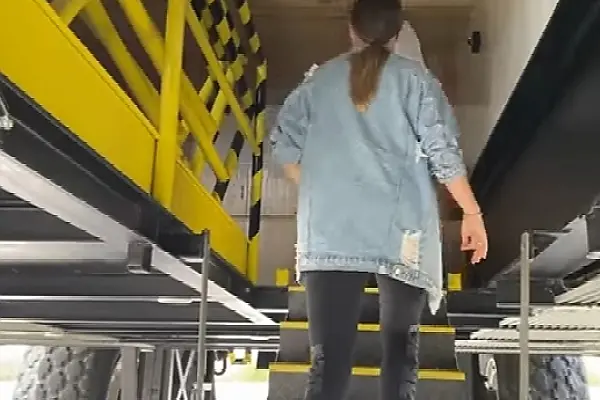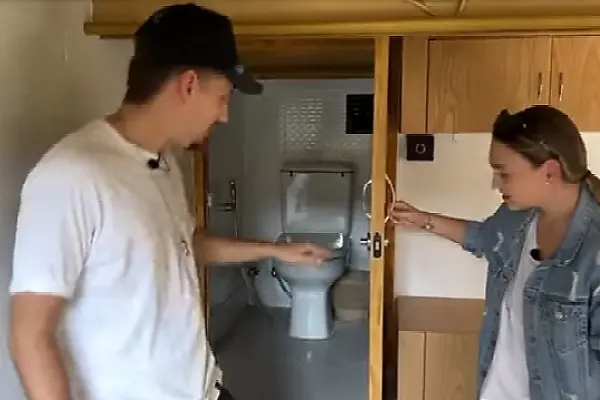 In the footage shared (start from 4.10 minutes mark), Supercarblondie takes us through a journey inside the well-furnished interior equipped with five-star hotel style lounge room, a bathroom with a sink and a kitchen.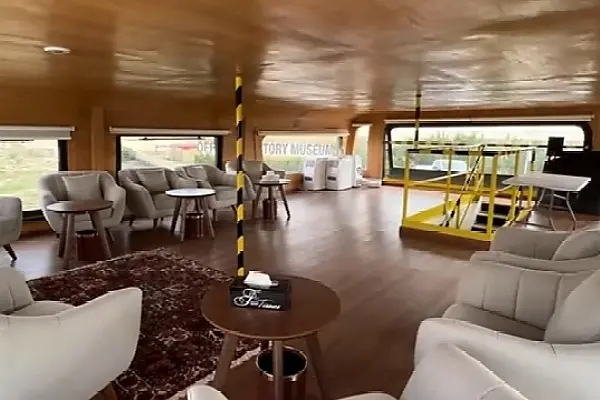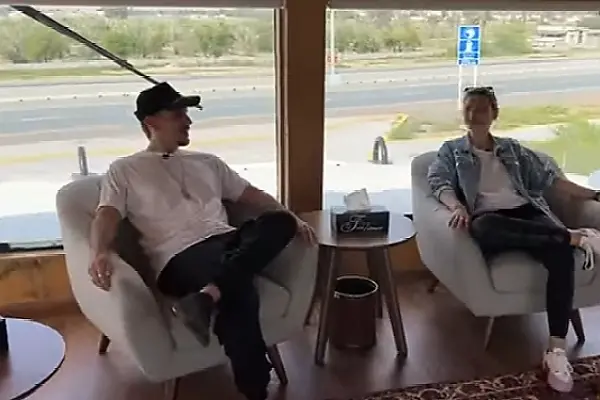 On the outside, each of the truck's over 7-feet tall tyre cost $25,000 and each of its massive doors took months to make. Beneath the X3 is a stairs which allows access to the interior.
Powering this vehicle are four diesel engines provided by the military, which developes 1,000-horsepower and allows a top-speed of around 32 kilometers per hour (about 20 mph).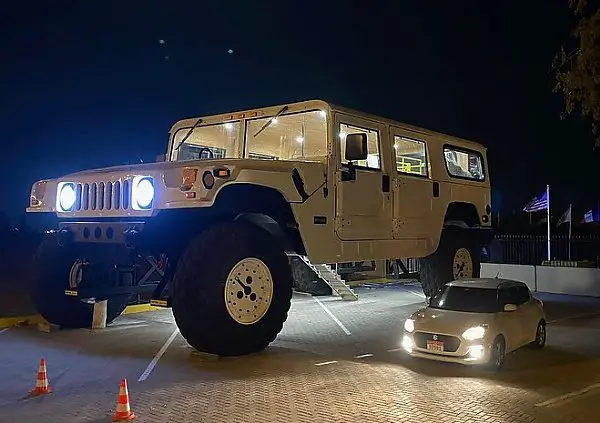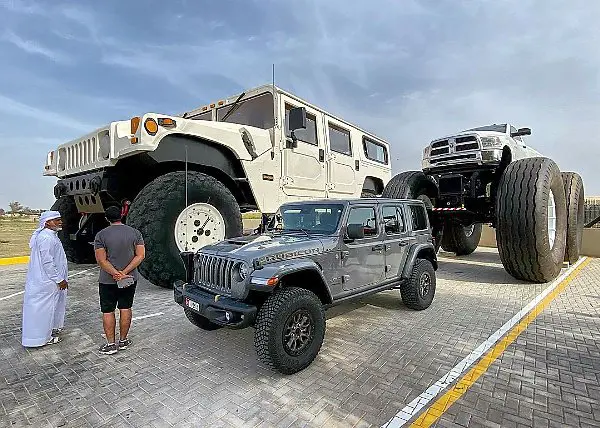 The Hummer H1 "X3" along with an equally big 'Bigfoot RAM 2500 are currently on display at the Off-Road History Museum, a private collection of Rainbow Sheikh in UAE with more than 350 vehicles.
Al Nahyan, a member of the United Arab Emirates royal family with a net worth of approximately $20 billion, is one of the richest people in the United Arab Emirates. He reportedly has four separate car museums in the UAE. He owns over 3,000 vehicles that are kept in a giant pyramid in the middle of the desert.
Having gone on a trip through this giant, you can thus now see why this giant Hummer is both drivable and a home.
For news and events coverage, photo features, contributions and adverts contact us via:
Phone: +2348029115783
WhatsApp: +2347037611903
Follow us via:
Facebook: @Words and Shots
Instagram: @words_and_shots
Twitter: @wordsandshots
WHAT ARE THE BEST TIMES TO POST ON SOCIAL MEDIA
In the ever-evolving landscape of social media, where a single post has the power to reach millions, timing is everything. Crafting the perfect post, with attention-grabbing content and striking visuals, is just the first step.
To optimize your social media strategy, you must also decipher the enigma of timing – when to share your content to maximize its impact. Welcome to the world of the best times to post on social media.
Understanding the Algorithm Dance
Before diving into the specifics of when to post, it's important to understand the role algorithms play in determining the visibility of your content. Social media platforms use complex algorithms considering user engagement, post relevance, and recency. By posting at the right times, you increase the likelihood of your target audience seeing your content when they are most active.
The General Time Frames
While each social media platform has its unique user base and patterns, some general time frames have emerged as prime opportunities for engagement across platforms.
Facebook:
Weekdays from 9:00 AM to 3:00 PM tend to garner higher engagement. Avoid posting on weekends and early mornings.
Instagram:
The best days are Monday, Wednesday, and Thursday, with the peak times around 11:00 AM and 2:00 PM. Avoid posting between 11:00 PM and 3:00 AM.
Twitter:
Weekdays between 8:00 AM and 10:00 AM and 6:00 PM to 9:00 PM are generally optimal, with higher traffic on Wednesdays.
LinkedIn:
Post-mid-week, particularly on Wednesdays, between 10:00 AM and 11:00 AM.
Pinterest:
Saturdays are the best day, with 2:00 PM to 4:00 PM and 8:00 PM to 11:00 PM being the sweet spots.
TikTok:
Evenings, particularly around 7:00 PM to 9:00 PM, and weekends are the most active times.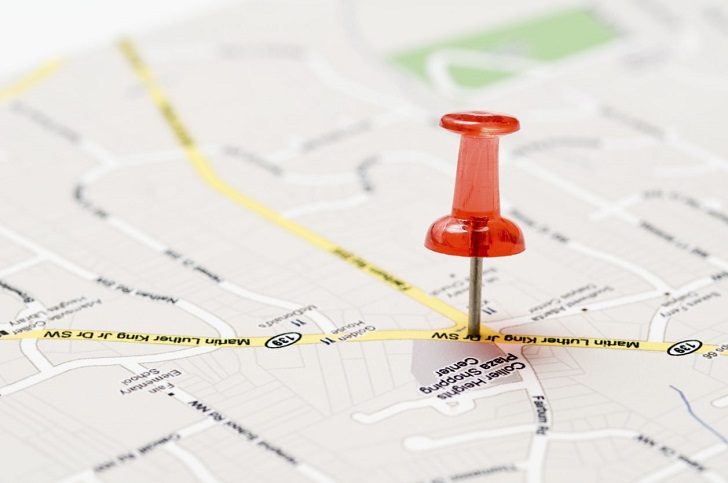 Unveiling Platform-Specific Insights
Diving deeper into the platform-specific dynamics can further refine your posting strategy.
Facebook
Facebook's user base spans various demographics, so it's important to consider your target audience when scheduling posts. Weekdays, specifically Tuesday through Thursday, see higher engagement. Post around lunchtime and early afternoon, when people are taking breaks.
Instagram
Instagram's visual nature lends itself to different engagement patterns. While weekday mornings are generally good, the peak engagement times are around lunch (11:00 AM to 1:00 PM) and evenings (7:00 PM to 9:00 PM). Sundays also see good engagement. Remember that Instagram's algorithm considers how quickly engagement occurs after posting, so timing can be particularly crucial here.
Twitter
Twitter's fast-paced nature makes timing even more critical. Aim for the time frames when people commute (8:00 AM to 9:00 AM and 5:00 PM to 6:00 PM) or on breaks. Engagement is generally higher during weekdays, with Wednesdays standing out.
LinkedIn
As a professional networking platform, LinkedIn sees the most activity on weekdays. Mid-week mornings are ideal, especially on Wednesdays around 10:00 AM. Avoid posting on weekends and outside of typical business hours.
Pinterest
Pinterest users often plan and discover content, so weekends and evenings are key times for engagement. Saturdays, in particular, see a spike in activity. Aim for maximum reach at 2:00 PM to 4:00 PM and 8:00 PM to 11:00 PM.
TikTok
TikTok's younger user base tends to be most active during their leisure time – evenings and weekends. Posting between 7:00 PM and 9:00 PM can yield favorable results. Experimentation is key on TikTok, as trends and user behaviour can shift rapidly.
A Constant Experiment
It's important to note that these suggested optimal times are not set in stone. Social media behaviour evolves, and your specific audience might have unique patterns. Use the general guidelines as a starting point, but be prepared to experiment.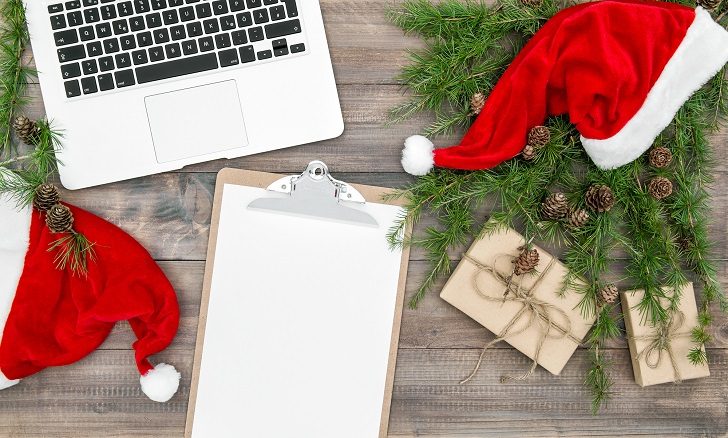 Factors Influencing Timing
Several factors can influence the best times to post on social media:
Audience: Know your audience's demographics, time zones, and habits. What might work for a teen-focused platform like TikTok might not be effective for a professional platform like LinkedIn.
Type of Content: Consider the content you're posting. Are you sharing a quick meme or a long-form article? Tailor your timing to match your audience's time on different content types.
Location: If your audience is spread across different time zones, tools that allow you to schedule posts according to different time zones can be invaluable.
Holidays and Events: Posts related to holidays, events, or current trends might require adjusting your usual posting schedule to align with the timing of these events.
Analytics: Leverage platform analytics to track the performance of your posts. Look for patterns in engagement and adjust your strategy accordingly.
For news and events coverage, photo features, contributions and adverts contact us via:
Phone: +2348029115783
WhatsApp: +2347037611903
Follow us via:
Facebook: @Words and Shots
Instagram: @words_and_shots
Twitter: @wordsandshots