THE PRESIDENT- ELECT AND THE 10TH ASSEMBLY; MATTERS ARISING
By Ambrose Igboke
The national assembly leadership in the fourth republic has had its own fair share of chequered history.
There has been consistent interference from the Presidency on who becomes the President of the Senate and the Speaker of the House of Representatives. The tenure of President Olusegun Obasanjo, perhaps, witnessed the worst intrusion in the leadership of the National Assembly. Many reasoned that the President engineered the changes in the senate Presidency a record 5 times, from 1999-2007.
Within a period of short 8 years, the Nigerian Senate churned out 9 presidents: Senator Evan Enwerem (3rd June, 1999 – 18th November, 1999), Senator Chuba Okadigbo (18th November, 1999 – 8th August, 2000), Senator Anyim Pius Anyim (8th August, 2000 – 3rd June, 2003), Senator Adolphus Wabara (3rd June, 2003 – 5th April, 2005) and Senator Ken Nnamani (5th April, 2005 – 5th June, 2007). This feat, albeit, retrogressive, was attained by the machinations of the Federal Executive arm of government.
However, one must give it to the government in power then for having a consistent policy of zoning that position to a particular geopolitical zone; the south-east, despite the numerous changes in leadership. Senator David Mark began his tenure on 5th June, 2007 and completed it on 6th June 2015, making him the longest Senate President. This was followed by Senator Bukola Saraki (9th June, 2015 – 9th June, 2019) and Senator Ahmed Lawal (11th June, 2019 till date}. The 24 years of the fourth republic produced a total of 8 Senate Presidents, with 5 of them within the first 8 years.
The House of Representatives also had a bounty of leadership intrigues which many believe, were masterminded by the executive. From 1999-2007, the House had 5 different Speakers; Hon. Salisu Buhari (3rd June – 23rd July, 1999), Hon. Ghali Umar Na'Abba (23rd July, 1999 – 3rd June, 2003), Hon. Aminu Bello Masari (3rd June, 2003 – 6th June, 2007), Hon. Patricia Etteh (6th June, 2007 – 30th October, 2007) and Hon. Dimeji Bankole who started his tenure on 1st November, 2007. After this period the House seemed to have had a stable leadership. Hon Dimeji Bankole (1st Nov. 2007 – 6th June, 2011), Hon. Aminu Tambuwal (6th Jube 2011 – 29th May, 2015), Hon. Yakubu Dogara (9th June, 2018 – 9th June, 2019) and Hon. Femi Gbajabiamila (12th June, 2019 till date), have all enjoyed the full complement of their tenure. In the 24th year of democratic process in the fourth republic, Nigeria has produced a total number of 8 Speakers of the House of Representatives.
The high number of leaders of the National Assembly has been attributed to the quest by the executive arm of government to control the legislature. This is particularly the case in Africa where Presidents, firstly see themselves as absolute rulers than first among equal citizens. Because of these assumptions of absolutism, African leaders crave to control and micromanage every spectrum of governance and appropriate the leadership of democratic organs by proxy. This has created eternal wars between the legislature, which is an independent arm of government and an executive arm which feels that all arms of government should be under its control despite the constitutional provisions.
Every President, through subtlety, lobby, pressure or outright brutal maneuvering, tries to install the leadership of the national assembly. Hitherto, past presidents cajoled their party leadership to zone the positions of leadership in the legislative arms to particular zones then lobby the legislators of those zones to vote for a particular candidate as president and speaker respectively. This is usually done behind closed doors. The results of these negotiations were not disclosed but remain mere grapevine until the Senate and House of Representatives elect their leaders.
The President-elect Asiwaju Bola Ahmed Tinubu, has introduced new dimensions to the intrigues of electing leaders of the 10th national assembly. In a clear departure from the routine of his predecessors, BAT clearly showed that he has no time for the niceties, including the long hours and days deployed by his predecessors to lobby and cajole elected legislators; he went straight for the jugular. In what seems like a script from a mafia movie, the All Progressive Congress zoned the positions of the Senate President and the Speaker of the House of Representatives, that seemed normal. However, the party did not stop there, it also named Senator Godswill Akpabio as the Senate President and Hon. Tajudeen Abbas as the Speaker in deference to the choice of Tinubu.
Nigerians have reacted differently to this new phenomenon. Some argue that the president-elect has a right to choose the people he wants to work with. To these set of people, they seem not understand the basic tenets of the principle of separation of powers in a democratic system. They are stuck in the ways of dictators. They prefer the shackles of a benevolent dictator to the freedom of a true democracy. They make excuses for the excesses of the dictator until they become victims. Perhaps, this set of people need some schooling in democracy.
The positions of the Senate President and House Speaker are elective positions, where members of parliament elect their own leaders. It is not a ministry, department or agency of government where the president has the constitutional power to appoint or fire the heads of such institutions. It is therefore, democratically retrogressive to accede the powers of the Senate and House of Representative to the President of the Federal Republic. It is indeed a dangerous precedent.
The brazen effort to "appoint" the leadership of the national legislature by the President-Elect is a bold step to completely erode the independence of the legislature. If that is allowed to stand, we shall have an executive arm which will operate without any checks and balances. Naturally, absolute power, corrupts absolutely. Nigeria cannot afford to retrogress after 24 years of democratic progress.
It is granted, that the President-elect wants a rancour-free relationship between the executive and legislature when he assumes office but appointing the leaders is not the solution. There should be broad consultations with members of the ruling party as well as other political parties that have elected members in the national assembly. Democracy is all about negotiations of interest and a democratic leader should lobby his way through and not with the use of force.
The APC can spare the country of this needless distractions by simply coming together as a political party to accommodate all shades of opinions. A situation where a particular geo-political zone is completely disregarded causes disaffection. The disagreement by a high-ranking member of the APC and current House Deputy Speaker; Hon. Idris Wase, is a pointer that there was not enough consultation and consensus among members of the party on the choices made by the President-elect and announced by the national working committee of the party.
Many within the party, like Wase, are not aligning with the choices made. It will be recalled that in 2015, the inability of the APC to quickly get its acts together on the issues concerning the leadership of the national assembly led to the emergence of a member of the opposition party as deputy senate president. Is APC walking the same path as it did in 2015? Time will tell.
Ambrose Igboke is the Chairman, Guild of Public Affairs Analysts of Nigeria, Enugu State Chapter. He is a Fellow of Institute of Chartered Mediators and Conciliators, Public Relations Expert and a Global Social Commentator.
For news and events coverage, photo features, contributions and adverts contact us via:
Phone: +2348029115783
WhatsApp: +2347037611903
Follow us via:
Facebook: @Words and Shots
Instagram: @words_and_shots
Twitter: @wordsandshots
WHO WOULD WIN IN A WAR BETWEEN US AND CHINA?
It depends how it starts
China and the United States are the great rivals in the competition to win the 21st century. But which one would have military superiority in outright conflict?
If China chooses to attack the island of Taiwan, the United States could be helpless to stop it.
By the time the People's Liberation Army launches its third volley of missiles at the island Beijing considers a breakaway province, the US could be just learning of the attack.
In a matter of minutes, Beijing's Rocket Force could cripple Taiwan's military, infrastructure and ports.
Yet if China wanted to conquer Taiwan, the outcome could be different. Possibly completely different.
CREDIT:
China would have to launch an amphibious invasion, deploying troops along its beaches as the first step in a march towards the capital Taipei. Despite its 1.9 million-strong army, compared to Taiwan's cohort of 150,000, the task of taking its island neighbour and holding it is a mammoth military challenge.
Taiwan's Foreign Minister Joseph Wu said on June 3 that Taipei did not anticipate a conflict was going to break out any time soon, "but we are trying to get ourselves ready".
"If there is going to be a war between Taiwan and China, we will fight the war ourselves," he said. "If other countries come to our aid, that will be highly appreciated, but we will fight the war for our own survival and for our own future."
In this scenario, the US and its allies could respond by conducting airlifts to Taiwan. The US could also use submarines and stealth aircraft to attack China's shipping fleet in the Indian Ocean to cripple its economic lifeline in times of a crisis.
The divergence of the two Taiwan scenarios, a Chinese military attack or an invasion, says a lot about the relative military power of the US and China, itself a barometer of the strength of the two superpowers.
"I told President Xi that we will maintain a strong military presence in the Indo-Pacific just as we do with NATO in Europe not to start conflict, but to prevent conflict," US President Joe Biden told a joint session of Congress in April.
A month earlier, Xi Jinping had told the People's Liberation Army: "We should persist in using combat to guide our work; step up preparations for war."
Today, China's military spending is the second-highest in the world after the United States and continues to rise. Its military budget is greater than the combined expenditure of India, Russia, Japan, South Korea, and Taiwan, according to the Stockholm International Peace Research Institute.
The Chinese defence budget reached $324 billion this year. It has been growing by 6-8 per cent each year for the past five years but according to defence intelligence agency Janes, US spending remains miles ahead at $759 billion.
China had 55 small war ships in 2020, more than double the number it had five years ago. Six large amphibious vessels have been launched, three since 2015, and a third aircraft carrier, larger than its predecessors, will soon be completed.
Meia Nouwens from the International Institute for Strategic Studies said Beijing was intent on achieving primacy in the waters that surround China.
"China is also developing the capabilities needed to support military operations at range," said Nouwens, suggesting they could attack across large distances.
China's focus on its region would give it a local advantage in any clash with the US.
Oriana Skylar Mastro of Stanford University has testified that "China dedicates all its resources to planning and preparing for a contingency in east Asia, while the US has additional responsibilities in the Middle East, Europe and worldwide".
If a conflict were to erupt in east Asia, "then the Chinese military is closer to on par with the United States".
China's military build-up is making a difference.
Only a decade ago, the US would have easily dominated the Chinese military in almost any scenario, says Australian National University Professor Stephan Fruehling. "I think the US now accepts it may lose a conflict – at least at the conventional level – with China."
Better trained or better placed
The geographic focus is decisive. The US Air Force boasts nearly 2300 warplanes in service, with another 1422 aircraft in use for the US Navy and Marines, Janes calculates.
But all the US planes cannot be dispatched to China's coastline. Certainly not in the six-to-eight minutes it could take a DF-11 A rocket to cross the 130 kilometre-wide Taiwan Strait to its target.
China's 1264 warplanes, meanwhile, are based in China.
It's a similar story with troops.
The US's 1.38 million active personnel are better trained and equipped than many of their 1.9 million Chinese peers – but getting them in place, and in time, to take on China would be a crucial task.
There are less quantifiable aspects as well.
The last time Chinese troops saw direct action was 1979 when China launched a costly month-long war against Vietnam to teach it a lesson in retaliation for Hanoi's actions in south-east Asia.
The US military has been racking up decades of in-the-field experience, most recently with deployments in Afghanistan and Iraq and the Middle East. While these have been costly, they also provided invaluable combat experience.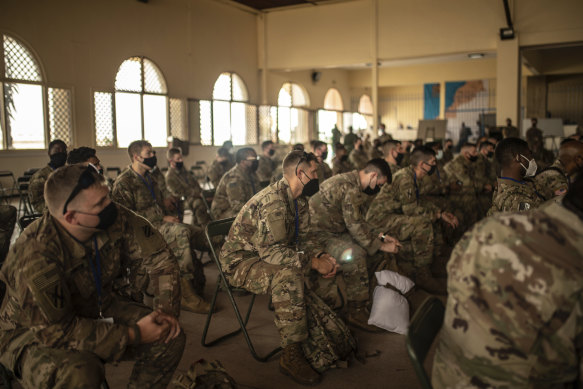 China is aware of this gap. Its army is now deploying troops to Africa for peacekeeping missions that give first-hand experience in conflict zones after decades of relative peace.
The structure of the military is also different. Rockets figure heavily in Beijing's arsenal. The 100,000-strong Rocket Force was made a seperate branch of the People's Liberation Army in 2015.
"The PLA's missile forces are central to China's efforts to deter and counter third-party intervention in a regional conflict," a US congressional report concluded this month.
The US believes China has about 2000 mid-range missiles in place, which could ward off the US Navy in a conflict.
China's nuclear weapons are estimated to number between 200 and 350, a mere 5 per cent of the United States' arsenal, but potentially enough to deter broader conflict through the prospect of mutual destruction.
Looking back at half a century of China-US relations. Video by Tom Compagnoni.
The frontlines of sea and space
Should a war break out around the South China Sea, the US would be under pressure to quickly neutralise the roughly 10 man-made islands China has created (seen as "unsinkable aircraft carriers") to use as military bases.
The US would be challenged by a powerful Chinese fleet in the region.
Brooking Institution's Michael O'Hanlon writes that the location of China's new fleet of attack submarines could act as a deterrent to US military escalation.
"The only truly reliable way to counter the threat would be to attack the submarines in port when they refuel and rearm," he writes. But that would require strikes on China's mainland, "with all the enormous risks of escalation that could portend".
One option to attack the man-made islands would be to send in teams of US Marine Raider commandos to destroy weapons systems.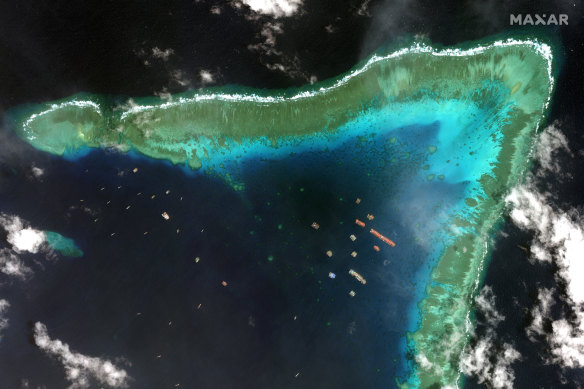 But precision bombing requires the military to have access to space, where orbiting satellites help guide munitions.
In July 2020, BeiDou, China's version of GPS became fully operational, allowing it to track ships, planes, cars and smartphones from space without relying on the US technology that has dominated global positioning for decades.
"Space would be the first place both sides would go to strike the others' forces in event of a conflict," says Tate Nurkin of the US-based Intelligence Group.
China or the US could do this by feeding misleading information to satellites from the ground – known as "spoofing" – to stop the space-based location pinpointing needed for weapons.
"China would seek to pluck out the eyes and ears of the US and allies to make them blind on the battlefield," said Malcolm Davis, a senior analyst at the Australian Strategic Policy Institute.
The US has launched 615 satellites into space in the last three years, compared to 168 by China, according to Lowy.
While the US remains ahead in space for now, Davis says how long US dominance lasts "is not clear".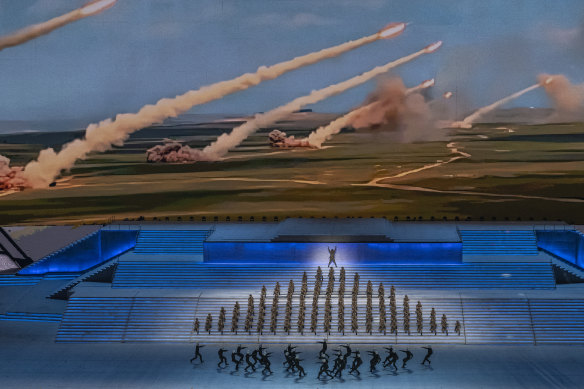 Changing the status quo
Mastro notes that in war scenarios the US wants to maintain the status quo in the region while China wants to change it.
"China is largely trying to take territorial control," which makes east Asia a likely location for trouble.
And that takes the issue of US-China military prowess back to the all-important issue of politics.
In the event of a war: what would Japan, the Philippines, South Korea and Australia do? These are all Cold War allies of the US, but they have not had to think about war in the region since the 1970s.
What determines victory, loss or stalemate between the US and China is likely to be determined by the murky calculus of how much risk and how much pain and loss both sides could endure.
For news and events coverage, photo features, contributions and adverts contact us via:
Phone: +2348029115783
WhatsApp: +2347037611903
Follow us via:
Facebook: @Words and Shots
Instagram: @words_and_shots
Twitter: @wordsandshots
"WE DIDN'T ELECT YOU!" NIGERIANS KNOCK FIRST LADY FOR SITTING IN TINUBU'S MEETING
Nigerians have chided the First Lady, Senator Remi Tinubu, who was seen sitting in during a meeting held by President Bola Ahmed Tinubu with some top government officials.
The first lady, Mrs Oluremi Tinubu was seen in a photo with Former Borno State Governor and current Vice President, Kashim Shettima, the Governor of the Central Bank of Nigeria (CBN), and the Group Managing Director (GMD) of the Nigerian National Petroleum Corporation Ltd. (NNPCL), Mallam Mele Kyari as they held meeting with the president.
Reacting to the development, Nigerians knocked Mrs. Tinubu for breaching protocol, wondering what an unelected First Lady is doing in an official meeting of government personnel.
Below are few reactions:
Pearls @MissPearls:
"Within 2 Days and They've Started Breaking Protocols. Why is Remi Sitting through this meeting Tinubu had with the CBN Governor, NNPC GMD and Shettima? Does this Woman Know what Boundaries Are At All? What's Her Role Here? Can Someone Explain to Me?"
@PIDOMNIGERIA was very sarcastic, addressing Remi as "Madam President":
"Madam president (Remi Tinubu) her husband the first gent (Bola Ahmed Tinubu) and her vice president Shettima. Madam president presiding over an official meeting with CBN governor and NNPC GMD."
Olaudah Equiano @RealOlaudah:
"Apparently Remi sat through the meeting BAT had with the CBN Governor and the GMD NNPC. Shettima attended too. So apparently we have a President, Deputy President and Vice President. Notice also that both Tinubu and Remi has their ADC's present too. A long ride."
Shehu Gazali Sadiq @Shehusky:
"Remi Tinubu attends official meeting called by Tinubu. In attendance are Shettima, CBN governor and NNPC group managing director. Remi also has her ADC behind her. Is this normal? Nigeria don buy market."
DE OMEGA @De_Omega2:
"Tinubu has lost His Memory Within 2 Days and They've Started Breaking Protocols. Why is Remi Sitting through this meeting Tinubu had with the CBN Governor, NNPC GMD & Shettima? Does this Woman Know what Boundaries Are At All? What's Her Role Here? Can Someone Explain to Me?"
Suiswap IDO @DeCryptolord:
"Remi sat through the meeting BAT had with the CBN & NNPC. Shettima attended too. Clearly we've a President, Deputy & Vice President. Notice also that Tinubu & Remi has their ADC's present. Remi is that one in charge of 🇳🇬& will influence on key appointment. If you want favor, meet Remi."
Maestro @Maestro8027:
"Remi Tinubu babysitting Bulaba through the meeting he had with the CBN Governor, NNPC GMD and Shettima."
Wilfred E. Orhue @Fredolution_Now:
"Nigeria gets first female president in the most unusual circumstance. Madam Remi Tinubu, her husband the first gent (Bola Ahmed Tinubu) and their vice, Mr. Shettima presiding over an official meeting with CBN governor and NNPC GMD in Abuja."
@iam_morobi:
"Wait! Remi Tinubu sat through the meeting BAT had with the CBN Governor and the GMD NNPC? I need to meet Patience Jonathan, go down on my knees, with tears pouring down my cheeks, and say "I'm sorry ma'am for saying you acted unconstitutionally."
Izuchukwu Sixtus @Izusixtus:
"I believe this is not a joke! What's Reni Tinubu doing in a meeting of NNPC boss, CBN governor and vice president?"
Loveday Ojinuka @LovedayOjinuka:
"TINUBU'S REGIME, DAY 3!!!
Daughter confers on herself the title of Iyanolaja 1 of Nigeria and first daughter of FRN.
2.Remi Tinubu attends official meetings with the CBN gov and others.
Fuel price >600, NNPC >500
"7 years, 363 days to go! Deliver Us from Ahab, Lord!!!"
GameChanger @OPUSSAYS:
"President Oluremi Tinubu…Commander Miss-Chief of the Banana Republic of Nigeria Presiding over meeting with CBN Governor and GMD NNPC…One Chance Molue‼️ Notice also that both Tinubu and Remi had their ADCs present . A very bumpy ride ahead…We pray it's a short one Amen‼️"
For news and events coverage, photo features, contributions and adverts contact us via:
Phone: +2348029115783
WhatsApp: +2347037611903
Follow us via:
Facebook: @Words and Shots
Instagram: @words_and_shots
Twitter: @wordsandshots
NORTHERN GROUP, IMO APC STAKEHOLDERS, BACK PRINCESS MIRIAM ONUOHA FOR  REPS DEPUTY SPEAKER
The Campaign for Good Governance group, has come out in support of Hon. Princess Miriam Onuoha, for the position of Deputy Speaker of the House of Representatives.
The group which is based in Kano in a statement over the weekend, said it was proper for the women to occupy one of the four major positions of the 10th National Assembly namely, president of the senate, deputy senate president, speaker of the house of representatives and deputy speaker.
The group which is an All Progressives Congress, APC network group while appealing to the newly elected and returning members of the House of Representatives said it was "only rational that one of the six top leadership offices in Nigeria, should accommodate a woman."
They argued that "since Hon. Princess Miriam Onuoha was the only woman among the seven contenders for the seat of the Speaker, "common sense dictates that the women should be carried along by our great party.
"We appreciate the fact that our great party has zoned these seats in the wisdom of our leaders. Fortunately, Hon. Princess Miriam Onuoha comes from the zone given the Deputy speakership. We are saying that we have enough men there already and the women deserve the deputy speaker slot".
Alhaji Bello Abdulkadir, the convener of the group, who signed the statement released on Saturday said "Nigeria deserves balancing in every department so as to carry every one along in both gender and religious issues.
Meanwhile, insiders in the national Assembly also informed, that several stakeholders of the party from Imo State, have also weighed in on Hon. Princess Onuoha's ambition. According to our source, the stakeholders have reached out to President-elect, Asiwaju Bola Tinubu over the matter.
One of the stakeholders who is a close associate to the Governor of the state said the stakeholders have also put in words in support of Hon. Onuoha with the party leadership.
For those who do not know her, Hon. Princess Miriam Onuoha is Chairman, House of Representatives Committee on Disabilities and Special Needs.
Onuoha who represents Okigwe North/ Onuimo/Isiala Mbano federal constituency of Imo State is the only returning female lawmaker from the South East geopolitical zones of Nigeria.
Hon. Princess Onuoha, is a graduate of Estate Management from the University of Lagos. She also holds a Master's Degree in Environmental Planning and Protection (MEPP) from the University of Abuja.
Before her election into the federal parliament, she had served as a Senior Special Assistant to a former Governor of Bayelsa State on International Development Cooperation amongst other previous political engagements.
She was also a board member of the Nigerian Tourism Development Corporation (NTDC).
For news and events coverage, photo features, contributions and adverts contact us via:
Phone: +2348029115783
WhatsApp: +2347037611903
Follow us via:
Facebook: @Words and Shots
Instagram: @words_and_shots
Twitter: @wordsandshots