WHO WOULD WIN IN A WAR BETWEEN US AND CHINA?
It depends how it starts
China and the United States are the great rivals in the competition to win the 21st century. But which one would have military superiority in outright conflict?
If China chooses to attack the island of Taiwan, the United States could be helpless to stop it.
By the time the People's Liberation Army launches its third volley of missiles at the island Beijing considers a breakaway province, the US could be just learning of the attack.
In a matter of minutes, Beijing's Rocket Force could cripple Taiwan's military, infrastructure and ports.
Yet if China wanted to conquer Taiwan, the outcome could be different. Possibly completely different.
CREDIT:
China would have to launch an amphibious invasion, deploying troops along its beaches as the first step in a march towards the capital Taipei. Despite its 1.9 million-strong army, compared to Taiwan's cohort of 150,000, the task of taking its island neighbour and holding it is a mammoth military challenge.
Taiwan's Foreign Minister Joseph Wu said on June 3 that Taipei did not anticipate a conflict was going to break out any time soon, "but we are trying to get ourselves ready".
"If there is going to be a war between Taiwan and China, we will fight the war ourselves," he said. "If other countries come to our aid, that will be highly appreciated, but we will fight the war for our own survival and for our own future."
In this scenario, the US and its allies could respond by conducting airlifts to Taiwan. The US could also use submarines and stealth aircraft to attack China's shipping fleet in the Indian Ocean to cripple its economic lifeline in times of a crisis.
The divergence of the two Taiwan scenarios, a Chinese military attack or an invasion, says a lot about the relative military power of the US and China, itself a barometer of the strength of the two superpowers.
"I told President Xi that we will maintain a strong military presence in the Indo-Pacific just as we do with NATO in Europe not to start conflict, but to prevent conflict," US President Joe Biden told a joint session of Congress in April.
A month earlier, Xi Jinping had told the People's Liberation Army: "We should persist in using combat to guide our work; step up preparations for war."
Today, China's military spending is the second-highest in the world after the United States and continues to rise. Its military budget is greater than the combined expenditure of India, Russia, Japan, South Korea, and Taiwan, according to the Stockholm International Peace Research Institute.
The Chinese defence budget reached $324 billion this year. It has been growing by 6-8 per cent each year for the past five years but according to defence intelligence agency Janes, US spending remains miles ahead at $759 billion.
China had 55 small war ships in 2020, more than double the number it had five years ago. Six large amphibious vessels have been launched, three since 2015, and a third aircraft carrier, larger than its predecessors, will soon be completed.
Meia Nouwens from the International Institute for Strategic Studies said Beijing was intent on achieving primacy in the waters that surround China.
"China is also developing the capabilities needed to support military operations at range," said Nouwens, suggesting they could attack across large distances.
China's focus on its region would give it a local advantage in any clash with the US.
Oriana Skylar Mastro of Stanford University has testified that "China dedicates all its resources to planning and preparing for a contingency in east Asia, while the US has additional responsibilities in the Middle East, Europe and worldwide".
If a conflict were to erupt in east Asia, "then the Chinese military is closer to on par with the United States".
China's military build-up is making a difference.
Only a decade ago, the US would have easily dominated the Chinese military in almost any scenario, says Australian National University Professor Stephan Fruehling. "I think the US now accepts it may lose a conflict – at least at the conventional level – with China."
Better trained or better placed
The geographic focus is decisive. The US Air Force boasts nearly 2300 warplanes in service, with another 1422 aircraft in use for the US Navy and Marines, Janes calculates.
But all the US planes cannot be dispatched to China's coastline. Certainly not in the six-to-eight minutes it could take a DF-11 A rocket to cross the 130 kilometre-wide Taiwan Strait to its target.
China's 1264 warplanes, meanwhile, are based in China.
It's a similar story with troops.
The US's 1.38 million active personnel are better trained and equipped than many of their 1.9 million Chinese peers – but getting them in place, and in time, to take on China would be a crucial task.
There are less quantifiable aspects as well.
The last time Chinese troops saw direct action was 1979 when China launched a costly month-long war against Vietnam to teach it a lesson in retaliation for Hanoi's actions in south-east Asia.
The US military has been racking up decades of in-the-field experience, most recently with deployments in Afghanistan and Iraq and the Middle East. While these have been costly, they also provided invaluable combat experience.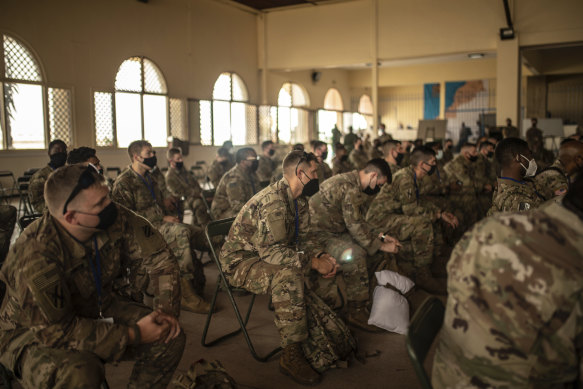 China is aware of this gap. Its army is now deploying troops to Africa for peacekeeping missions that give first-hand experience in conflict zones after decades of relative peace.
The structure of the military is also different. Rockets figure heavily in Beijing's arsenal. The 100,000-strong Rocket Force was made a seperate branch of the People's Liberation Army in 2015.
"The PLA's missile forces are central to China's efforts to deter and counter third-party intervention in a regional conflict," a US congressional report concluded this month.
The US believes China has about 2000 mid-range missiles in place, which could ward off the US Navy in a conflict.
China's nuclear weapons are estimated to number between 200 and 350, a mere 5 per cent of the United States' arsenal, but potentially enough to deter broader conflict through the prospect of mutual destruction.
Looking back at half a century of China-US relations. Video by Tom Compagnoni.
The frontlines of sea and space
Should a war break out around the South China Sea, the US would be under pressure to quickly neutralise the roughly 10 man-made islands China has created (seen as "unsinkable aircraft carriers") to use as military bases.
The US would be challenged by a powerful Chinese fleet in the region.
Brooking Institution's Michael O'Hanlon writes that the location of China's new fleet of attack submarines could act as a deterrent to US military escalation.
"The only truly reliable way to counter the threat would be to attack the submarines in port when they refuel and rearm," he writes. But that would require strikes on China's mainland, "with all the enormous risks of escalation that could portend".
One option to attack the man-made islands would be to send in teams of US Marine Raider commandos to destroy weapons systems.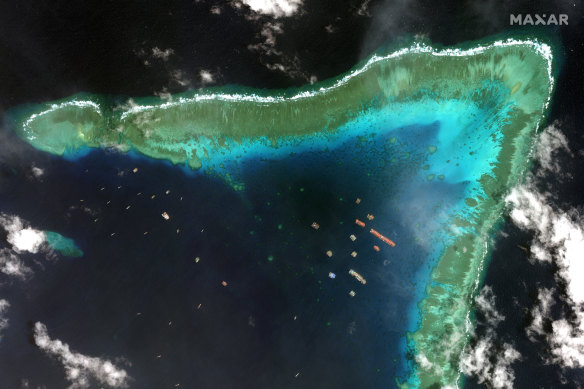 But precision bombing requires the military to have access to space, where orbiting satellites help guide munitions.
In July 2020, BeiDou, China's version of GPS became fully operational, allowing it to track ships, planes, cars and smartphones from space without relying on the US technology that has dominated global positioning for decades.
"Space would be the first place both sides would go to strike the others' forces in event of a conflict," says Tate Nurkin of the US-based Intelligence Group.
China or the US could do this by feeding misleading information to satellites from the ground – known as "spoofing" – to stop the space-based location pinpointing needed for weapons.
"China would seek to pluck out the eyes and ears of the US and allies to make them blind on the battlefield," said Malcolm Davis, a senior analyst at the Australian Strategic Policy Institute.
The US has launched 615 satellites into space in the last three years, compared to 168 by China, according to Lowy.
While the US remains ahead in space for now, Davis says how long US dominance lasts "is not clear".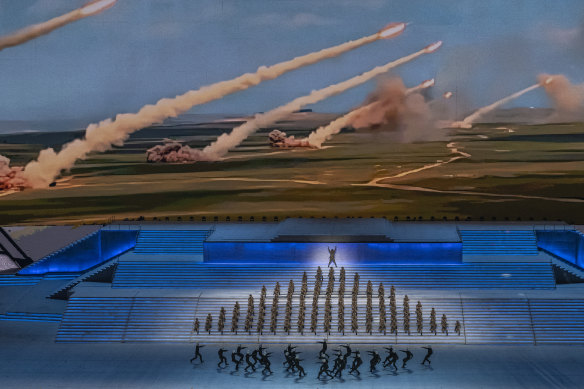 Changing the status quo
Mastro notes that in war scenarios the US wants to maintain the status quo in the region while China wants to change it.
"China is largely trying to take territorial control," which makes east Asia a likely location for trouble.
And that takes the issue of US-China military prowess back to the all-important issue of politics.
In the event of a war: what would Japan, the Philippines, South Korea and Australia do? These are all Cold War allies of the US, but they have not had to think about war in the region since the 1970s.
What determines victory, loss or stalemate between the US and China is likely to be determined by the murky calculus of how much risk and how much pain and loss both sides could endure.
For news and events coverage, photo features, contributions and adverts contact us via:
Phone: +2348029115783
WhatsApp: +2347037611903
Follow us via:
Facebook: @Words and Shots
Instagram: @words_and_shots
Twitter: @wordsandshots
RUSSIA: PRIGOZHIN ALIVE AND WELL, BODY DOUBLE DIED, STRATEGIZES RETALIATION AGAINST PUTIN – ANALYST
Russian Analyst Claims Wagner Leader Yevgeny Prigozhin Survives Plane Assassination Plot and Plans Revenge Against Putin After Body Double's Death
A Russian political analyst has put forth a startling claim, asserting that Yevgeny Prigozhin, the leader of Wagner Group, is alive and actively devising a plot for retaliation after the demise of his body double in a recent plane crash.
According to Dr. Valery Solovey, a former professor at Moscow's Institute of International Relations (MGIMO), renowned for training spies and diplomats, Prigozhin is residing in an undisclosed country, safe and unharmed. Interestingly, Russia is orchestrating a funeral for Prigozhin, yet President Vladimir Putin is opting to abstain from attending.
Dr. Solovey alleges that Prigozhin, often linked to mercenary activities, is currently formulating a scheme for vengeance. This political analyst suggests that the authorities in Russia misled the public by indicating that Prigozhin's DNA was found at the crash site in the Tver region. He further claims that the attempt to eliminate Prigozhin had failed due to his use of a body double, who happened to board the plane instead.
He refutes the assertion that the plane crashed due to an onboard explosion, asserting, "'There was no explosion on board. It was downed from the outside." Dr. Solovey contends that the operation to shoot down the aircraft was authorized by the Russian president through the nation's Security Council.
As per Dr. Solovey's account, the warlord Prigozhin is presently "alive, well, and free." This analyst indicates that Vladimir Putin is well-aware of the situation, even as official Russian statements suggest otherwise.
Dr. Solovey discloses plans to unveil Prigozhin's alleged place of exile in the upcoming month, dismissing claims of an African refuge where Wagner's private army maintains interests. Nonetheless, the analyst asserts that Prigozhin intends to reveal himself before the year concludes.
In response to Prigozhin's impending funeral, Putin's spokesperson has conveyed that the President's presence is not anticipated. The decision regarding the funeral is said to be determined by the deceased's family and friends.
According to Dr. Solovey, the exiled Prigozhin is actively "preparing for revenge." He speculates on the internal struggle Prigozhin faced, surviving while those close to him perished. The analyst suggests that Prigozhin seeks retribution against those who intended to annihilate him and caused the deaths of his associates.
Among those lost in the crash were Wagner military commander Dmitry Utkin, 53, and flight attendant Kristina Raspopova, 39, who had communicated to her relatives about flight delays and repairs prior to the ill-fated journey.
Dr. Solovey contends that Prigozhin possesses access to £1.6 billion in bitcoin, a significant resource he plans to employ for his vindictive campaign. The analyst concludes by emphasizing Prigozhin's determination, ambition, energy, and courage in pursuing his objectives.
For news and events coverage, photo features, contributions and adverts contact us via:
Phone: +2348029115783
WhatsApp: +2347037611903
Follow us via:
Facebook: @Words and Shots
Instagram: @words_and_shots
Twitter: @wordsandshots
COUP IN GABON: WHY WE SACKED PRESIDENT ALI BONGO – ARMY
Gabonese army officers under the aegis of the Committee for the Transition and Restoration of Institutions on Wednesday morning announced on national television why they are taking over power from President Ali Bongo in the country.
The soldiers highlighted serious institutional, political, economic and social crises as factors responsible for the coup that they tagged, 'necessary' for the progress of the West African country.
In a nationwide address rendered in French but translated to English by AFP, the junta said, "Our beautiful country, Gabon, has always been a haven of peace.
"Today, the country is going through a serious institutional, political, economic and social crisis.
"We are therefore forced to admit that the organisation of the general elections of August 26, 2023, did not meet the conditions for a transparent, credible and inclusive ballot so much hoped for by the people of Gabon.
"Added to this is irresponsible and unpredictable governance, resulting in a continuing deterioration in social cohesion, with the risk of leading the country into chaos.
"Today, 30 August 2023, we, the defence and security forces, gathered as the Committee for the Transition and Restoration of Institutions (CTRI) on behalf of the people of Gabon and as guarantors of the institutions' protection — have decided to defend the peace by putting an end to the current regime.
"The borders are closed until further notice.
The junta resolved that all of the institutions of the country be dissolved including the Federal Government, the Senate, the National Assembly, the Constitutional Court, the Economic, Social and Environmental Council and the Gabonese Elections Centre.
They therefore called for calm and serenity from the public, the communities of sister countries settled in Gabon, and the Gabonese diaspora.
"We reaffirm our commitment to respecting Gabon's commitments to the national and international community.
"People of Gabon, we are finally on the road to happiness.
"May God and the spirits of our ancestors bless Gabon. Honour and loyalty to our homeland."
For news and events coverage, photo features, contributions and adverts contact us via:
Phone: +2348029115783
WhatsApp: +2347037611903
Follow us via:
Facebook: @Words and Shots
Instagram: @words_and_shots
Twitter: @wordsandshots
VETERAN AIRCRAFT INVESTIGATOR GIVEN PRIGOZHIN CASE
A veteran aircraft investigator has been put in charge of finding out what happened in the plane crash that reportedly killed Yevgeny Prigozhin and his Wagner lieutenants.
Ivan Sibul, who investigated the SSJ 100 crash in 2019 that killed 41 people, will take charge of the case, according to the VChK-OGPU blog, which is close to Russia's security services. The news has subsequently been confirmed by RBC.
Mr Sibul is also said to have worked on the Saratov Airlines crash that killed 71 in 2018 and a fatal collision at Moscow's Vnukovo airport in 2014.
No Mention of Prigozhin in Russian Investigation
Russia's investigative committee has opened a criminal investigation into the plane crash that reportedly killed Yevgeny Prigozhin but did not mention him by name.
According to Sky News, it said in a statement: "The Main Investigation Department of the Investigative Committee of the Russian Federation opened a criminal case on the grounds of a crime under article 263 of the Criminal Code.
"This is a violation of traffic safety rules and the operation of air transport. Jet's business, en route from Moscow to St. Petersburg, crashed in the Tver Region. According to preliminary data, 10 people on board died.
"An investigation team has left for the scene, all necessary forensic examinations will be appointed, and a set of investigative actions will be carried out to determine the causes of the plane crash."
Wagner-Linked Channel Plays Down Mutiny Reports
Another Wagner blogger has poured cold water on claims that the mercenary group is planning a second attempt at its abortive coup against Russia's leadership.
Wagner Z Group posted on Telegram: "[Channels] pretending to be Wagners say here we are preparing a trip to Moscow.
"Everyone carries what he wants, now every gopher is an agronomist."
Rybar, a prominent Russian military blogger, dismissed reports of a mutiny as Ukrainian propaganda "which is easy to recognise".
For news and events coverage, photo features, contributions and adverts contact us via:
Phone: +2348029115783
WhatsApp: +2347037611903
Follow us via:
Facebook: @Words and Shots
Instagram: @words_and_shots
Twitter: @wordsandshots