KEYAMO PETITIONS DSS, DEMANDS OBI, DATTI'S ARREST
Minister of State, Labour and Employment and spokesperson of All Progressives Congress (APC) Presidential Campaign Council, Festus Keyamo (SAN) has petitioned the State Security Services (SSS), demanding the arrest and prosecution of Labour Party (LP) presidential candidate, Mr. Peter Obi and his running mate, Datti Baba-Ahmed, for allegedly inciting Nigerians over the outcome of the recently held presidential election.
In the petition addressed to the Director General of SSS, dated March 23, Keyamo said in a post-election period, there is a need to soothe frayed nerves, lower the temperature and begin the healing process.
"The President-Elect, Asiwaju Bola Ahmed Tinubu, issued a statement to this effect a few days ago. However, it appears the President and Vice-Presidential candidates of the Labour Party, Mr. Peter Obi and Datti Baba-Ahmed, are not prepared to toe this conciliatory path for the sake of peace and national cohesion, whilst exercising their rights to pursue duly laid down constitutional means of addressing their grievances." he stated.
Keyamo claimed that since the declaration of the presidential election results, the duo have been hopping from one media house to the other making incendiary comments and claims about the declaration of the president-elect by the Independent National Electoral Commission (INEC).
According to him, those comments and claims are made, not just within the boundaries of exercising their rights to freedom of speech and the freedom to air their grievances publicly, but they crossed the line to call for the outright truncation of democracy by insisting on the adoption of other processes outside the contemplation of the Constitution.
"In some cases, their privies have even called for the establishment of an Interim Government.
"The latest of such are the comments made by Datti Baba-Ahmed on behalf of himself and Mr. Peter Obi on Channels TV on Wednesday, March 22, 2023, wherein he threatened that if the president-elect is sworn in on May 29, 2023, it would 'signal the end of democracy'.
"Posing as an accuser, a judge and a jury all by himself, he unilaterally declared the duly elected president-elect as 'unconstitutional' and, in a subliminal manner, threatened mayhem if the president-elect is sworn in on May 29, 2023.
"It is noteworthy that Peter Obi and Datti Baba-Ahmed have submitted elections petitions to the courts for adjudication, but their conducts and utterances amount to a subversion of the processes they have instituted in court and a subversion of our Constitution and the laid-down processes for addressing disputes and grievances. These conduct and utterances are a build-up to something more sinister and it is important you rein them in now!
"In the circumstance, I submit this petition in my personal capacity as a patriotic Nigerian to invite/arrest, interrogate and after investigation, if necessary, charge both individuals to court for their conducts, which amount to incitement and treasonable felony."
But the chief spokesperson of the Obi/Datti Campaign Organisation, Dr. Tanko Yunusa in a swift response described Keyamo as a known rabble-rouser and chatter box, who doesn't want to lose political relevance before his paymasters.
Yunusa said Baba-Ahmed is a free citizen of Nigeria and entitled to his fundamental right of freedom of expression, adding that he never called for insurrection or any act envisaging treason.
He said: "Keyamo talked about healing, that means Nigeria is sick, that means he recognised that the February 25 election, which announced his principal as the president-elect and the March 18 state elections, were marred with rigging, high level violence, voter suppression and intimidation, orchestrated by his party.
"Surprisingly, Keyamo who claims to be a 'patriotic citizen' closed his eyes to the ethnic and tribal vitriolic by his party and their supporters against non-Yoruba's in Lagos. The so-called 'patriotic citizen' didn't report MC Oluomo, who told Igbos not to vote in Lagos.
"After the shameful Chatham House appearance of Keyamo's principal, he was recorded telling key supporters to fight, snatch, grab, and run with ballot boxes, which was exactly what happened in the elections. Why didn't Keyamo the 'patriotic citizen' report to the DSS?"
IN another development, the National Working Committee (NWC) of the Peoples Democratic Party (PDP) has suspended a former governor of Ekiti State, Mr. Ayo Fayose, his Katsina State counterpart, Ibrahim Shema, as well as former President of the Senate, Anyim Pius Anyim, as well as two other party leaders.
The suspension, according to a statement by PDP's national publicity secretary, Debo Ologunagba, took effect from yesterday.
It also said that after very extensive review of the affairs of the party in the country and pursuant to the provisions of the PDP Constitution (as amended in 2017), it referred the governor of Benue State, Dr. Samuel Ortom to the National Disciplinary Committee (NDC) over his reported involvement in anti-party activities.
Other party leaders, who were equally suspended, were Prof. Dennis Ityavyar (Benue State) and Dr. Aslam Aliyu (Zamfara State).
The PDP urged all leaders, critical stakeholders and members across the country to remain united and focused "at this critical time."
Sources within the party headquarters hinted that its leadership took the decision as part of measures to halt the G-5 group from carrying out its threat to effect leadership change immediately after the elections.
Leader of the G-5 group and governor of Rivers State, Nyesom Wike, has been talking about the urgent need to restructure the PDP.
Fayose has described his suspension from the PDP, by the Senator Iyorchia Ayu-led NWC "the last kick of a dead horse."
Responding to his suspension, Fayose, through his Spokesperson, Lere Olayinka, said: "Ayu and his cohorts are only entertaining themselves with the purported suspension as their latest comedy skit."
Wike said if anyone deserves to be suspended from the party, it is Ayu, who he accused of contravening the PDP constitution on the zoning of elective and appointive offices.
MEANWHILE, the last is yet to be heard of the controversy trailing the conduct of the general elections, as scores of protesters have called on President Muhammadu Buhari to put in place an interim government before he leaves office on May 29.
The protesters under the aegis of the National Youth League for the Defence of Democracy (NYLDD) also demanded the immediate arrest and prosecution of the chairman of INEC, Prof. Mahmood Yakubu, by the SSS.
Led by Dr. Moses Paul, the protesters, who converged at the Abuja unity fountain to express their grievances, they also called for the probe of the finances of the electoral body.
Inscriptions on some of the placards brandished by the protesters read: "Voter suppression is a crime", "Nigeria is not for sale", "INEC keep your promises", "Fraudulent election cannot produce a credible leader", "Nigeria is not a zoo", "Why can't we have credible elections?"
The group argued that interim government was aimed at ensuring the appointment of a new INEC chairman that will conduct a free and fair election in the country.
They noted: "We are citizens of Nigeria, lovers of Nigeria, standing on the part of our Constitution and citizens' rights, we are here particularly to address the greatest crime that has happened in the history of the world and in Nigeria. People were burnt in Kano, people were shot in Rivers, and we have seen the greatest inhumanity happened in Lagos State in the course of this election.
"We are making two demands: we are asking the President of this country to arrest immediately and prosecute INEC chairman, who has committed the greatest fraud in the history of humanity.
"Our number two demand is that we are asking for an interim government be put in place. We are saying that because we do not want President Buhari to continue, his tenure is ending, so, as a father he should put in place an interim government that will appoint another INEC chairman, who will conduct a free and credible election, and produce a befitting President for our country."
When asked to provide another option if the two demands are not met, one of the co-conveners, Anngu Orngu, said they are harmless Nigerians, "but we will use every other civil and lawful means to make sure that our demands are met.
"We are here as frustrated Nigerians and the fundamental rights of Nigerians have been trampled upon by Yakubu-led INEC and we are here calling for his immediate resignation. We have also requested that DSS should arrest him, and he should be prosecuted by the EFCC.
"We have been to the American Embassy, we have been to the British Council in Nigeria, and we have also submitted letter to the French embassy, calling on them to advice the Nigerian government that people are not happy. We are not happy over what happened," the protesters insisted.
Also, PDP in Adamawa State has asked INEC chairman to remove the Adamawa Resident Electoral Commissioner (REC) Mr. Hudu Yunusa, before the conduct of the re-run governorship election.
Addressing journalists, yesterday, in Yola, one of the party's leaders, Mr. Felix Tagwami, said Yunusa has exhibited enough evidence that he is card-carrying member of APC.
He said that for credibility of INEC's image, Yunusa cannot preside over the re-run governorship without causing chaos in the state.
He said: "Yunusa's phone communication with the Returning Officer of Fufore Local Government is a clear indication that he was in Adamawa State to execute a criminal and unlawful agenda."
Tagwami pointed out that for peace and harmony in Adamawa State, the Commission should deploy a new God-fearing REC to takeover from Yunusa and conduct the re-run governorship poll.
"Prof. Mahmoud should ask Yunusa to mention the 'person from above' as he said in his phone conversation with Furfore Returning Officer, that directed him to ensure that the woman wins the governorship poll," he said.
He said that the statement indicted INEC chairman, as the head of the Commission and that Mahmoud should speak to clear his name.
He warned that his party would not tolerate any attempt to shortchange the rights of the Adamawa people to vote a candidate of their choice.
SIMILARLY, the Adamawa state executive members of the APC have described the suspension of the Secretary to the Government of the Federation (SGF) Boss Mustapha, by his ward, as an exercise in futility.
The state chairman of the party, Mr. Samaila Tadawus, said the alleged suspension of the SGF by his ward "is a joke take too far."
He said: "APC Adamawa State chapter has reversed the alleged recent suspension of Boss Mustapha by the party exco in it's Gwadabawa Ward, Yola North Local Government Area."
The visibly angry Tadawus accused the opposition party of sponsoring the suspension ahead of the coming re-run in the state.
Tadawus, who described the suspension as unconstitutional, null and void and of no effect based on the Constitution of the party, directed all opposition parties to stay away from APC activities. The APC state chairman directed the Yola-North local government executive committee to constitute a disciplinary committee to recommend appropriate actions against those that were involved in what he described as the "disgraceful action
For news and events coverage, photo features, contributions and adverts contact us via:
Phone: +2348029115783
WhatsApp: +2347037611903
Follow us via:
Facebook: @Words and Shots
Instagram: @words_and_shots
Twitter: @wordsandshots
WHO WOULD WIN IN A WAR BETWEEN US AND CHINA?
It depends how it starts
China and the United States are the great rivals in the competition to win the 21st century. But which one would have military superiority in outright conflict?
If China chooses to attack the island of Taiwan, the United States could be helpless to stop it.
By the time the People's Liberation Army launches its third volley of missiles at the island Beijing considers a breakaway province, the US could be just learning of the attack.
In a matter of minutes, Beijing's Rocket Force could cripple Taiwan's military, infrastructure and ports.
Yet if China wanted to conquer Taiwan, the outcome could be different. Possibly completely different.
CREDIT:
China would have to launch an amphibious invasion, deploying troops along its beaches as the first step in a march towards the capital Taipei. Despite its 1.9 million-strong army, compared to Taiwan's cohort of 150,000, the task of taking its island neighbour and holding it is a mammoth military challenge.
Taiwan's Foreign Minister Joseph Wu said on June 3 that Taipei did not anticipate a conflict was going to break out any time soon, "but we are trying to get ourselves ready".
"If there is going to be a war between Taiwan and China, we will fight the war ourselves," he said. "If other countries come to our aid, that will be highly appreciated, but we will fight the war for our own survival and for our own future."
In this scenario, the US and its allies could respond by conducting airlifts to Taiwan. The US could also use submarines and stealth aircraft to attack China's shipping fleet in the Indian Ocean to cripple its economic lifeline in times of a crisis.
The divergence of the two Taiwan scenarios, a Chinese military attack or an invasion, says a lot about the relative military power of the US and China, itself a barometer of the strength of the two superpowers.
"I told President Xi that we will maintain a strong military presence in the Indo-Pacific just as we do with NATO in Europe not to start conflict, but to prevent conflict," US President Joe Biden told a joint session of Congress in April.
A month earlier, Xi Jinping had told the People's Liberation Army: "We should persist in using combat to guide our work; step up preparations for war."
Today, China's military spending is the second-highest in the world after the United States and continues to rise. Its military budget is greater than the combined expenditure of India, Russia, Japan, South Korea, and Taiwan, according to the Stockholm International Peace Research Institute.
The Chinese defence budget reached $324 billion this year. It has been growing by 6-8 per cent each year for the past five years but according to defence intelligence agency Janes, US spending remains miles ahead at $759 billion.
China had 55 small war ships in 2020, more than double the number it had five years ago. Six large amphibious vessels have been launched, three since 2015, and a third aircraft carrier, larger than its predecessors, will soon be completed.
Meia Nouwens from the International Institute for Strategic Studies said Beijing was intent on achieving primacy in the waters that surround China.
"China is also developing the capabilities needed to support military operations at range," said Nouwens, suggesting they could attack across large distances.
China's focus on its region would give it a local advantage in any clash with the US.
Oriana Skylar Mastro of Stanford University has testified that "China dedicates all its resources to planning and preparing for a contingency in east Asia, while the US has additional responsibilities in the Middle East, Europe and worldwide".
If a conflict were to erupt in east Asia, "then the Chinese military is closer to on par with the United States".
China's military build-up is making a difference.
Only a decade ago, the US would have easily dominated the Chinese military in almost any scenario, says Australian National University Professor Stephan Fruehling. "I think the US now accepts it may lose a conflict – at least at the conventional level – with China."
Better trained or better placed
The geographic focus is decisive. The US Air Force boasts nearly 2300 warplanes in service, with another 1422 aircraft in use for the US Navy and Marines, Janes calculates.
But all the US planes cannot be dispatched to China's coastline. Certainly not in the six-to-eight minutes it could take a DF-11 A rocket to cross the 130 kilometre-wide Taiwan Strait to its target.
China's 1264 warplanes, meanwhile, are based in China.
It's a similar story with troops.
The US's 1.38 million active personnel are better trained and equipped than many of their 1.9 million Chinese peers – but getting them in place, and in time, to take on China would be a crucial task.
There are less quantifiable aspects as well.
The last time Chinese troops saw direct action was 1979 when China launched a costly month-long war against Vietnam to teach it a lesson in retaliation for Hanoi's actions in south-east Asia.
The US military has been racking up decades of in-the-field experience, most recently with deployments in Afghanistan and Iraq and the Middle East. While these have been costly, they also provided invaluable combat experience.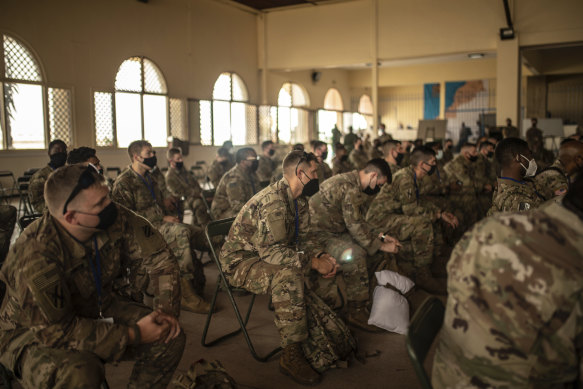 China is aware of this gap. Its army is now deploying troops to Africa for peacekeeping missions that give first-hand experience in conflict zones after decades of relative peace.
The structure of the military is also different. Rockets figure heavily in Beijing's arsenal. The 100,000-strong Rocket Force was made a seperate branch of the People's Liberation Army in 2015.
"The PLA's missile forces are central to China's efforts to deter and counter third-party intervention in a regional conflict," a US congressional report concluded this month.
The US believes China has about 2000 mid-range missiles in place, which could ward off the US Navy in a conflict.
China's nuclear weapons are estimated to number between 200 and 350, a mere 5 per cent of the United States' arsenal, but potentially enough to deter broader conflict through the prospect of mutual destruction.
Looking back at half a century of China-US relations. Video by Tom Compagnoni.
The frontlines of sea and space
Should a war break out around the South China Sea, the US would be under pressure to quickly neutralise the roughly 10 man-made islands China has created (seen as "unsinkable aircraft carriers") to use as military bases.
The US would be challenged by a powerful Chinese fleet in the region.
Brooking Institution's Michael O'Hanlon writes that the location of China's new fleet of attack submarines could act as a deterrent to US military escalation.
"The only truly reliable way to counter the threat would be to attack the submarines in port when they refuel and rearm," he writes. But that would require strikes on China's mainland, "with all the enormous risks of escalation that could portend".
One option to attack the man-made islands would be to send in teams of US Marine Raider commandos to destroy weapons systems.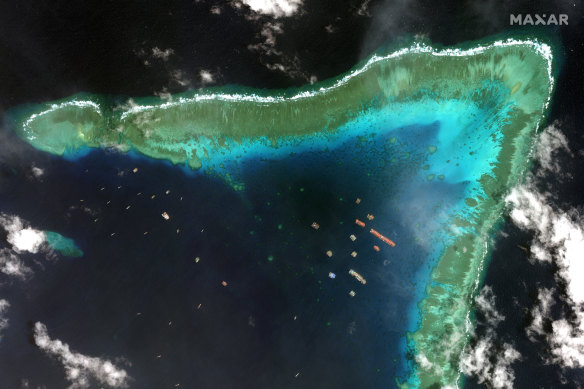 But precision bombing requires the military to have access to space, where orbiting satellites help guide munitions.
In July 2020, BeiDou, China's version of GPS became fully operational, allowing it to track ships, planes, cars and smartphones from space without relying on the US technology that has dominated global positioning for decades.
"Space would be the first place both sides would go to strike the others' forces in event of a conflict," says Tate Nurkin of the US-based Intelligence Group.
China or the US could do this by feeding misleading information to satellites from the ground – known as "spoofing" – to stop the space-based location pinpointing needed for weapons.
"China would seek to pluck out the eyes and ears of the US and allies to make them blind on the battlefield," said Malcolm Davis, a senior analyst at the Australian Strategic Policy Institute.
The US has launched 615 satellites into space in the last three years, compared to 168 by China, according to Lowy.
While the US remains ahead in space for now, Davis says how long US dominance lasts "is not clear".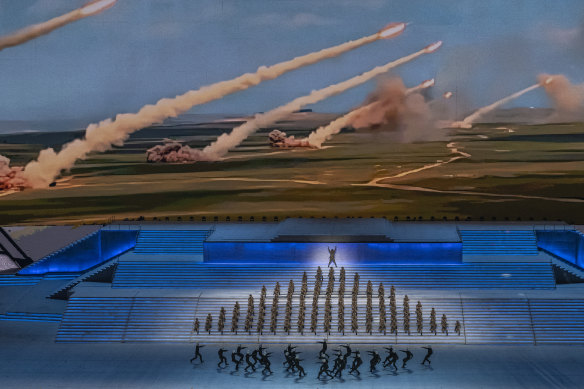 Changing the status quo
Mastro notes that in war scenarios the US wants to maintain the status quo in the region while China wants to change it.
"China is largely trying to take territorial control," which makes east Asia a likely location for trouble.
And that takes the issue of US-China military prowess back to the all-important issue of politics.
In the event of a war: what would Japan, the Philippines, South Korea and Australia do? These are all Cold War allies of the US, but they have not had to think about war in the region since the 1970s.
What determines victory, loss or stalemate between the US and China is likely to be determined by the murky calculus of how much risk and how much pain and loss both sides could endure.
For news and events coverage, photo features, contributions and adverts contact us via:
Phone: +2348029115783
WhatsApp: +2347037611903
Follow us via:
Facebook: @Words and Shots
Instagram: @words_and_shots
Twitter: @wordsandshots
"WE DIDN'T ELECT YOU!" NIGERIANS KNOCK FIRST LADY FOR SITTING IN TINUBU'S MEETING
Nigerians have chided the First Lady, Senator Remi Tinubu, who was seen sitting in during a meeting held by President Bola Ahmed Tinubu with some top government officials.
The first lady, Mrs Oluremi Tinubu was seen in a photo with Former Borno State Governor and current Vice President, Kashim Shettima, the Governor of the Central Bank of Nigeria (CBN), and the Group Managing Director (GMD) of the Nigerian National Petroleum Corporation Ltd. (NNPCL), Mallam Mele Kyari as they held meeting with the president.
Reacting to the development, Nigerians knocked Mrs. Tinubu for breaching protocol, wondering what an unelected First Lady is doing in an official meeting of government personnel.
Below are few reactions:
Pearls @MissPearls:
"Within 2 Days and They've Started Breaking Protocols. Why is Remi Sitting through this meeting Tinubu had with the CBN Governor, NNPC GMD and Shettima? Does this Woman Know what Boundaries Are At All? What's Her Role Here? Can Someone Explain to Me?"
@PIDOMNIGERIA was very sarcastic, addressing Remi as "Madam President":
"Madam president (Remi Tinubu) her husband the first gent (Bola Ahmed Tinubu) and her vice president Shettima. Madam president presiding over an official meeting with CBN governor and NNPC GMD."
Olaudah Equiano @RealOlaudah:
"Apparently Remi sat through the meeting BAT had with the CBN Governor and the GMD NNPC. Shettima attended too. So apparently we have a President, Deputy President and Vice President. Notice also that both Tinubu and Remi has their ADC's present too. A long ride."
Shehu Gazali Sadiq @Shehusky:
"Remi Tinubu attends official meeting called by Tinubu. In attendance are Shettima, CBN governor and NNPC group managing director. Remi also has her ADC behind her. Is this normal? Nigeria don buy market."
DE OMEGA @De_Omega2:
"Tinubu has lost His Memory Within 2 Days and They've Started Breaking Protocols. Why is Remi Sitting through this meeting Tinubu had with the CBN Governor, NNPC GMD & Shettima? Does this Woman Know what Boundaries Are At All? What's Her Role Here? Can Someone Explain to Me?"
Suiswap IDO @DeCryptolord:
"Remi sat through the meeting BAT had with the CBN & NNPC. Shettima attended too. Clearly we've a President, Deputy & Vice President. Notice also that Tinubu & Remi has their ADC's present. Remi is that one in charge of 🇳🇬& will influence on key appointment. If you want favor, meet Remi."
Maestro @Maestro8027:
"Remi Tinubu babysitting Bulaba through the meeting he had with the CBN Governor, NNPC GMD and Shettima."
Wilfred E. Orhue @Fredolution_Now:
"Nigeria gets first female president in the most unusual circumstance. Madam Remi Tinubu, her husband the first gent (Bola Ahmed Tinubu) and their vice, Mr. Shettima presiding over an official meeting with CBN governor and NNPC GMD in Abuja."
@iam_morobi:
"Wait! Remi Tinubu sat through the meeting BAT had with the CBN Governor and the GMD NNPC? I need to meet Patience Jonathan, go down on my knees, with tears pouring down my cheeks, and say "I'm sorry ma'am for saying you acted unconstitutionally."
Izuchukwu Sixtus @Izusixtus:
"I believe this is not a joke! What's Reni Tinubu doing in a meeting of NNPC boss, CBN governor and vice president?"
Loveday Ojinuka @LovedayOjinuka:
"TINUBU'S REGIME, DAY 3!!!
Daughter confers on herself the title of Iyanolaja 1 of Nigeria and first daughter of FRN.
2.Remi Tinubu attends official meetings with the CBN gov and others.
Fuel price >600, NNPC >500
"7 years, 363 days to go! Deliver Us from Ahab, Lord!!!"
GameChanger @OPUSSAYS:
"President Oluremi Tinubu…Commander Miss-Chief of the Banana Republic of Nigeria Presiding over meeting with CBN Governor and GMD NNPC…One Chance Molue‼️ Notice also that both Tinubu and Remi had their ADCs present . A very bumpy ride ahead…We pray it's a short one Amen‼️"
For news and events coverage, photo features, contributions and adverts contact us via:
Phone: +2348029115783
WhatsApp: +2347037611903
Follow us via:
Facebook: @Words and Shots
Instagram: @words_and_shots
Twitter: @wordsandshots
NORTHERN GROUP, IMO APC STAKEHOLDERS, BACK PRINCESS MIRIAM ONUOHA FOR  REPS DEPUTY SPEAKER
The Campaign for Good Governance group, has come out in support of Hon. Princess Miriam Onuoha, for the position of Deputy Speaker of the House of Representatives.
The group which is based in Kano in a statement over the weekend, said it was proper for the women to occupy one of the four major positions of the 10th National Assembly namely, president of the senate, deputy senate president, speaker of the house of representatives and deputy speaker.
The group which is an All Progressives Congress, APC network group while appealing to the newly elected and returning members of the House of Representatives said it was "only rational that one of the six top leadership offices in Nigeria, should accommodate a woman."
They argued that "since Hon. Princess Miriam Onuoha was the only woman among the seven contenders for the seat of the Speaker, "common sense dictates that the women should be carried along by our great party.
"We appreciate the fact that our great party has zoned these seats in the wisdom of our leaders. Fortunately, Hon. Princess Miriam Onuoha comes from the zone given the Deputy speakership. We are saying that we have enough men there already and the women deserve the deputy speaker slot".
Alhaji Bello Abdulkadir, the convener of the group, who signed the statement released on Saturday said "Nigeria deserves balancing in every department so as to carry every one along in both gender and religious issues.
Meanwhile, insiders in the national Assembly also informed, that several stakeholders of the party from Imo State, have also weighed in on Hon. Princess Onuoha's ambition. According to our source, the stakeholders have reached out to President-elect, Asiwaju Bola Tinubu over the matter.
One of the stakeholders who is a close associate to the Governor of the state said the stakeholders have also put in words in support of Hon. Onuoha with the party leadership.
For those who do not know her, Hon. Princess Miriam Onuoha is Chairman, House of Representatives Committee on Disabilities and Special Needs.
Onuoha who represents Okigwe North/ Onuimo/Isiala Mbano federal constituency of Imo State is the only returning female lawmaker from the South East geopolitical zones of Nigeria.
Hon. Princess Onuoha, is a graduate of Estate Management from the University of Lagos. She also holds a Master's Degree in Environmental Planning and Protection (MEPP) from the University of Abuja.
Before her election into the federal parliament, she had served as a Senior Special Assistant to a former Governor of Bayelsa State on International Development Cooperation amongst other previous political engagements.
She was also a board member of the Nigerian Tourism Development Corporation (NTDC).
For news and events coverage, photo features, contributions and adverts contact us via:
Phone: +2348029115783
WhatsApp: +2347037611903
Follow us via:
Facebook: @Words and Shots
Instagram: @words_and_shots
Twitter: @wordsandshots