AMAZON DROUGHT: STRANDED BOATS AND DEAD FISH
A severe drought in the Brazilian Amazon is disrupting transport, isolating communities and killing wildlife.
The Brazilian government attributes the drought to climate change and the El Niño weather phenomenon, which has caused the volume of rainfall in the northern Amazon to fall below the historical average and river levels to drop to near record levels.
The low water levels pose a threat to the estimated 30 million people that call the Amazon basin home.
A state of emergency has been declared in Manaus and more than 20 other cities.
Many rivers have dried up, leaving tens of thousands of people stranded in remote jungle villages.
Entire villages that depend on the rivers for a sustainable livelihood and transportation are now struggling to go about daily life and have to receive food, medicine and water by air.
Some inhabitants have been forced to dig wells by hand in search of water.
Fisherman and trader Raimundo Silva do Carmo is one of them. The 67-year-old bathes in and collects water from a well he dug himself in a dry area of Lago do Puraquequara lake in Manaus.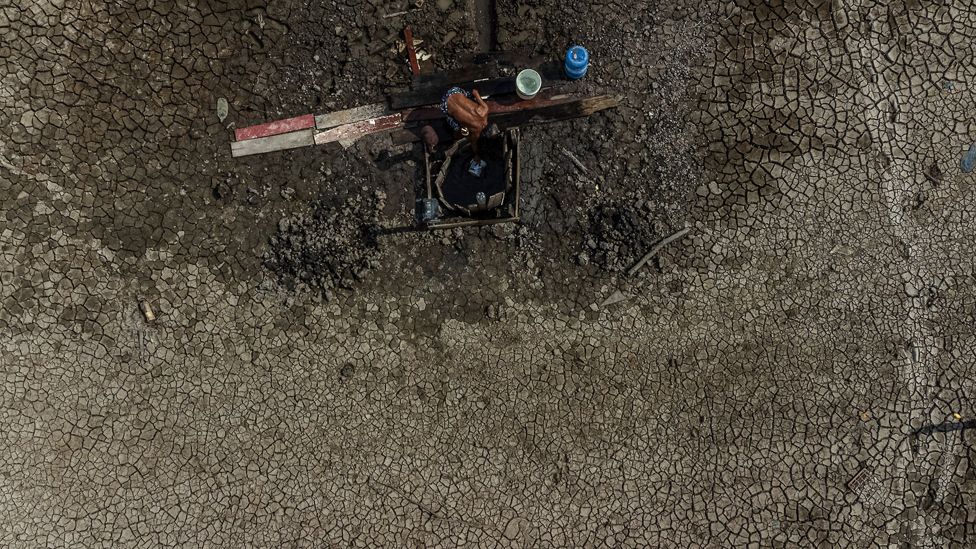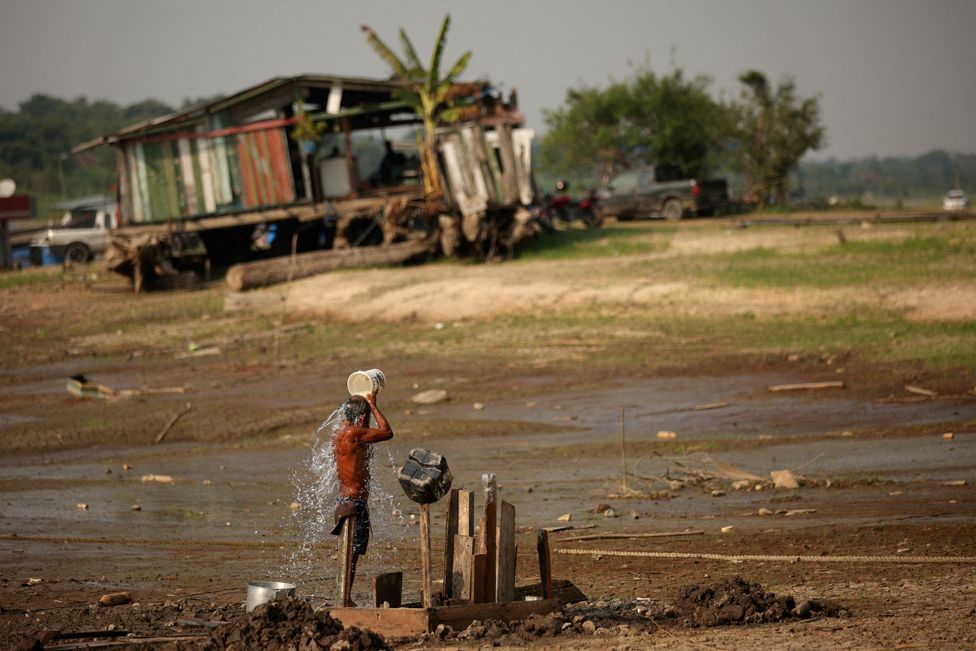 A barge carrying vehicles, gas and supplies ran aground in the low water levels last month and has been stranded on the banks of the Rio Negro river since then.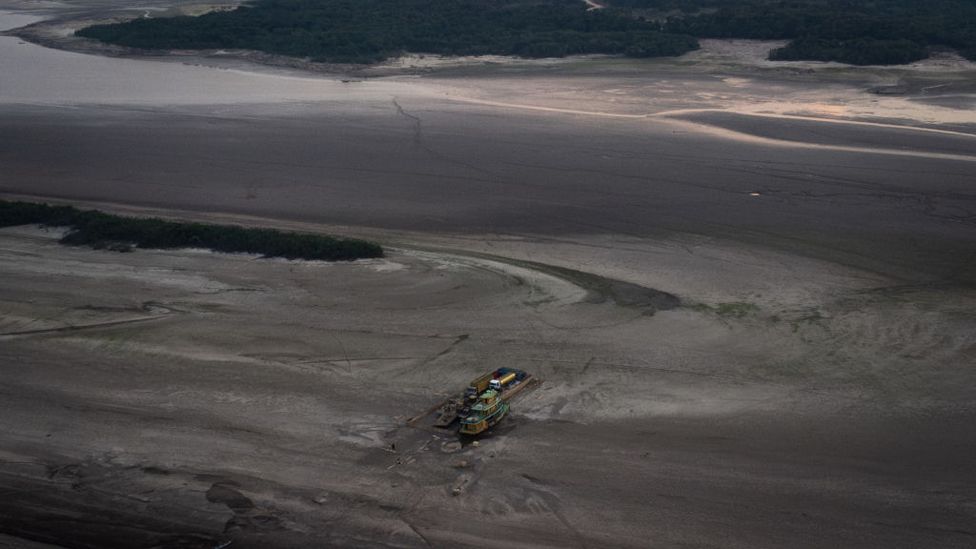 "Help came too slow to re-float my boat as the water was receding very quickly," explained Junior Cesar da Silva, the captain of the barge tug boat.
The barge was on route to pick up supplies from Borba, 280 kilometres (175 miles) away on the Madeira River, a tributary of the Amazon.
"On the Madeira, beaches and rocks are appearing that we've not seen before," the captain said.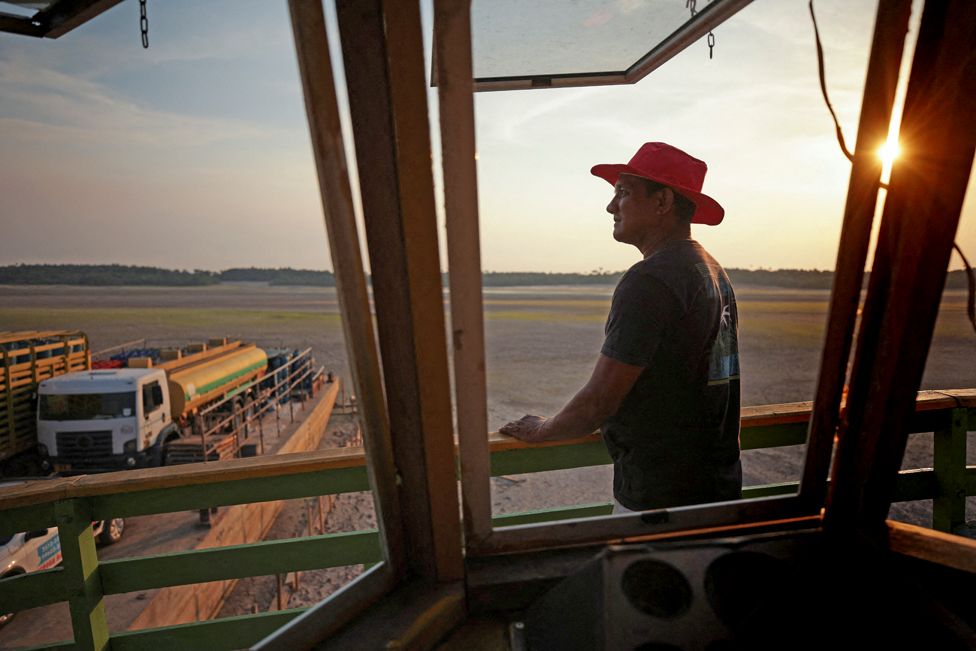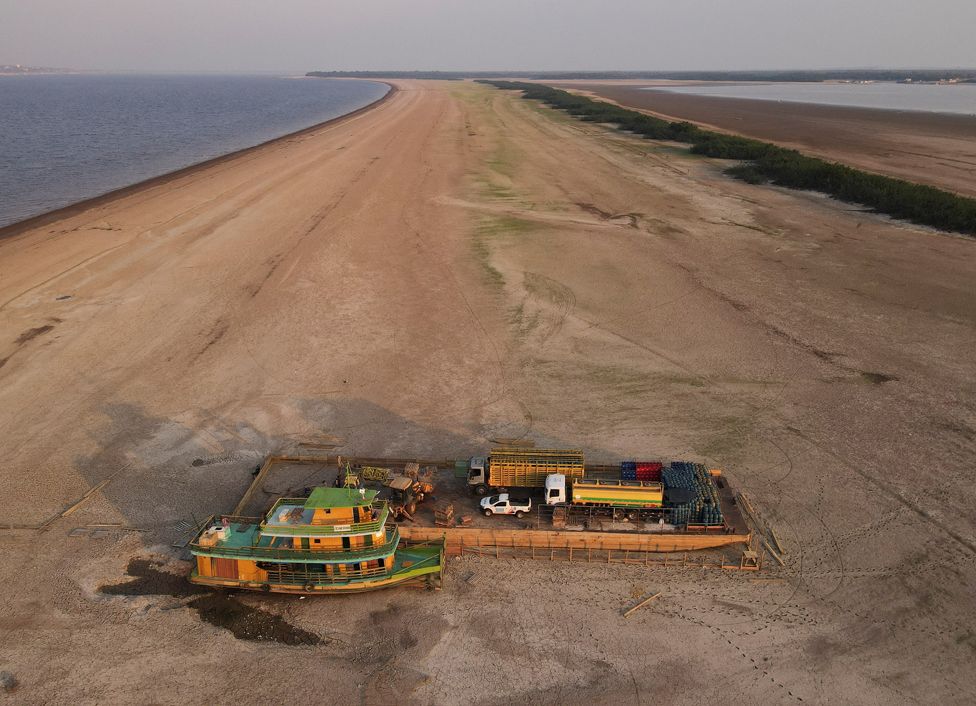 Experts suspect that the heat wave and drought may be the cause of the high numbers of fish and river dolphins, known as boto, which have been washing up dead.
Boat pilot Paulo Monteiro da Cruz has had to row through waters littered with dead fish at Piranha lake, which has been affected by the drought of the Solimões River.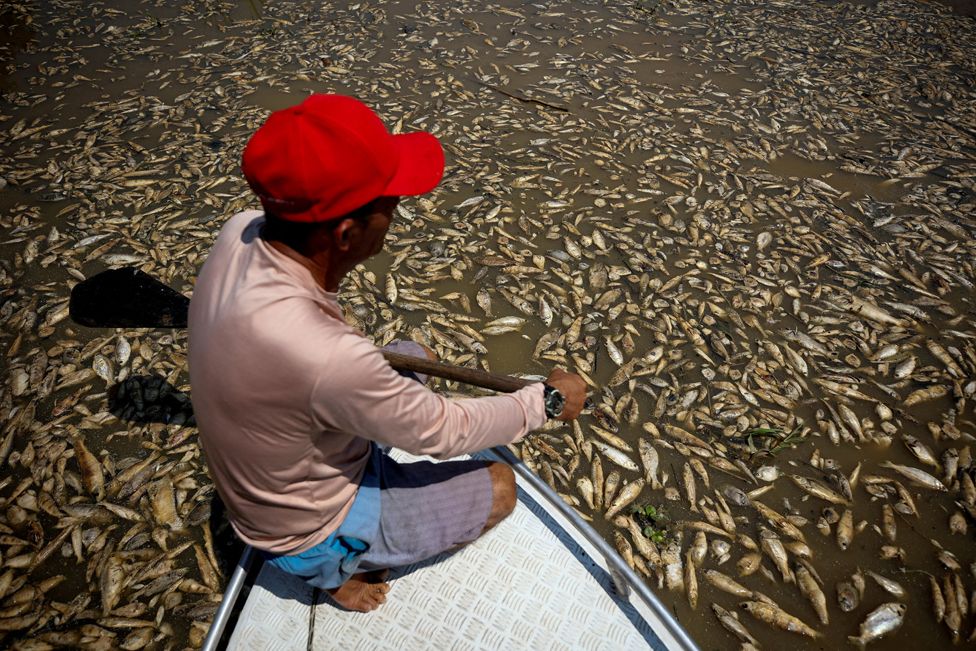 Researchers from the Mamirauá Institute for Sustainable Development have been carrying out tests of the water and the dead animals found in Lake Tefe to try to pinpoint what the exact cause of their deaths is.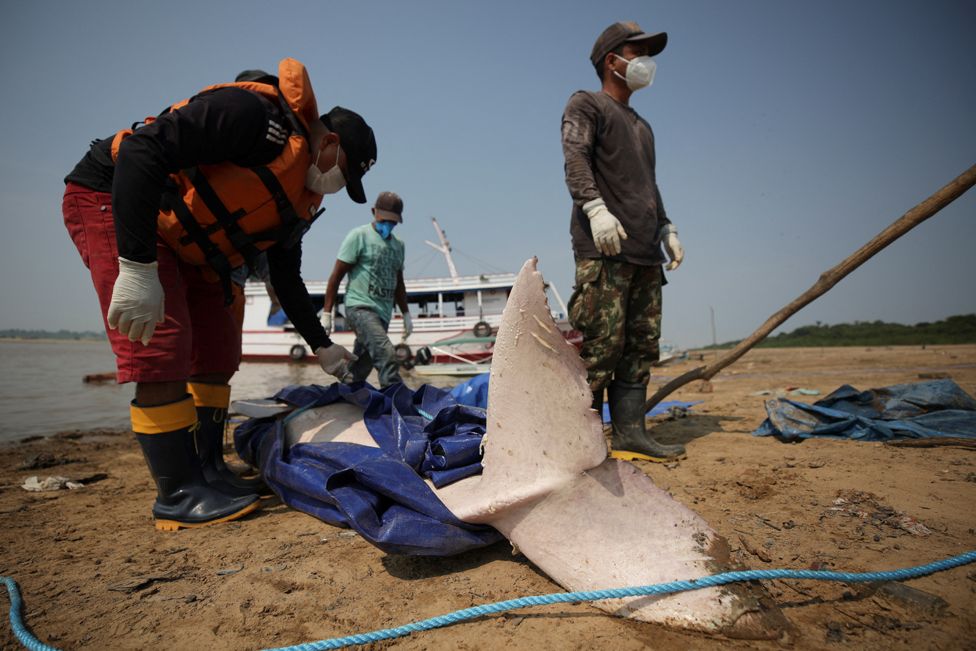 Indigenous groups, which rely on the rivers for water, food and to transport key goods such as medicines, are among those hardest hit. They have been pressing the government to declare a climate emergency.
Last month, the government set up a humanitarian task force to deliver food parcels to isolated villages but the indigenous groups say the situation has only worsened since and they need more help.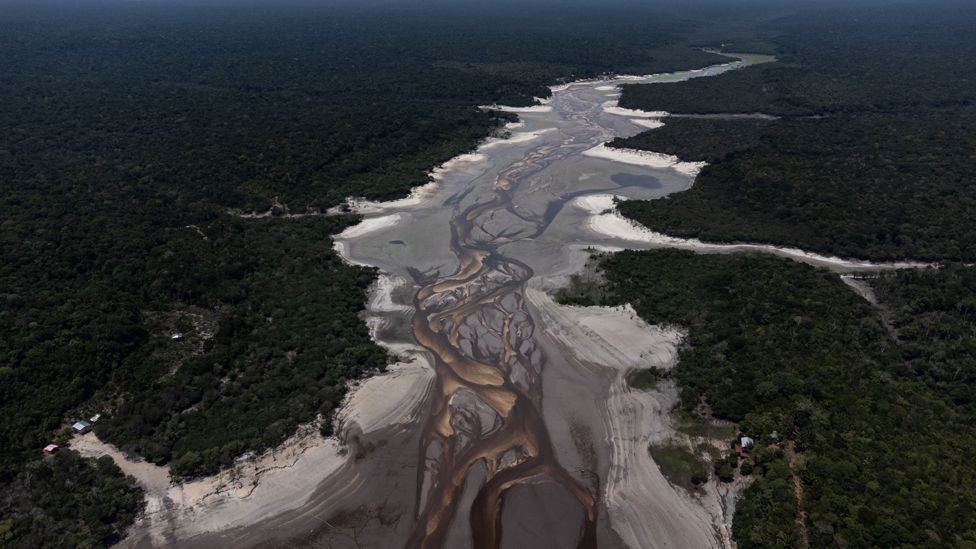 All photos subject to copyright.
BBC
For news and events coverage, photo features, contributions and adverts contact us via:
Phone: +2348029115783
WhatsApp: +2347037611903
Follow us via:
Facebook: @Words and Shots
Instagram: @words_and_shots
Twitter: @wordsandshots
AMADIYA THE TOWN THAT NEVER EXPANDS NOR SHRINKS
Iraq is beautiful and Amadiya the town that never expands or shrinks, is a shining example of its beauty. And you know what? Amadiya is a town that never expands or shrinks.
You can travel through roads that take you past immense and immaculate mountain ranges without an army patrol in sight. And also – it's very friendly and safe.
Where is Amadiya?
Amadiya is in Iraqi Kurdistan. Iraqi Kurdistan is a region of northern Iraq, close to the Turkish border. You can enter the Kurdistan region from Turkey and Iran and also by flying into Erbil or Sulimaniyeh airports. The town is also sometimes spelt Amadiye, Amedi and Amadiyeh. The nearest other town is Sulav, a small mountain village. Google Maps will kind of give you an inkling.
So, it is a Kurdish and Assyrian mountain village in northern Iraq – Kurdistan region. It sits proudly on a mountaintop and dates back to the year 3000 BC. It sits an astonishingly close to 10 miles from the Turkish border. The village has been rumoured to have been part of the Persian Empire and was a semi-autonomous region for a period lasting from 1376 to 1843.
These days Amadiya is governed by the Kurdish government but ultimately controlled by Iraq, from the capital city of Baghdad. Christians and Muslims live in harmony inside this marvellous lofty village. The current population of Amadiya is rumoured to be around 4,000.
Getting to Amadiya
I'll not lie to you – backpacking in Iraq is not the easiest thing you'll ever do if you are used to booking things online. You can't just go on the internet and book an online train ticket direct to Amadiya! Buses are infrequent, hard to spot and few and far between. Therefore getting to this mountain village leaves you with three main options:
1. Know someone local to take you (a great option to have). 2. Hitch-hike (safer than you'd think). 3. Taxi (ouch – but you'll probably have to!).
However, hitchhiking is not always safe. Bear that in mind somehow. So, on getting to Amadiya, get a taxi. You should ideally base in the town of Dohuk.
Dohuk to Amadiya by Shared Taxi
This is actually very easy. In Dohuk, head to a street called Cinema Street, on the other side of the road, if you look down you will see a car park with buses and taxis. This is the "Garaj" as they call it. From this "Garaj" in Dohuk you can get a shared taxi all the way to Amadiya.
Taxis will leave when they are full and make sure you have some Iraqi Dinars to pay. If you are rich and really cannot wait, you can pay more and just take the taxi with the driver as the only other person inside.
Driving from Dohuk to Amadiya
The drive from Dohuk to Amadiya is sensational. Iraq's mountains are beautiful. You will be on a very smooth road through the valleys. Views are beautiful out on either side, showing the mountains and the villages.
The journey from Dohuk to Amadiya takes around one and a half hours depending on traffic. It's not all twists and turns and it's probably about 70 kilometres of road. Road signs state 60 km between Dohuk and Sulav, while the Lonely Planet offers 65 km. Another local map says 90 km…it's hard to know!
Your taxi should drop you off nicely in downtown Amadiya – it's not a big place so you won't be lost.
Downtown Amadiya
In the grand scheme of things, Amadiya is a fairly average town. It has all the usual amenities – a shop – a police station – a youth club – a sports shop – restaurants and a main street. However, it's on top of a mountain and that is why it's magical!
There are also a few statues and a large Kurdistan flag flying from a roundabout in the village centre. Wandering around at your leisure is a good idea to get a feel for the village.
Amedi Mosque and Minaret
The central focus of the actual town is of course the Mosque/Masjid. As tourists sometimes flock here, there is a sign written in English inside the Mosque. The Amedi Mosque is hard to miss due to its towering Minaret – the highest point in the village.
If you do become unsure, just ask locals for "Masjid" and they'll know you mean Mosque. The Mosque is mostly green in colour. You can walk inside the Mosque grounds with no problem. If you want to enter the actual Mosque – wear a hajib for females and no shorts/skirts etc. Plus shoes must be taken off.
Bahdinan Gate/The Eastern Gate
This is the real reason why you're here. The Bahdinan Gate is the only significant reminder of the ancient fortress city which once existed here. Modern housing blocks have taken over and the old walls have crumbled.
Head on your way down the streets of Amadiya until you find the Bahdinan Gate. It's on the Sulav side of the town towards Dohuk, but it's a good idea to carry a photo of the Gate (the Kurdistan tourist map has one, as did the Lonely Planet copy we had with us). This will make it easier to find the beloved Amadiya, the town that never expands or shrinks.
Most locals will stop and help you with no problem. A lot of them will also be happy and shocked to see foreigners in their town.
Once you get to the Gate, it's basically a pathway down to an arch, you head in through the arch for excellent views and you'll be on the path around the walls of what was once a fortress.
All in all, the ancient mountaintop village of Amadiya will always be a really cool day out. And because of its perch on a mountaintop, Amadiya is indeed the town that never expands or shrinks.
For news and events coverage, photo features, contributions and adverts contact us via:
Phone: +2348029115783
WhatsApp: +2347037611903
Follow us via:
Facebook: @Words and Shots
Instagram: @words_and_shots
Twitter: @wordsandshots
SCIENTISTS DISCOVER CONTINENT MISSING FOR 375 YEARS
Geoscientists discovered a continent that had been hiding in plain sight for almost 375 years.
Historically, there's been speculation about whether a continent known as Zealandia or Te Riu-a-Māui in the Māori language exists.
According to TN News, Zealandia is 1.89 million square miles in size. It was part of a supercontinent called Gondwana, which included most of Western Antarctica and Eastern Australia, over 500 million years ago.
It was first said to be first discovered in 1642 by Dutch businessman and sailor Abel Tasman, who was desperate to uncover the "Great Southern Continent".
Despite failing to find the new land, he met the local Māori, who were initially displeased by his arrival. However, they went on to provide valuable information about the surrounding land, including the existence of a large landmass to the east.
It wasn't until 2017 that geologists discovered the continent had been hiding in plain sight all along. Thereafter it became easy to see how true it was to hold that scientists discovered a continent missing for 375 Years
Scientists agreed on the existence of Zealandia, which started to "pull away" from Gondwana for reasons scientists are still trying to understand.
Most of the newfound continent is underwater and has been used as an example by geologists at the Zealand Crown Research Institute GNS Science on how something "very obvious" can take a while to uncover.
"[It's] a process which we don't completely understand yet, Zealandia started to be pulled away," Tulloch explained.
His colleague Nick Mortimer, who led the study, joked that it was "kind of cool" before explaining: "If you think about it, every continent on the planet has different countries on it, [but] there are only three territories on Zealandia."
The world is full of puzzling phenomena that scientists discover. They raise the endless curiousity of those interested in following these striking events of nature about a world we dwell in but is yet to fully know and understand.
For news and events coverage, photo features, contributions and adverts contact us via:
Phone: +2348029115783
WhatsApp: +2347037611903
Follow us via:
Facebook: @Words and Shots
Instagram: @words_and_shots
Twitter: @wordsandshots
HANDMADE WOODEN WHEELS OF CONGO, KEEP COUNTRY RUNNING
Large, wooden, two-wheeled vehicles powered only by the people who push them are unique to DRC.
Handmade wooden wheels of Congo, keep the country Running is the story of Chukudu. Capable of moving large loads for a cheap price, chukudu drivers say the vehicles enable them to earn a living.
Chukudus are wooden, two-wheeled vehicles powered only by the people who push them. The vehicles are a common sight in Goma, the capital of North Kivu province in Democratic Republic of Congo. Vendors say they prefer to ship goods via chukudus instead of other vehicles because chukudus don't require costly fuel.
GOMA, DEMOCRATIC REPUBLIC OF CONGO — Amid the trucks carrying loads of rice and oil and the muscular workers who unload them in the commercial area of the Birere slum, another kind of vehicle, unique to this part of the world, darts in and out of the chaos.
Chukudus, the large, wooden, two-wheeled scooters with handlebars and an angled frame, are favored here for carrying heavy loads. A small chukudu can hold hundreds of pounds. When the chukudu is empty, a driver rests one knee on the base and pushes the vehicle along with the other foot. When full, the driver stands behind the load, using one foot against the back tire as a brake.
Most chukudus are about six and a half feet long and can carry about 1,000 pounds.
"The chukudu is essential for us," says Moise Kaduha, one of Goma's most famous chukudeurs, or chukudu drivers. "But the thing that makes me most proud is that it is a product of our own making."
Kaduha won the first-ever chukudu race organized by the United Nations mission here in 2006. Now, he works in the maintenance department at the UN compound and drives a chukudu that is painted blue and white, the UN's colors. He's also the vice president of an association of chukudeurs.
Africa's many regions each boast their own unique modes of transport, but it's the chukudu that rules here. Local people say these motorless vehicles have been used in what is now eastern Democratic Republic of Congo since the mid-1900s.
According to the Association de Chukudeurs de Goma, more than 1,300 chukudus are registered to circulate in Goma. They play a key role in boosting the region's perilous economy. Even young boys can transport hundreds of pounds at a time to earn money. Plus, their sturdy structure works well on Goma's roads, which are covered with hardened lava from the eruptions of nearby volcanoes.
It takes about three days to build a chukudu, says Samson Mbabazi, 30, a chukudu maker. Mbabazi uses scrap tires and wood from a nearby forest.
It takes about three days to build a chukudu, says Samson Mbabazi, 30, a chukudu maker. He uses hard wood from the nearby Kibati foresta wooded area near Mount Nyiragongo. He buys scrap tires for about 10,000 Congolese francs ($10.23). Springs connect the wooden steering handle to the angled body.
The most common size is about six and a half feet long and can about 1,000 pounds, Mbabazi says.
But the vehicles also create dangerous situations on the road. As the number of chukudus in Goma rises, officials say the wooden vehicles are causing an increasing number of traffic accidents.
"We are yet to have statistics, but it is true," says Rachidi Fikirini, a senior traffic police commissioner for the city, adding that he receives regular complaints and cases of chukudus causing accidents.
Mbabazi, the chukudu maker, says his father taught him to make the vehicles.
Jean Kazadi, a resident of Goma, says chukudeurs cause havoc on the roads, even in pedestrian areas.
"This creates quite a mess and gives rise to major incidents, such as accidents," he says.
For now, no formal rules have been proposed to regulate chukudus in traffic. But as the region's cheapest means of transport for large loads, the vehicles are here to stay.
Freddy Nirenganye, known locally as Rasta, says he earns at least 7,000 francs ($7.07) per load, and typically moves several loads per day. The work is tiring, he says, and he often breaks to spend some of his earnings on a glass of milk to restore his energy.
Nirenganye, 25, has been a chukudeur since 2010. He hopes to buy his own chukudu one day, but says his earnings are too meager to make that happen. New chukudus go for about $100.
Medi Sonny, a local shopkeeper, says he relies on chukudu transport to carry goods to and from his store at low rates. That is why it is the handmade wooden wheels of Congo, which keep their country running
"When I hire a moto taxi to carry my goods imported from Uganda through La Grande Barrière, I pay 5 dollars while a chukudeur charges me 2,000 francs," he says, describing the $2 charge he incurs to moves products across the DRC-Rwanda border. "Of course, the chukudu is the cheapest means of transport."
In DRC, where a liter of gas can cost up to $2, chukudus are lifesavers, says Ebenezer Dawa Ya Buyana, a local jewelry and clothing saleswoman.
"Those sturdy wooden scooters are human-powered contraptions and do not require fuel to operate," she says.
Most Congolese seem to agree that Chukudu the handmade wooden wheels of Congo, keep their country running. Along one of Goma's most-traveled roads, in the center of a roundabout, is a giant golden statue, not of a person, but of a chukudu.
By Ley Uwera. Ndayaho Sylvestre, GPJ, translated this article from French.
For news and events coverage, photo features, contributions and adverts contact us via:
Phone: +2348029115783
WhatsApp: +2347037611903
Follow us via:
Facebook: @Words and Shots
Instagram: @words_and_shots
Twitter: @wordsandshots